Newspaper headlines: Brexit 'breach' begins with a letter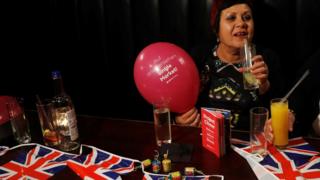 Wednesday's historic events are greeted with an air of celebration on several of Thursday's front pages. The Daily Telegraph speaks of "jubilation as Article 50 is finally served".
Foreign Secretary Boris Johnson writes on the front page: "The government is acting in keeping with Britain's deepest instincts and history".
"No Turning Back" says the Daily Express. It has a photo of Nigel Farage celebrating with a pint of beer. So does the Daily Mail with the headline: "Cheers for a great British future".
The Daily Mirror strikes a different tone, saying Theresa May's hopes of early trade deals have been sunk by the German Chancellor, Angela Merkel. The two are "trading blows", the paper says.
The day's events marked "the end of the beginning for both sides" according to The Times' sketch writer, Patrick Kidd. The Guardian's Martin Kettle calls it "a moment for the burning of the boats", adding that "it doesn't get more serious than that for this country".
---
Pensions 'remedy'
A flu jab blunder that contributed to the largest increase in deaths in a generation may have brought unexpected benefits for Britain's pensions black hole, according to the Daily Telegraph.
The Institute and Faculty of Actuaries says the increase in the mortality rate in 2016 - when the flu jab was mismatched for the main strain of influenza - has slightly reduced overall life expectancy for the over-65s.
Experts say the shift has removed about £28bn of pension liabilities from the balance sheets of leading companies.
Get news from the BBC in your inbox, each weekday morning
Three hours of news?
Ofcom, which takes over as the BBC's regulator next year, wants to force BBC Radio 2 to carry at least three hours of news and current affairs every day at peak time, according to the Daily Mail.
The paper says it could lead to a major shake-up of the music station's schedules because executives want to make sure presenter Jeremy Vine's midday current affairs show counts towards the quota. But, at the moment, it falls outside what is considered as peak time.
The BBC's Controller of Radio, Bob Shennan, is quoted as saying that he thinks his channels already carry enough news and current affairs.
---
Daytime drinking
The Times reports on the difficulties facing restaurants in the City of London where many companies now ban staff from drinking during the working day.
It points out that restaurants make a higher profit margin on their wine than on their food.
Many are now serving a selection of teas in wine glasses instead - one charging £15 for three teas selected to match a five course meal, with another offering tea at up to £18 for a 500ml glass.
Get news from the BBC in your inbox, each weekday morning