Newspaper headlines: 'New MI6: Less white, less like Bond'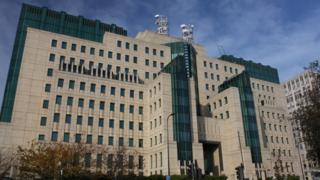 MI6 is to become less white and less like Bond, according to the Guardian.
The head of the agency, Alex Younger, tells the paper that MI6 will return to the old-school method of "tapping up" recruits as part of a concerted effort to find a full spectrum of talent, including more black and Asian officers.
MI6 says it still gets too many applications from people who think a familiarity with James Bond and the ability to shoot will help them to secure a job.
---
The Times reports that British taxpayers will help fund a "private army" to protect MEPs as part of what it describes as a record 2bn euro spending spree by the European Parliament next year.
The paper says the private armed response unit will include a team of 12 to guard the parliament's president, providing a level of protection equivalent to that of most heads of state.
Millions of euros will also be spent on a pro-EU publicity campaign for 2019 elections that the UK is not expected to take part in.
---
More than £2bn has been found in unclaimed life insurance policies, ISA accounts and share portfolios, reveals the Daily Telegraph.
Ministers will announce plans to distribute the cash to charities.
But, says the Telegraph, there are strict rules about when the government can seize the cash - life insurance policies must be left untouched for 120 years while bank accounts should have been dormant for 15 years.
---
Plague of the fly-tippers is the Daily Mail's front page headline.
It reports there were more than a million incidents of fly-tipping in Britain last year, with rubbish dumped on footpaths and road verges littered with debris.
The paper blames councils for scrapping weekly bin rounds and charging fees for collecting white goods, or for parking a skip outside people's homes.
---
The i newspaper says ministers are thought to be considering a move to curb the number of plastic bottles polluting rivers and oceans.
It says about 15 million bottles are dumped in Britain every day after just one use.
Environment minister Therese Coffey has signalled that a bottle deposit return scheme could be on the cards following the success of the compulsory 5p charge for plastic bags.
---
The Sun says the oven gloves are off as the BBC declares war on Channel 4's Great British Bake Off.
It reports that former winner Nadiya Hussain will present a rival show going head-to-head with Paul Hollywood.
The Big Family Cooking Showdown will be shown on BBC Two this autumn, despite earlier claims that a replacement show would not go out at the same time.
---
Most of the papers have pictures of Sir Ken Dodd being knighted at Buckingham Palace.
The Daily Express, which shows him using a TV microphone as his famous tickling stick, says it is a well-deserved honour.
The Daily Mirror takes the opportunity to remind readers of his greatest one-liners.
Among them: "I haven't spoken to my mother-in-law for 18 months. I don't like to interrupt her."