Newspaper headlines: Trump to 'snub Parliament'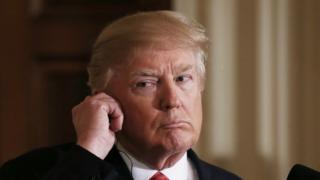 Many column inches have been devoted to Commons Speaker John Bercow since he voiced his strong opposition to Donald Trump addressing both Houses of Parliament.
But according to the Sunday Express, Mr Trump plans to snub Parliament when he pays a state visit to the UK later this year.
The paper says the US president will "speak to the people" at a spectacular rally - and donate the proceeds of what he hopes will be a sell-out event to the Poppy Appeal.
The Express says venues in Birmingham, and even Wembley, are under consideration.
---
An accusation that Theresa May is putting Northern Ireland's peace process in jeopardy is carried in the Observer.
The claim is made by Bertie Ahern, the Irish leader who helped secure the Good Friday Agreement.
In an interview with the paper, Mr Ahern, who served three terms as taoiseach between 1997 and 2008, says the British government appeared to have resigned itself to the establishment of a border between Northern Ireland and the Irish Republic once the UK leaves the EU with, the paper says, potentially devastating results.
---
The Mail on Sunday says it has seen what it describes as "sexist" text messages sent by Brexit Secretary David Davis regarding an encounter with Diane Abbott in a Commons bar last week.
The shadow home secretary is said to have rebuffed Mr Davis with strong language when he approached her after she had voted in favour of triggering Article 50.
According to the paper, Mr Davis texted a Tory friend denying he had tried to hug Ms Abbott, adding "I'm not blind!"
A spokesman for Mr Davis said the texts were "self-evidently jocular and private".
---
Former Deputy Prime Minister Lord Prescott has weighed into the debate over the future of the NHS and social care.
Writing in the Sunday Mirror, Lord Prescott says, at 78, he is among a generation of people who are living longer, have more complex conditions and need more care.
He calls for all parties to sit down and work out a long-term way of funding a social care system based on need, not ability to pay.
Lord Prescott says tax rises will be necessary but the government could implement two measures immediately to ease the strain on the NHS - cancel corporation tax cuts and sack Health Secretary Jeremy Hunt.
---
The Sunday Times says Labour is conducting secret "succession planning" for Jeremy Corbyn's departure.
The paper reports that it has seen leaked documents that warn the party is facing meltdown under Mr Corbyn's leadership.
Participants in a focus group reportedly delivered a damning verdict on Mr Corbyn, describing him as "boring" and "like a scruffy school kid".
---
While winning the Lottery may be a dream for many, Britain's youngest Euromillions winner tells the Sunday People it has ruined her life.
So much so, says the paper, that Jane Park is considering legal action against Lottery operators for negligence.
Ms Park was only 17 when she won £1m with her first-ever ticket in 2013.
She now complains of being sick of shopping for designer goods and staying in upmarket holiday resorts, struggling to find a boyfriend who is not after her money and being burdened with the stress of being a millionaire.
The paper is not entirely sympathetic. It describes her complaints as a "breathtaking whinge".