Newspaper headlines: May's 'missile crisis' over Trident failure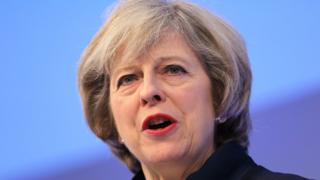 The revelation of a reported malfunction during the test firing of a Trident missile in June is widely covered in Monday's press.
The Daily Mail says it is likely the unarmed missile was made to crash harmlessly into the sea but the "fiasco" caused major panic in Downing Street.
Prime Minister Theresa May, reports the Times, will face intense pressure to answer charges of a cover-up after she refused to say whether she knew about the incident when questioned on the BBC's Andrew Marr Show.
The Daily Mirror describes it as "May's Missile crisis", saying in a leading article the "official news blackout only fans suspicions this was a serious failure".
The Guardian, which leads with the story, says critics of Trident may now seize on the failure to argue that the debate about renewing the system should be reopened.
---
Several papers report international trade will be one of the big issues when Theresa May meets Donald Trump on Friday.
The Times thinks it is a historic chance to make the case for genuine free trade, and an advantageous deal with Britain.
The Daily Telegraph says Mrs May and Mr Trump will hold talks over a deal that slashes tariffs and makes it easier for hundreds of thousands of workers to move between the two countries.
Kevin Maguire of the Daily Mirror thinks Mrs May is "a fool" for flitting over to America "to be photographic cover for a divisive, lying, racist, sexual predator".
But Trevor Kavanagh of the Sun says the "world is a reality show... and Britain has woken up as one of the biggest stars".
He sees opportunities, and dangers, and has this advice: "Hold tight... We are in for the ride of our lives."
Elsewhere, Mrs May has penned an article for the i explaining her new industrial strategy.
She refers to seeking a brighter future after Brexit, and making Britain a country that works for everyone. And she invites "the industries of the future" to tell the government what they need in order to grow and prosper.
---
The lead story in the Sun refers to a Food Standards Agency warning of a link between burned starchy foods and cancer - that pizza, chips and toast "are killers".
The headline on the front of paper is stark: "You've had your chips."
But not everyone is willing to agree.
The Daily Express asks: "Do scientists actually want us to lead miserable lives?" Alcohol, then sugar, fat, and now crispy roast potatoes. "Why can't people be left to lead their own lives without others meddling?"
Few things, says the Daily Telegraph, bring families together on a cold winter's day like a Sunday roast. And the paper cannot be enthusiastic about boiled beef, with steamed vegetables but no Yorkshire pudding or wine.
A cartoon in the Daily Mail shows an insolent boy smoking. His concerned mother says: "And remember, if anyone offers you a crunchy roast potato at the party - you know what to say."
Meanwhile, the Guardian has reassurance for shoppers who have been unable to find lettuce, spinach, or courgettes on their supermarket shelves.
Vast amounts of rain in south-eastern Spain, then heavy snow, wiped out much of their crops. But now, the farmers of Murcia believe the worst is over, and normal production looks set to resume, it reports.
---
Finally, the Daily Express says advisors to Margaret Thatcher were alarmed 30 years ago when she was asked to test drive a new Rover saloon outside Downing Street.
Papers, made public from her archive, reveal their concern that, as the Daily Telegraph reports, she might crash in front of the cameras.
Those fears proved groundless - she was allowed a practice at Chequers first. But the Sun cannot resist summing up their worries in a headline: "The lady's not for three-point turning".