Newspaper headlines: Boris Johnson, NHS drugs, Gambia crisis and Dylan painting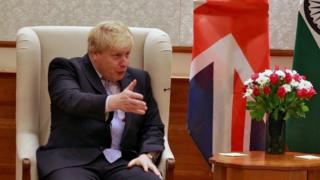 If you ever wanted to see what Boris Johnson would look like mocked up as Steve McQueen in The Great Escape, then look no further than the Sun.
It says the foreign secretary was "defiant" after being criticised for comparing French President Francois Hollande to a guard in a World War Two escape movie.
The paper mocks those who took offence as "delicate flowers" and hopes Theresa May does not "lock Boris in the cooler" - the punishment usually given to McQueen for his attempted break-outs.
The Times says Mr Johnson "ruffled feathers" with his words, while the Daily Mirror calls him "oafish" and says he put fragile relations at risk.
The Daily Express sees him fighting back against EU bullies, while the Daily Telegraph dismisses the row as a "phoney controversy".
It says Mr Johnson was just being "characteristically colourful" with his words.
But one of his loudest critics, the European Parliament's leading Brexit negotiator Guy Verhofstadt, is making his voice heard again.
In an article for the Guardian, he says Britain's demands heading into talks with the EU are "unreasonable".
"It is an illusion to suggest that the UK will be permitted to leave the European Union but then be free to opt back into the best parts of the project," he says, before concluding that Brexit will be "a sad and exhausting process".
---
On its front page, the Times says cost-cutting measures by the NHS have raised fears about patient safety.
It says one in five newly-approved drugs could be rationed by NHS England to save money, even if they have been judged cost-effective by doctors, so patients will suffer longer waits for medication.
Cancer charities tell the paper the change will be devastating to patients.
The Times also says drug companies will no longer launch new medicines early in Britain.
NHS England has declined to comment.
---
British tourists who had been hoping to soak up some winter sun in The Gambia are packing their bags and "scrambling" to leave, according to the Guardian, after a political crisis caused the Foreign Office to advise against travel there.
"There is panic," says one tourist official. The Sun says British travellers have complained of shambolic organisation.
The Times says the scenes of crisis are depressingly predictable.
President Yahya Jammeh can avert bloodshed by doing the right thing, it says, or condemn his country to isolation and be remembered as a pariah.
---
The i newspaper suggests that an "evocative slice of authentic Americana", painted by none other than Bob Dylan, might actually be a picture of the pier at Blackpool.
Sharp-eyed observers who saw the watercolour at a London gallery found it was identical to a picture posted on the internet by a British photographer.
Even a bird on a lamp-post was identical. The photographer tells the Telegraph he is not angry but "astonished" that his work has been appropriated by a Nobel laureate - and labelled as being Norfolk, Virginia.
The paper suggests the singer was perhaps unconsciously influenced by playing three concerts at Blackpool's Winter Gardens in 2013.