Newspaper headlines: Trump to 'make Brexit great' with trade deal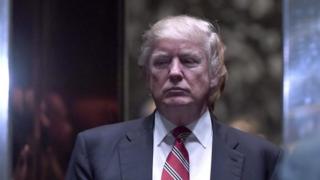 President-elect Donald Trump is making the headlines on several of Monday's front pages.
His pledge to offer Britain a "quick" trade deal dominates the front page of the Times.
The president-elect tells the paper that Brexit will be a "great thing" and predicts that other countries will follow Britain's lead in leaving the EU, which he says has been "deeply damaged" by the migration crisis.
Mr Trump's interview is also the lead story for the Daily Telegraph which sees his remarks as a "boost" for Theresa May, ahead of her speech on Tuesday about the government's plans for Brexit.
The Guardian says Mr Trump has been warned that his "careless" use of Twitter could cause a security risk.
The outgoing director of the CIA, John Brennan, is quoted as saying the president-elect has a "tremendous responsibility" to protect the US and its interests.
The Daily Telegraph says Mr Brennan has cautioned Mr Trump against forging closer ties with Russia, arguing against the lifting of sanctions.
But the Daily Mail suggests the next US leader is planning a summit with Vladimir Putin "weeks" after becoming president, "as he seeks to improve relations with the Kremlin".
---
Health Secretary Jeremy Hunt is set to pocket £15m from the sale of an education website, according to the Daily Mirror.
The paper's headline describes the deal as a "payday sickener" as the NHS is "cut to the bone" while its editorial accuses Mr Hunt of being "born with a silver thermometer in his mouth" and calls on him to "study his conscience".
The Times agrees that the windfall is "politically embarrassing" following the government's disputes with junior doctors and GPs. The Daily Telegraph claims the deal will make Mr Hunt "the richest member of the cabinet".
Meanwhile the Daily Mail's lead story highlights what it calls "the scale of abuse of the crumbling NHS by health tourists".
It claims a hospital in Luton is attempting to recoup £350,000 from a Nigerian woman, who is said to have flown to Britain to give birth to twins.
The cancer specialist, Professor Meirion Thomas, tells the paper that similar, "staggering" debts should be investigated by NHS fraud officers, as "patients don't arrive at specialist hospitals with serious illnesses by chance".
---
The Sun says the half-brother of Prince Harry's American girlfriend, Meghan Markle, has apologised after he was arrested for alleged gun offences in the US. Thomas Markle Jr blamed the incident on a drunken argument, prompting the headline "Soz Sis! I was so sozzled".
The Daily Mail says other members of the family have insisted the arrest will not cause problems for Ms Markle's relationship with Prince Harry, but the Daily Express claims there is "some concern" in royal circles.