Newspaper headlines: May's 'shared society' and 'rebel's' Brexit meeting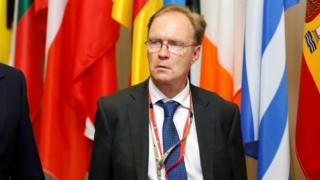 The Sunday Times leads with a claim that Britain's former ambassador to the EU, Sir Ivan Rogers, held secret talks with David Cameron before Christmas to warn that Theresa May was failing to plan for the risk of a "disorderly" Brexit.
Sir Ivan resigned last week, accusing ministers of "muddled thinking".
A source tells the paper Sir Ivan fears a hard Brexit "will lead to mutually assured destruction between Britain and the rest of the EU" and that the UK will "crash out" with nothing.
The paper adds that news of his meeting with Mrs May's predecessor will fuel "the fears of her allies that senior officials were in private contact with leading Remain supporters".
'Head of the queue'
In The Observer a Canadian official warns that Britain risks a "catastrophic" Brexit because the government is so dismissive of the concerns of trade experts.
John Langrish helped to negotiate a trade deal between the EU and Canada - a process which took more than a decade - and believes a British agreement could take just as long because of the complexities involved.
He writes that "undoing nearly 45 years of integration and shared law will not be pleasant" and cannot be done in a "mutually beneficial" way in the two-year time frame.
The Sunday Express says the man named as Donald Trump's new ambassador to the EU supported Brexit and believes Britain will be "moved to the head of the queue" when it comes to negotiating a new trade deal with America.
Professor Ted Malloch, a friend of former UKIP leader Nigel Farage who lives in the UK, tells the paper the leverage Mr Trump can provide could offer an alternative to hard or soft Brexit.
---
Hospitals 'at rock bottom'
"7,000 Hospital Beds Are Lost Under Tories" declares the Sunday Mirror, as it cites official figures showing the number of acute beds that have closed since 2010.
It says government plans to save £20bn over the next five years will mean even more hospital places will disappear.
Chris Moulton, of the Royal College of Emergency Medicine, tells the Sunday People hospitals "are at rock bottom" and can't afford to cut back any more.
NHS England responds that lengths of stay have fallen significantly, with many patients being discharged the same day.
After Saturday's warning by the Red Cross about the state of the health service, the Observer accuses the government of a "woeful" response to the looming funding crisis.
It advises Theresa May that a failure to address the issue in her speech on Monday "will speak volumes about where her true priorities lie".
For the Mail on Sunday, it is a "scandal" that is unacceptable in "a country as rich as ours". It suggests it can be readily tackled, by diverting the money set aside for foreign aid.
---
'Direct threat'
Education leaders are said by the Sunday Telegraph to be concerned about government plans to place student feedback at the heart of a new ranking system for universities.
Academics warn the measures could lead to institutions giving in to student demands, however unreasonable they may be.
One professor, Lady Woolf, describes the new approach as a "direct threat to academic standards".
The Department for Education insists it is critical to ensuring young people can access high-quality teaching.
---
With the headline "Jail Tinmates", the Sunday Mirror reveals that tinned tuna has been placed on the list of prison contraband.
Prison inspectors have found that inmates are getting friends to smuggle in the canned goods because of the poor quality of food in jail.
It says Muslim prisoners are having to supplement their diet because of a failure to prepare halal foods separately.
And the Sun on Sunday carries a "world exclusive" interview with a man from Gloucester - who is four months pregnant.
Hayden, who was born a girl but is now legally male, says he has delayed his hormone treatment to have a baby using donor sperm.