Newspaper headlines: Istanbul attack aftermath, GP surgeries in A&E and economists' Brexit concerns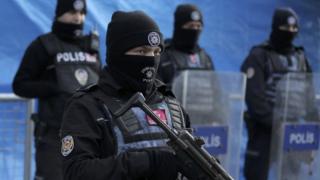 The Daily Telegraph is one of a number of papers to report on the terrorist attack in Istanbul.
It says a blurry picture of the gunman, who killed 39 people, is emerging, with reports that he may be from Uzbekistan or Kyrgyzstan.
Writing in the i, Patrick Cockburn says it is clear the Turkish government does not know what to do to stop such attacks.
He says they are likely to continue because so-called IS is too big and well-resourced to be eliminated.
He notes that, as in France and Germany, it is impossible to stop attacks when ordinary civilians are the targets and the killers are prepared to die.
---
The Times reports on a survey of doctors that suggests most believe GP surgeries should be placed in A&E departments to deal with patients who do not need emergency treatment.
The study of more than 500 doctors by the Press Association found most believed such a move was necessary to relieve the pressure on A&E.
The Daily Mail highlights official NHS figures showing that about 13% of patients who attend A&E have minor problems and are discharged without treatment.
---
The Financial Times says economists are more worried about the consequences of Brexit than they were a year ago, despite the economy showing little obvious damage since the vote in June to leave the EU.
The FT's annual survey of UK economists, which had 122 responses, found a large majority expect growth to slow in 2017 as higher inflation hits household incomes.
The paper notes that attacks on the profession, especially by Leave campaigners, have not led to a significant change of thinking about Brexit.
---
Department store Harrods is being accused of short-changing some of its staff, according to the Guardian.
The paper says a trade union is claiming the owners are keeping up to 75% of service charges in the store's cafes and restaurants.
A spokeswoman for Harrods tells the paper that service charges are shared out among staff members - but only if they accept a cut in basic pay.
The paper says it is the latest in a series of examples where high-profile hospitality firms and businesses have been found to be withholding service charges and tips from workers.
---
The future of village halls is under threat, warns the Daily Telegraph, because communities are struggling to find young volunteers to help run them.
It says the halls, of which there are said to be around 10,000 in Britain, are the cornerstones of many villages.
But it says younger residents often work long hours away from their village, while the newly retired often do not want to commit to the duties required.
---
Finally, the Daily Star is warning of bad weather, stating that its going to be the "coldest January ever".
The paper predicts temperatures will drop to -15C in parts of the country, with heavy snow expected too.
It adds that "transport chaos is almost certain".