Newspaper headlines: 'Icon who became murderous tyrant'
"Fidel Castro was the man who made revolutions sexy."
So begins Simon Tisdall's profile of the Cuban leader in the Observer.
"With his wild beard, olive-green military fatigues, darkly petulant good looks and trademark cigars, El Comandante became the anachronistically glamorous face of left wing totalitarianism," it says.
In the same paper, Will Hutton tries to explain Castro's appeal - before the "deep flaws" became apparent.
"The years 1968 and 1969 seem a long time ago now, but in that joyous expression of youth, counterculture, and some of the best rock'n'roll ever played... Fidel and Che [Guevara] commanded a unique place.
"It was routine for stalls at the great festivals to sell T-shirts emblazoned with their faces...they had become an essential ingredient of the counterculture alchemy."
But the Mail on Sunday is less sympathetic.
"While his modish Western admirers liked to call him 'Fidel', the despotic President Castro's frightened subjects dared not speak his name," writes Peter Hitchens.
"They feared they would be overheard by ever-present secret police spies who made East Germany's Stasi look like amateurs...it is astonishing that such a man, and such a state, have attracted so much admiration from so many in the west."
In the Sunday Telegraph, James Kirkup thinks that admiration stems from anti-Americanism.
"There is a persistent strand of thinking on the Left that cannot accept the fact that America, for all its flaws, has been the greatest contributor to human wealth, health, and freedom the world has ever known," he writes.
"They magnify America's vices and ignore its virtues, concluding that any enemy of the US must deserve their backing."
Meanwhile, the Sun on Sunday's editorial accuses Labour leader Jeremy Corbyn of "paying tribute" to Castro.
"The gang now in charge of the official opposition think it is perfectly normal to revere a sinister dictator," the paper says.
"Thank heavens the British people are too sensible to let them anywhere near power."
---
'Football's shame'
In the Sunday Mirror, another former footballer reveals he was abused by the coach, Barry Bennell.
Anthony Hughes was picked for England at the 1993 World Youth Championships and played for Crewe Alexandra.
As a boy, he would be taken in a minibus with other players to Bennell's house.
"There was plenty of things for us to play with, pinball, a jukebox, computer games," recalls Hughes.
"Then he'd put a video on of us playing football and analyse that. But once that finished, that's when he'd put on the pornography...
"He'd get us all sitting round watching it, while he sat there stroking the back of your neck, or putting his arm around your shoulder and stroking your chest and nipples."
Hughes says that - unlike Andy Woodward - he wasn't taken to Bennell's bedroom.
"As adults we now understand what was going on was just so terribly wrong," says Hughes.
"I cannot praise Woody enough for his bravery in speaking out. "
In the Mail on Sunday, chief sports writer Oliver Holt criticises the FA's response to what he calls "one of the worst crises in English football history".
"Hour by hour and day by day, English football is sinking lower and lower into a deep, dark pit," Holt writes.
"A dam has burst and a mighty torrent of despair is pouring through it. And the Football Association have set up a helpline."
But in the Sunday Times, Dominic Lawson claims there is "no hidden scandal".
"Unlike [Jimmy] Savile, whose death was marked by national eulogising, Barry Bennell pleaded guilty in 1998 to 23 specimen charges of sexual abuse," writes Lawson.
"These are serious matters, but God forbid we are going to embark on another national bout of hysteria, creating the impression that no child is safe on the football field."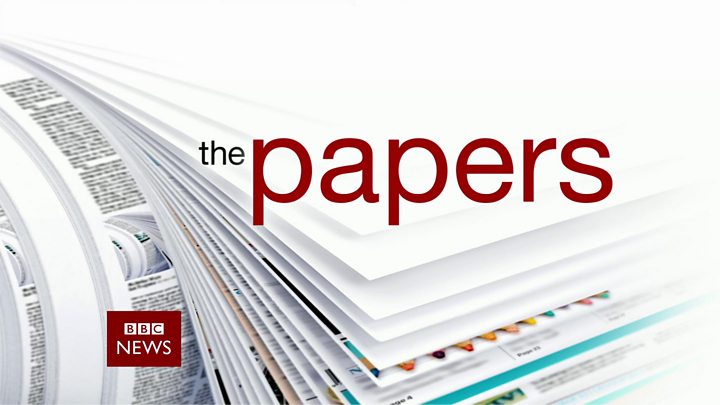 'He's good at accessories'
The Sunday Times runs two news stories based on their feature-length interview with Theresa May.
The first - on the front page - says the Prime Minister "doesn't get much time to sleep".
The second - perhaps more surprisingly - claims that Mrs May's husband "is her style counsel".
As well as being "patient and decisive", Mrs May says Philip is "good at accessories... particularly good at choosing handbags and bracelets for presents, and good at flowers".
The Prime Minister also reveals an usual recent request. "I did do my first wedding video the other day," she says.
"I came out of a shop onto the street and there was a smart young man and he said, 'My friends are getting married today, will you do a wedding video for them?'
"It was sort of like a selfie, but I had to say, 'Hello James and Sarah, happy wedding day!'"
---
Plus ça change...
UKIP elects a new leader on Monday, so the Sunday Telegraph interviews the bookmakers' favourite, Paul Nuttall.
According to the paper, Mr Nuttall - a Merseyside-born MEP - has "reassured voters over a pressing concern".
"The next leader of Ukip will still be photographed with a pint in hand," he says. "It will just be a pint of Guinness, not warm beer.
"I am a pub person. Nigel and I have been drinking buddies for many years."