Newspaper review: Snap elections and Michael Buble
Is Britain heading for an early election?
The next one isn't due until 2020 - but according to the front page of the Daily Telegraph "ministers are preparing" for it to be called early.
The paper says the idea is being "openly discussed" in government in order to "win a mandate for hard Brexit".
"The problem we have," says one minister, "is we have a Brexit majority in the country and a Remain majority in parliament."
The Sun's editorial says an election would "annihilate Jeremy Corbyn's Labour and expose diehard Remain MPs to the wrath of their Leave-voting constituents...
"It is a nuclear option - but a threat Mrs May would be mad to rule out."
But in the Times, Matthew Parris says an election is "the last thing the Prime Minister needs".
"Far from rescuing her from the Tory hardliners, this could deliver her into their hands," the former Conservative MP writes.
"[It would] turn into a nightmarish re-run of the European referendum, of which the resignation yesterday of the Tory backbencher Stephen Phillips is only a foretaste."
---
Nick Clegg: Saboteur?
On Friday, Nick Clegg said Liberal Democrat MPs and peers would pursue a so-called "soft Brexit".
On Saturday, the Daily Mail and the Sun use the same word to describe him: saboteur.
"What a piece of work is Nick Clegg," begins the Mail's editorial.
"With supreme arrogance, this eurofanatical ex-MEP threatens to mobilise the party's 100-odd peers to overturn the will of 17.4 million voters.
"During his time as leader, this self important pipsqueak all but wiped out public support for his party. Is he now determined to finish the job?"
The Sun, meanwhile, claims Mr Clegg is "deranged by Europhilia".
But for Marina Hyde in the Guardian, the reaction to the EU referendum proves that - for some people - politics has become another reality TV show.
"A significant section of the population believe the EU was voted off on 23 June, and now are beginning to openly dismiss the rule of law, as if it were Jedward."
---
Swing both ways
From one political saga to another: the US election is only three days away.
The Mirror's political editor, Jack Blanchard, has travelled to the swing-state of Ohio.
"They say you don't become president without winning Ohio," he writes.
"Well, it looks like Donald Trump is winning here. It seems every third house has a Trump / Pence sign stuck in their turf."
One voter says of Hillary Clinton: "She's been in government for so many years and nothing has changed."
But the Guardian's editorial says only Mrs Clinton "can be trusted with the nuclear button".
"A Trump presidency would be a leap into the unknown," it continues. "His bigotry, his love of weapons, his impulsiveness and his America first-ism are all dangers."
The American election is also - apparently - the subject of Michael Deacon's column in the Telegraph.
"He's going to do it, isn't he?" the piece begins.
"Against all the odds, he's actually going to win. Just a few short weeks ago it looked impossible.
"The bookmakers had written him off. The mainstream media didn't give him a prayer.
"Donald Trump? Oh God no, I don't mean him. I mean Ed Balls on Strictly Come Dancing."
---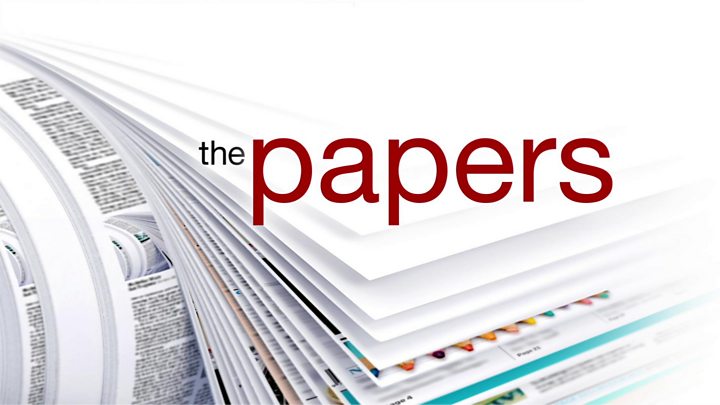 ---
Stag don't
In what may be the least-surprising piece of research this year, a university study has concluded that men do not actually enjoy stag dos.
The researchers - from universities in Salford and Madrid - joined stag parties in Ibiza, London, Liverpool, Manchester, and Bournemouth.
They found that men joined in so "they would have stories to tell in later life...but the price for those memories was an uncomfortable and expensive night in which they were often forced to suspend moral behaviour".
The Telegraph says one groom "was forced to visit a lap-dancing club, even though he didn't want to see half-naked women, let alone pay for them".
Another groom had to fight off robbers, while a third "drank so much he soiled himself".
The research was published in the journal "Deviant Behaviour".
---
Also in the News
The British Sandwich Association has reaffirmed its stance that a hot dog is not a sandwich. It has spoken out in response to an article in a US dictionary that suggests a hot dog is - by definition - a sandwich (the i)
A pigeon racing syndicate us being investigated for allegedly feeding its birds cocaine before races. The pigeons tested positive in random drugs tests after a series of big wins (the Sun)
A 3ft 7in groom used a ladder to kiss his 5ft 7in bride at their wedding. James Lusted, who's 28, had the steps specially made (Daily Star)
GPs in England and Wales carried out 40,000 consultations for dandruff-related problems last year. The figure comes from a report by the Local Government Association (the Guardian)