Newspaper review: Poppy rows, Adele and Orgreave
Another year, another poppy row.
The Sun's front page says Fifa has banned England and Scotland players from wearing poppies on their shirts during next week's World Cup qualifier at Wembley.
In 2011, England were stopped from wearing poppies on their shirts in a friendly against Spain, as "political" symbols are not allowed. The players wore poppy armbands instead.
This time, Fifa hasn't commented - but the paper says the game's governing body has "let it be known" that its position hasn't changed.
The Falklands veteran, Simon Weston, says the English and Scottish FAs should "stand up and be counted" and pay any fine imposed.
All the nationals - bar the Guardian, the i, and the Financial Times - carry a poppy on their mastheads. But for Richard Littlejohn in the Daily Mail, it's too soon.
"We should remember our war dead at the 11th hour on the 11th day of November," he writes.
"It's about their sacrifice - not about cynical show-offs determined to parade their bogus compassion two weeks in advance."
---
Adele's depression
Adele appears on the front of the Sun and the Daily Mail, after saying she suffered from post-natal depression.
The story is based on an interview the singer gave to Vanity Fair magazine.
"I'm very available to depression," she says.
"I can slip in and out of it quite easily. I had really bad post-partum (post-natal) depression after I had my son, and it frightened me."
The Times also picks up the Vanity Fair interview, but takes a different angle. "Writing songs is easier if you're drunk, admits Adele", is its headline.
"I was completely off my face writing the album 21," she says. "A drunk tongue is an honest one."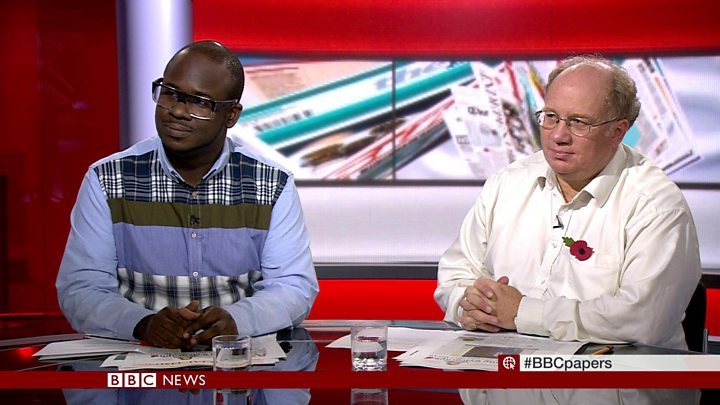 'Migrant scandal'
A number of papers follow-up Monday's Sun front page, which said a migrant couple with eight children have moved into a taxpayer-funded four-bedroom home.
The front page of the Daily Express declares: "What a scandal!"
The paper says the home - in Milton Keynes - is worth £425,000, with a monthly rent of £1,200. The family moved to Britain from Paris four years ago and used to live in Luton.
One neighbour tells the paper: "If you have eight kids you should not expect to be bailed out."
Another says: "It's an appalling misuse of Britain's generosity."
The Times speaks to Tom Shaw, a Labour councillor in Luton with responsibility for housing.
He blames the government for not building enough homes, adding: "We need rent controls in areas such as Luton where rents are going sky high."
---
Battle rages
More than 30 years after police clashed with striking miners in South Yorkshire, the papers take sides on the Government's decision not to order an inquiry.
"The Labour Party's indignation...is as phoney as it is disproportionate," begins the Daily Telegraph's editorial.
"No purpose would have been served by revisiting this story 30 years later...the Left wants to redefine events to perpetuate a sense of grievance...
"It is to Amber Rudd's great credit that she has faced them down."
The Mail also applauds the decision. "An inquiry would have uncovered little or nothing we don't already know," says the paper's editorial.
"[It] would become a lucrative payday for lawyers and turned into an expensive exercise in political point-scoring."
But according to David Conn in the Guardian, the home secretary's statement was "dismissive, superficial, and in several aspects disingenuous...
"The abuses have many parallels with the Hillsborough operation... this burning injustice smoulders still."
And for Paul Routledge in the Daily Mirror, Ms Rudd "wouldn't know a miner from a mynah bird".
"She was a public schoolgirl at Cheltenham Ladies' College during the Great Strike for Jobs," he writes.
---
Cover stars
The Daily Mirror devotes its front page to a picture of Sir Cliff Richard and Gloria Hunniford.
Sir Cliff - who was at the Mirror's Pride of Britain awards - was told earlier this year that police were dropping a sexual abuse investigation into him. He was never arrested or charged.
He tells the paper: "This is all part of my therapy. I am here back doing what I normally do. It's a wonderful feeling."
The Daily Star says it was Sir Cliff's "first major TV appearance" since the investigation was dropped.
But the Mail focuses on a different guest at the awards night.
Under the headline "Theresa Maynia!" the paper says "the Prime Minister's star quality outshone every celebrity".
It also claims that Mrs May's Amanda Wakeley dress and Dolce & Gabbana shoes cost the same amount - £595.
---
All change
Fears of chaos over new £1 as shops say they are not ready - Daily Telegraph
Thousands of employers to pay increased living wage - Financial Times
Chubby dads live longer than macho men - Daily Mirror