Newspaper review: Child migrants and Gary Lineker
"The BBC is under pressure to fire Gary Lineker" according to the front page of The Sun.
This week, the Match of the Day presenter tweeted: "The treatment by some towards these young refugees is hideously racist and utterly heartless."
He also sent a message that suggested a child migrant - whose age had been questioned - was actually a Home Office interpreter.
The Home Office later said he was not an interpreter.
According to the Conservative MP Alec Shelbrooke, Lineker "needs to decide if he's a political activist or a BBC sports journalist - he can't be both".
Another MP, David Davies, tells the paper: "I hope he apologises."
Lineker declined to comment to the Sun. The BBC said he was a freelance broadcaster, tweeting from a personal account.
---
Fear and derision
It's not just Gary Lineker discussing child migrants. Mark Steel - the comedian and activist who writes for the i - has a question.
"What's the point in saving someone's life," he asks sarcastically, "if they turn out to be 23 and wearing a hood?"
Giles Fraser - a Church of England priest who writes the Loose Canon column in the Guardian - is also dismayed.
"What will be remembered most from this week is that this country greeted vulnerable children not with welcome, but with fear and derision," he writes.
But the Daily Telegraph says the lack of checks on migrants is a "farce".
According to the paper, local authorities say some migrants - who are supposed to have relatives in the country - have no proof they exist.
David Simmonds from the Local Government Association says: "Even if the child has a named relative here, they could be lying about their ability to look after them.
"They might say they have a spare bedroom - but then it turns out that uncle is actually sharing a bedroom with five other people above a shop."
---
Going Green
Will no-one speak up for Sir Philip Green's knighthood?
A day after MPs said the former BHS owner should lose his knighthood, Nils Pratley in the Guardian makes a case for the defence.
"Is anyone surprised that Green turned out not to be a cuddly capitalist from the John Lewis school of shopkeeping?" he asks.
"Green's robust approach had been documented for years before Tony Blair awarded him the knighthood in 2006."
The Daily Telegraph's sketchwriter, Michael Deacon, says yesterday's Commons debate "was like a queue on the village green, with MPs taking turns to pelt Green with oratorical fruit".
The Guardian's John Crace - who also watched the MPs' debate - observes: "The moral high ground is always so much sweeter when it is allowed to stand unchallenged.
"What no one was willing to consider was that Green might not be as bothered about losing a knighthood as they were.
"On a yacht in Monaco, Green stretched out on a sun lounger. Someone, somewhere, had mistaken him for someone who gave a toss."
The experts have their say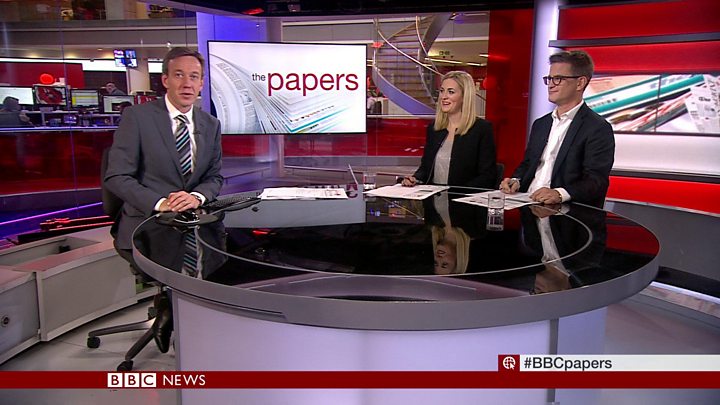 ---
'Hyperbolising loon'
Is the US presidential race over? Jill Abramson in the Guardian thinks so.
"Most national polls show Clinton with a prohibitive lead over Trump," she writes after the third and final presidential debate.
"It is all but impossible for Trump to make up the lost ground."
But the foreign editor of the i, Michael Day, says it's too close to call.
"This week, liberal media announced - with the reverence of a medieval monk quoting Thomas Aquinas - that Anna Wintour, the editor of US Vogue, had come out in favour of Hillary Clinton," says Day.
"That's really going to swing the result in Alabama."
And it's fair to say Quentin Letts - reporting for the Mail from Las Vegas - isn't a fan of either candidate.
"Trump may be a hyperbolising loon, no more able to speak a clear sentence than our own John Prescott," he writes, "but Mrs Clinton's halo of smugness is just as unattractive.
"And her voice is a terrible instrument - gratingly insistent and joyless."
---
Luck out
If Harry Redknapp wasn't feeling bad enough after hitting his wife Sandra with his car, he's reminded of the accident by pictures on three front pages.
Redknapp was "expecting grief" from his wife, according to the Daily Star. The Sun says "Redknapp had a mishap".
Mrs Redknapp - who needed surgery on her ankle - is photographed on crutches with her foot in a cast.
But, according to the Redknapps' son Jamie, his mum is "on the way to a full recovery".
"The only thing she's a bit upset about is she might not be able to go and watch (daughter-in-law) Louise on Strictly this Saturday," he tells the Daily Mail.
"She doesn't like to miss it."
---
Eye-catching headlines
Huge fall in vasectomies as men keep their options open (The Times)
Fury as university offers students £400 to have sex on camera (Daily Mail)
Two fingers to public as Kit Kat price could rise (Daily Telegraph)