Newspaper headlines: 'Blows, woes and axes' for Rooney and Trump
Neither Donald Trump nor Wayne Rooney will get much pleasure from Tuesday's papers - with "blows", "woes" and "axes" featuring widely in the headlines about them.
When it comes to Rooney - dropped by England manager Gareth Southgate from his team to take on Slovenia later - the sports writers are largely united in backing the decision - although they're split on the degree to which Southgate has taken a risk by making it.
Daniel Taylor, in the Guardian, thinks that far from being "courageous", it is just "overdue".
"There are plenty of us who have been suggesting for the past year or so that it was time to cut him free, and the only issue really for debate is why Sam Allardyce, and especially Roy Hodgson, always seemed so in thrall of the Manchester United player," he writes.
Taylor goes on: "English football loved the assassin‑faced baby but the days have passed since he made us quicken our step en route to wherever he was playing... What we are left with now is a fading old pro."
In contrast to his Guardian counterpart, Paul Hayward, the chief sports writer at the Daily Telegraph, thinks England's interim manager has taken a big risk.
"Southgate has gambled his own chance of securing the job full-time on tackling the Rooney problem, rather than pretending it was not there."
He goes on: "This bold step, straightforward on the surface, should strengthen Southgate's candidacy for the job. An alternative interpretation is that he expects to be replaced after his four games in charge and feels he has nothing to lose."
'A legend'
Rooney is universally praised for turning up to face the media on Monday and answer their questions about his rejection.
"It cannot have been easy for Rooney, sitting alongside a manager who only days after presenting him with his 117th cap - a record for an outfield England player - had just handed him his P45," says Matt Lawton, for the Daily Mail. "But Rooney has matured into an impressive individual even if the spark that once ignited the national team has been extinguished."
"Wayne Rooney will know better than anyone this spells the beginning of the end," adds John Cross, chief football writer at the Daily Mirror.
"The end of him being untouchable in the England team. The end of him being an automatic starter. And the end of his England career."
But he adds: "Despite his poor recent form, we should not forget that he will go down as a legend for England and when he eventually retires he will probably be remembered more fondly than he is right now."
---
Trump 'going down'?
On the latest developments in the US presidential race, the Financial Times thinks it was already "long overdue for decent Republicans to distant themselves from Mr Trump".
Paul Ryan, Speaker of the House, has done that now, and the paper argues more should follow because "no Republicans who publicly back Mr Trump at this stage are likely to do anything but damage their reputations".
The Times says that Mr Trump's performance in the second TV debate on Sunday saved him from a last-ditch attempt by his party to replace him, but in doing so "it leaves congressional Republicans with urgent judgements to make about the cost of standing by him".
"Trump is going down and he intends to take everyone else with him," argues Tim Walker, the i's US correspondent - Hillary and Bill Clinton, his running mate Mike Pence, the Republican Party, "the dignity of the presidency" and "the political culture of the United States".
"If American is a shining city on a hill, then he has cast a long shadow across it," Walker adds.
The Daily Star, in its own inimitable way, makes light of the drama, grafting Mr Trump's unique hair onto a picture of a gorilla after UKIP's Nigel Farage likened Mr Trump to a "silverback".
But the Daily Mirror believes there is no room for levity.
"Clinton is a flawed figure with heavy political baggage, but next to Trump she is a saint," its leader says. "Trump is the most frightening candidate. Ever."
---
Bump watch
The papers love a pregnancy - and even more so, an is-she-pregnant-or-isn't she? - and on Tuesday they get to enjoy both, often on the same page.
Geri Horner - nee Halliwell and Ginger Spice - has announced she's having another baby and it's her age - 44 - that has news editors most excited.
The Daily Mirror devotes the bulk of its front page to a photograph of Geri and calls in an expert to give the "pros and cons" of later motherhood. The former, the expert says, include "age-related attributes like emotional maturity", while the latter include some increased health risks.
"Proving that age is just a number," notes the Daily Mail, the pregnancy "comes as she prepares to join former bandmates Mel B and Emma Bunton for a Spice Girls reunion in Hyde Park next year".
On the other hand, Cheryl Fernandez-Versini - nee Tweedy and Cole - may or may not be pregnant, but a picture of her in a loose-fitting dress prompts many of the papers, including the Daily Express, to ask if she's "covering her bump".
"Tumthing to hide Cheryl?" is the slightly tortured headline in the Sun.
---
Eye-catching headlines
Is that a mouse whistling or a jet engine? Mice use a mechanism similar to that of a jet engine "to seek sex", reports the i
Affluent girls are more likely to become obese than boys - the Times has details of a study which shows a "weight gap" between genders and levels of affluence
Rise of the would-be vegetarians - more and more of us are cutting out meat, the Daily Mail says
---
A clear mandate?
Finally, some political sketchwriters poke fun at Brexit Secretary David Davis after his latest appearance in the Commons.
"Leaning on the dispatch box as though it were the bar of his favourite pub, Mr Davis reminded his opponents what an enormous mandate he had," writes Michael Deacon, in the Daily Telegraph.
"'A clear, overwhelming and unarguable mandate!' he declared. He kept saying it. Biggest mandate ever."
But, Deacon goes on, Brexit supporters like Mr Davis "must have received a different ballot paper" from the rest of the country, because questions about future immigration policy or British membership of the single market "were not mentioned on my defective ballot paper".
John Crace, in the Guardian, recasts Mr Davis as "Grumpy the dwarf Brexit robot", "re-reading the statement he had made to the House at the beginning of September".
"Take back control, Take back control. Mandate. Mandate. Whirr. Whirr. Clunk. A metal shard flew out of his mouth and landed on the dispatch box," he writes. "The repairs to Grumpy's mechanism hadn't been entirely successful."
There's praise, though, from Quentin Letts, in the Daily Mail, for Mr Davis's ability to hold up against "gobbles and quibbles" from "the Remain whingebags".
"They tweezered out their political positions with dainty detail and lawyerly sophistry - talk of White Papers and parliamentary procedure... Versus, er, the plain, unadorned fact of the referendum result."
---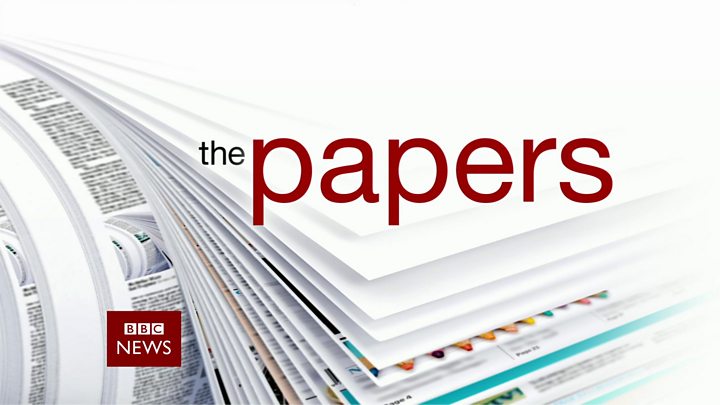 ---
Making people click
---