Newspaper headlines: Mary Berry quits Bake Off, Yahoo hack and Roman London history 'rewritten'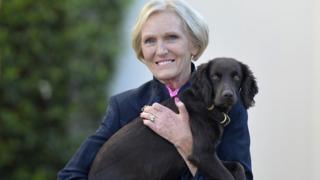 Great British Bake Off judge Mary Berry is pictured on almost every front page following the announcement she will not be appearing on the show when it moves from the BBC next year.
Fellow judge Paul Hollywood will be transferring to Channel 4 but the earlier decision by presenters Sue Perkins and Mel Geidroyc to also leave the production sees several papers question the value of the £75m deal.
"It was meant to be a marquee signing," says Henry Mance in the Financial Times. "Now it looks like the most overpriced tent since the Millennium Dome."
Channel 4 and the show's creator Love Productions sought to ease any concerns about the programme's future, says the Guardian, reiterating Hollywood's presence "will ensure the culture of Bake Off continues".
But for Alison Pearson in the Daily Telegraph "Bake Off without Mary Berry is like sponge without raising agent. It will never take off".
The Daily Mirror is among several papers to suggest the BBC will create a new cooking show with the three Bake Off presenters who are not going to Channel 4.
A "bunfight" lies ahead, it says.
"The three beloved Bake Off stars have left a big tent to fill. Channel 4 executives spent a lot of dough on the rights to the show - have they bitten off more than they can chew?" wonders the Daily Express in a leading article.
---
Eye-catching headlines
Death of the lunch hour... how workers snatch just 28 minutes: Survey suggests 12% of busy British staff either never or hardly ever take a lunch break, while 66% do not leave their workplace to eat - Daily Mail
1970s bangers bypass MOTs to join ranks of classic cars: Government reclassification will change the cut-off point for compulsory test for vehicles built before 1960. The move recognises the fact that the Ford Cortinas, Morris Marinas and other former bestsellers still on the road are often maintained to a higher standard than newer models - Times
Winston Churcheil: WW2 veterans furious after wartime prime minister's birthplace Blenheim Palace was turned into a Nazi HQ by producers of new Transformers film and draped in huge swastika flags - Sun
---
Michelle Obama's passport
The Times leads with the cyberattack on internet giant Yahoo - said to be the biggest security breach in history.
The revelation that hackers stole details including names and passwords from about 500m accounts in 2014 comes "after months of damaging speculation," says the paper.
But the paper opts to illustrate its story with a photograph of the passport of US First Lady Michelle Obama - it was said to have been released by hackers with suspected links to Russian intelligence who infiltrated the White House in a separate incident.
The Daily Mail says Yahoo appeared to point the finger at foreign governments after confirming its breach was far bigger than first thought.
---
'Bold but flawed'
The i examines the pledge by Facebook's founder Mark Zuckerberg and his wife Priscilla Chan to fund $3bn (£2.3bn) of medical research "to cure, manage or prevent all diseases" by the end of the century.
The i's editor Oliver Duff acknowledges the announcement will prompt more questions about the amount of corporate tax Facebook pays - "a simple way" for Mr Zuckerberg to start fixing a few global ills".
But he says that "doesn't diminish" their proposals.
"It will be 84 years before those of you still around know how close humanity has come to realising Chan-Zuckerberg's vision," he writes. "Theirs is the scale of ambition needed to effect real change using venture philanthropy."
In a leading article, the Financial Times describes the plans as "bold but flawed".
According to the FT, the couple are setting a powerful example for others to follow in donating money, expertise and time but it cautions there is "a risk of hubris, which in turn could lead to disillusionment and a loss of momentum".
---
Labour 'coexistence'
Ahead of Saturday's Labour leadership vote, the Guardian reports that prominent MPs from the party are set to reject a return to the frontbench if Jeremy Corbyn wins and fails to accept elections to the shadow cabinet.
Mr Corbyn's team have conducted a series of meetings in a bid to persuade rebel MPs to join his team and end the current doubling-up of jobs. But MPs including Hilary Benn, Chuka Umunna and Yvette Cooper, reports the Guardian, are thought to be readying themselves for what one called a period of "coexistence" from the backbenches.
Meanwhile, the Daily Mirror says former shadow home secretary Ms Cooper is to urge Mr Corbyn to crackdown on "trolls" within the party. In a speech to the National Women's Conference, she will say the "newly elected leader has a particular responsibility" to tackle activists who launch vicious verbal attacks on fellow supporters.
The Daily Telegraph highlights guidance issued to Labour staff on how to handle possible "aggressive behaviour" at the party's conference, saying it comes amid concerns there could be confrontations over Mr Corbyn's expected confirmation as leader.
---
What the commentators say...
---
'Sort it out'
The lead story in the Daily Telegraph reports that British troops who are prosecuted for alleged abuses in Iraq and Afghanistan face having their pay docked by the Ministry of Defence to cover their legal costs.
The move, says the Telegraph, has been branded "outrageous and penny-pinching" by campaigners for veterans. They are questioning the validity of the claims and point out that law firms representing the soldiers' accusers have had their cases funded by legal aid.
Theresa May is pictured in the Daily Mail at a meeting with the UK's five most senior defence chiefs. "Sort it out!" is the paper's headline as it describes how the prime minister told them to make "every effort" to halt the hounding of British soldiers with "spurious" allegations.
In the Daily Express political commentator Ross Clark writes: "Of course British soldiers should not be immune from punishment where they have abused civilians and enemy combatants...
"But what is so wrong about the inquiries into historic allegations of abuses in Iraq and Afghanistan is their one-sidedness. Enemy combatants are showered with legal aid as if they were civilians who had suffered miscarriages of justice in peacetime."
---
Not your average Roman Londoner
Finally, the Times carries news of an archaeological discovery relating to Roman London which could change our view of the history of Europe and Asia.
Analysis of remains found during a dig in a former cemetery site in Southwark discovered two skeletons, dated to between the 2nd and 4th Century, were probably ethnically Chinese.
There was trade between the Roman empire and Chinese but to date only one east Asian skeleton from the era has been found - and that was in Italy.
The new discovery, described in the journal of Archaeological Science, has been hailed as a "total surprise" by historians.
Rebecca Redfern from the Museum of London tells the Times: "In this cemetery they're Mr Average Roman Londoner... We have no inscription evidence or anything to suggest people of this ancestry were present in Roman Britain."
---
Making people click
Daily Express: Is your new Churchill five pound note worth more than £200? Check before it's too late
Daily Telegraph: The history of tea in Britain and why Google is celebrating it with a doodle
Guardian: The greatest record sleeves - as chosen by the designers