Newspaper headlines: Exits of Cameron and Bake Off dominate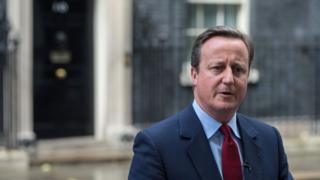 David Cameron is leaving the Commons, Bake Off is leaving the BBC and the papers give great prominence to both - side by side on the front page in several cases.
Mostly, writers point out that Mr Cameron's decision is a change from his previous determination to stay on until at least 2020 - and examine whether it points to a rift between him and his successor.
The Daily Mail quotes sources as saying Mr Cameron feared he could not always support Theresa May who it says has "dismantled his legacy".
On an inside page Mail writer James Slack offers an analysis of how he claims Mrs May "demolished" that legacy "in 6 quick steps" - saying she has disowned Mr Cameron's stance on spin, grammar schools, childhood obesity, austerity and China.
The Sun puts it succinctly: "He couldn't bear sitting on the back benches watching his former Home Secretary tear up his policies — and quit in a huff."
The Times says Mr Cameron plans to defend his policies, especially the free schools programme, and calls this a "parting shot" at Mrs May.
---
BBC loses Bake Off
All the papers find something to say about the BBC's losing the Great British Bake off to Channel 4, with many puns, especially about dough.
A bewildering variety of figures are quoted to illustrate the amounts of money involved. The Mirror says the BBC could not afford to quadruple "the £200,000 it pays for each show" and Channel 4 has "nabbed" the programme for £75m.
The Telegraph estimates that £25m is what Channel 4 will pay each year for the right to broadcast the show. The Daily Star puts it at £20m.
According to the Times, savings to be made by the BBC make it harder to compete with commercially funded rivals.
The Sun's critic Ally Ross says the show is like the BBC: "slightly twee, very reassuring... yet politically correct to its very core" and it was a complete accident that it became a big hit.
---
It says he wishes to avoid the criticisms of Tony Blair after he left office and also the example of Sir Edward Heath, who sat on the back-benches for decades in what the Daily Telegraph calls "the incredible sulk".
In a letter to the Telegraph, Philip Duly says Mr Cameron should be remembered as one of the Tory party's greatest leaders, "who modernised its image without tearing up its belief in free markets and a small state."
The Mirror's leader writer is less complementary, calling the ex-PM "a man who enjoyed the perks of high office" and accusing him of "deciding he can't be bothered to serve the constituents who put him in parliament".
---
Eye-catching headlines
Secret plan to stink bomb the Nazis The British secret service had a plan to demean German and Japanese officers by squirting them with stinking fluid Times
Oxygen machine patient on pay as you go meterA man who relies on an electricity-powered machine to breathe has been moved into a council flat with a meter he needs to keep topped up Daily Express
Britain's last human cannonball breaks legs in 50mph crash Shane Beare was rushed to hospital in Kings Lynn after the accident at Mr Fips' Wonder Circus Sun
---
According to the Guardian, allies of Mr Cameron say he wishes to stay involved on a number of issues, "including anti-corruption efforts, dementia, schooling and life chances".
But it adds, there will be "more lucrative options available if, at some point in the future, he decides he wants to take them" such as book deals, directorships and speechmaking.
The Guardian's editorial says Mr Cameron has failed, but has has given his party "a lasting electoral legacy for which Tories will thank him for decades".
That is the radical set of proposals for constituency boundary changes, which the paper says is not fair, uses out-of-date voter figures and discriminates against students and inner cities.
Most papers agree that Labour will be the main loser from the changes, with the loss of a number of seats held by Labour MPs including Jeremy Corbyn - but they point out that prominent Tories will also have to seek new seats, including David Davis and George Osborne.
The i quotes Labour's shadow foreign secretary, Emily Thornberry, as saying the process has been a "gerrymandering scam".
There are also suggestions that Labour critics of Mr Corbyn will be vulnerable because it will be harder for them to secure candidacies in other seats.
"Corbyn has the perfect weapon for a purge" is the heading on one article, by Rachel Sylvester in the Times.
"It's going to be brutal for us. Our own MPs slugging it out against each other, while Momentum [Corbyn supporters] salivate in the wings" according to a Labour "source" quoted in the Sun.
Meanwhile the Brexit debate smoulders on behind all political developments. The Telegraph is among several papers which report on Brexit Secretary David Davis's remarkable statement that discussions with the EU may be "the most complicated negotiation of all time."
He also said there would be a period during which ministers "won't be saying a lot" about their stance - or in the Times's words "parliament could be kept in the dark".
---
Sticky fivers
There is much interest in the new plastic £5 notes which are coming into circulation.
Bearing a picture of Winston Churchill, they carry the wartime leader's promise of toil, tears and sweat, the Sun points out.
Their adoption comes after discussions which began in 2010, the Guardian reports.
And as the Daily Express says, they can survive a spin in the washing machine and last five years longer than paper notes.
But the Mail says a warning has gone out to shoppers that they may stick together, so you might hand over more money than you meant to.
---
But the Daily Star describes what it says is one policy being considered to aid Britain's economy after Brexit. Adele and other British pop stars will help the UK to prosper by stimulating sales of tickets for concerts on UK soil, it says.
In overseas coverage there are a number of pessimistic reports about the health of Hillary Clinton. "Doubts grew" over the Democrat candidate's fitness for office, reports the Mirror, after she suspended her presidential campaigning because she was diagnosed with pneumonia.
The Mail's Tom Leonard criticises Mrs Clinton and her campaign team, saying "Once again, Mrs Clinton has proved to have been supremely untrustworthy and shifty, ready to obfuscate even about the state of her health."
But in the Telegraph the former foreign secretary, Lord Hague, says "the Hillary I know" certainly does not suffer from a lack of stamina or fitness for office.
---
Making people click
Inside the courthouse where prisoners were kept in tiny cages and ISIS judges handed out death sentencesSun
'Pushy' millionaire dentist who 'physically and emotionally abused' her family hanged herself after violent row with her husband - who cancelled his game of golf before calling 999Daily Mail
Corbyn, Johnson and Osborne among MPs hit by electoral shakeup Guardian
Bill Clinton makes shocking revelation about Hillary's health The ex-president has revealed his wife has suffered collapses over "many, many years" Daily Star
Four visually impaired runners beat Olympic gold timeThe top four visually impaired runners in the Paralympic 1,500m T14 race were all faster than the Olympic gold medallist at Rio i
Harvard scientists reveal timelapse footage showing spread and evolution of antibiotics-resistant bacteria Daily Mirror