Newspaper headlines: Brexit plans, insurance row and harassment 'secrecy'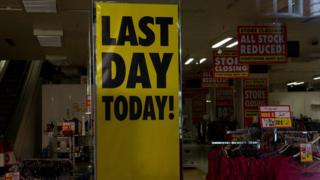 The end of BHS, the plight of the National Health Service - and Brexit, with suggestions that it will be quick, or may not happen at all - are among themes explored on a mixed day of news coverage.
The Times has an interview with a long-standing BHS supplier who says the store chain "had an excellent reputation" for quality lighting products, and was well known for millinery, bacon and cheese.
As the firm's last stores close their doors, Ronnie Abrahams tells the paper that "it is a grim end" for the workers - "the pension scheme is uncertain while the only certainty is that they have lost their jobs".
In the Mirror a BHS worker in Swansea says "It was horrific when our store closed... We lived and breathed BHS; we were one big happy family."
She voices some strong views about former owner Sir Philip Green's part in the saga. Several of the papers do too.
The Financial Times says proposals for how much Sir Philip will pay to help fill the deficit in the firm's pension scheme are "taking shape".
---
The tribulations of Richard Branson
Many papers carry pictures of a bloodied and battered Richard Branson after he was thrown from his bike on a concrete road in the aptly-named British Virgin Islands.
The tycoon has to drink tea with a straw, reports the Express, but the Mirror quotes him as saying "If you fall flat on your face, at least you're moving forward."
There are many stories about the mishaps he has suffered during his exploits, from ballooning accidents in the 1980s (Daily Mail) to being bitten by a stingray just months ago (Times).
On Sir Richard's dispute with Jeremy Corbyn over whether there were free seats on one of his trains, Brian Reade in the Mirror says that at any rate, the idea that British trains are crowded and expensive cannot be dismissed as a myth: "It isn't",
In the Sun, Mr Corbyn's namesake agrees. Sometimes a stunt like this isn't real - "but it is true" writes Jeremy Clarkson. But he goes on to suggest that the railways should be turned into motorways.
---
Sir Philip would pay less than £350m - though some politicians say it should be double that, reports the paper.
On leaving the EU, the Sun says government discussions "need focus and urgency. That is why it must agree a definite date as early as possible next year for triggering Article 50... Let's get on with it."
The Daily Express claims a plan drawn up by ex-minister John Redwood to secure a quick Brexit by repealing the 1972 European Communities Act is "being considered by ministers".
---
Eye-catching headlines
Can dead pets really come back to comfort their owners? Dozens of readers have sent stories of signs from pets in the after-life. (Daily Mail).
Sex, drugs, whisky and rude jokes: The scandalous secrets of Queen Victoria revealed. (Daily Mirror)
Just like that? How Tommy Cooper's every fluff was stage managed. (Daily Telegraph)
'It was a great white shark' Huge creature spotted again off Cornwall coast (Daily Star)
---
And the Telegraph says the prime minister has decided that no vote by MPs is necessary before Article 50 is triggered - such a vote, it implies, is the "last hope of Remain campaigners".
But in the Times former civil service chief Lord O'Donnell suggests that a final deal may even see Britain remain in a "broader, more loosely aligned" European Union. His views, says the paper "may have the Leavers choking on their English frizzante".
The i gives pride of place to warnings about the plight of the NHS, predicting closures and curtailed services as the service faces "the worst financial crisis in its history".
Some hospitals plan to cut beds by 20% "in a bid to meet Treasury demands and balance the books," it goes on.
The Sun quotes a British Medical Association representative as saying "Hospitals and GP surgeries are at breaking point."
The General Medical Council, meanwhile, has put nearly 80 hospitals on a "watch list" because of concerns about patient safety and doctor training, the Telegraph reports.
But the head of the NHS confederation has said the "sustainability and transformation plans" being drawn up in 44 NHS areas are "not about cuts - they are about modernising services to match people's changing care needs", as the Guardian reports.
---
The burkini ban
The Daily Mirror is among papers which applaud a French court's overruling the ban on Muslim women wearing burkinis on some beaches.
"We must condemn authorities ordering women to uncover if we also criticise Middle East despots who demand other women cover up," says the paper.
But as the Express reports, presidential hopeful Nicolas Sarkozy has hit back, saying he refuses "to let the burkini impose itself" at French beaches and pools.
As the Guardian points out, Socialist interior minister Manuel Valls also supports a ban.
The Guardian interviews French women who are uncertain if they can continue to wear burkinis - and another who says wearing clothes in the sea is unhygienic - but admits she has never actually seen anyone wearing a burkini.
---
On the fight against so-called Islamic State the Sun is among papers reporting the appearance of a child claimed to be British in an IS video showing prisoners being killed.
The boy is among five children shown in the film, says the Sun, which describes how he "stares ahead before pulling out a pistol and shooting the hostage in the head."
The Mirror writes of Rachel Miller, whom it describes as a "brave British mum... risking her life to rescue Islamic State sex slaves from Syria."
Ms Miller, who has a Kurdish husband, uses her family links in southern Turkey to give her access to "a network of intelligence and helpers" in dangerous areas, and has even entered Syria, says the paper.
Aside from IS, the Syrian civil war provides a number of remarkable accounts. The Times tells of an opposition fighter paying a last visit to his comrades' graves in the town of Daraya, shortly before it surrendered to the Assad government.
And the same paper reports that a brigade of 3,000 Syrian Kurdish fighters has been prevented from returning to their homeland by a dispute between Kurdish parties in Syria and Iraq, fuelled by "intense mutual suspicion".
Meanwhile in the Daily Mail British surgeon David Nott describes working in a hospital in Aleppo. People in one rebel-held area, he says, "endure incessant attacks for rockets, barrel-bombs and high-energy explosives which rain down from Russian jets and Assad-regime helicopters".
---
Making people click
Faces of murderers could be recreated from DNA left at crime scenes (Daily Mirror)
Lewis Hamilton could face 75-place penalty at Belgian GP (Daily Telegraph)
GP found dead after being suspended over bipolar disorder blog (Guardian)
Ghostbusters' Lesie Jones is bullied not because she's black, or a woman, but because she's both (i)