Newspaper headlines: Historic 'Day of Mayhem' decides new PM
"Another day of Mayhem" is how the Metro front-page headline tags Monday's dramatic sequence of events, the result of which will be a new UK prime minister in place by Wednesday evening.
"Coronation" is a word widely used for Theresa May's appointment to lead the Conservative Party - and the country - after rival Andrea Leadsom dramatically dropped out of the Tory leadership race.
"Last woman standing," says the Financial Times, after Mrs May's "dramatic rout of the Conservatives who led the campaign to take Britain out of the EU".
"Pro-Brexit Tories had once been confident they would inherit the party's crown," the paper says, but Boris Johnson, Michael Gove and Mrs Leadsom have each in turn had their ambitions "dashed in the tumultuous weeks since the Leave vote".
It had, the Guardian says, been "expected to be a bruising nine-week Conservative contest" between Mrs May and Mrs Leadsom; but, says the FT, the latter's short-lived campaign "was dogged by mis-steps and controversy".
"Mrs Leadsom's friends said that she had been in tears over the weekend and felt 'under attack' after suggesting in a newspaper interview she was better placed than Mrs May to become prime minister because she was a mother."
"Leadsom bid ends in farce," is the verdict of the Sun, its leader column suggesting that "from the outset of the contest she appeared too inexperienced to be a serious candidate to lead the country" and that now "her overconfidence and risible retreat have robbed Britain of a proper contest".
In the Daily Mail, the Pugh cartoon shows an "I love Andrea" T-shirt in the window of a second-hand clothes shop being advertised as "virtually new, hardly worn".
"Most Conservatives," suggests the Guardian, "appeared shocked at the speed at which they had gone from preparing for a weeks-long leadership battle, to be decided by the party's grassroots, to the apparent coronation of a new leader and prime minister."
"Just another manic Monday," begins Guardian sketch-writer John Crace, although he later acknowledges: "Even by recent standards this was all a bit quick."
He suggests that the Conservative Party had "trusted the country to reach the right decision in the referendum campaign and it wasn't going to make the same mistake again by giving the untamed fringes of the Tory party a say".
---
Headline shoes
"May's a shoe-in"; "Theresa's fancy footwork gets her top job" - Daily Star
"Goody two shoes" - Daily Mirror
"Hot shoe reshuffle" - Sun
---
The FT says Mrs May's victory was based on offering "'strong leadership' and a promise to heal the country's divisions", and the Sun is confident she "can reunite Tories and & deliver Brexit".
"She is expected to whip feuding male Cabinet colleagues into line in the no-nonsense style of Maggie Thatcher," says the paper, which therefore comes up with the nickname for the new PM of "Maggie May".
But the Daily Mirror front page makes clear it's unconvinced that this is not still "a nation in crisis", and also reminds Mrs May of her words from 2007 when Gordon Brown had taken over from Tony Blair as prime minister: "An early election? Bring it on..."
Calling for a snap election, the paper's leader column argues: "It is unacceptable that Theresa May will move into Downing Street tomorrow after being crowned by a small circle of 199 Conservative MPs. That's just 0.0004% of the 44.7 million Britons on the electoral roll."
It goes on: "Such a narrow franchise might be acceptable in North Korea or Saudi Arabia, but in Britain the elective dictatorship of a couple of hundred Tory cronies is nothing short of an outrageous power grab by a political elite."
While Mrs May has ruled out calling an election before 2020, the i says she is "likely to face significant pressure from opposition parties to reverse her position and may be tempted to capitalise on Labour's current disarray".
While her own MPs are not actively pushing for a snap election, according to the Times, "they recognise that, with Labour divided, an election before 2020 might strengthen the Tory majority beyond its slender working total of 16".
Among widespread speculation about the potential make-up of Mrs May's cabinet, the Times suggests a possible swap that would see Philip Hammond made chancellor and George Osborne take over as foreign secretary.
"One of the biggest questions facing Mrs May will be what to do with Boris Johnson," suggests the Daily Telegraph, and in various papers his name is linked to roles including party chairman, home secretary and defence secretary.
But, as the Mail points out, some of Mr Johnson's colleagues simply "want him banished to the wilderness".
The abiding concern of the Daily Express is conveyed in its blunt front-page message to the new PM: "Make sure you get us out of the EU."
After Mrs May repeated her mantra that "Brexit means Brexit" on Monday, the Mail says she is "expected to trigger the formal process to quit the EU by the end of the year".
---
Name that tune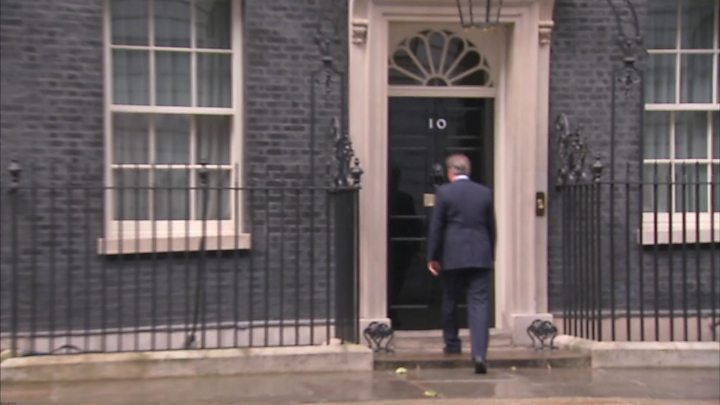 "David Cameron was apparently caught singing a little tune to himself as he re-entered Number 10." - i
"Observers said the jaunty tune sounded like the theme from US political show The West Wing about a fictional president. He was also heard to say to whoever was inside '...right. Good' before the door closed behind him." - Daily Express
"Debate raged last night over what the PM was humming - The West Wing or News at Ten." - Sun
"Ho-hum for the PM... Some thought it sounded like the start of the West Wing theme, while ITV's political editor, Robert Peston, suggested that it was a Winnie the Pooh-style ditty." - Guardian
---
'Peston, where are you?'
In all the excitement of "May day", as the i refers to it, other news was rather in danger of getting lost; hence the Times cartoon about the launch of Angela Eagle's Labour leadership bid in which someone is telling her on the phone: "Actually Angela, nobody's noticed..."
The i's Tom Peck suggests Ms Eagle had twice previously "delayed her Big Leadership Challenge Announcement, so as not to clash, firstly with Corbyn's own once half-expected resignation and, secondly, the centenary of the Battle of the Somme".
But what it ended up clashing with on Monday was Mrs Leadsom's withdrawal from the Tory leadership race, so that "the standing ovation and the loud whoops from Labour's massed rebels that greeted [Ms Eagle's] arrival in a small room in central London provided the perfect foil for three quarters of the media to sneak out".
During a question-and-answer session that followed her speech, she was "left calling on journalists who were no longer in attendance", reports the Telegraph.
"'How about a question from this side of the room?' Ms Eagle asked, before it became clear no one had their hands up and wanted to ask anything."
There's sympathy from the Mirror's Jack Blanchard, who says the way the launch was overshadowed "should not detract from an impressive, gutsy showing from an MP as tough as they come".
While the event's timing was unfortunate, Ms Eagle's comic timing fared better, he says: "She showed a sharp wit as she fired back zingers to questions. Has she got a real chance of winning? 'I don't go in for suicide missions.'"
The Mirror's deputy political editor adds: "Supporters left buoyant, believing they have finally found a left-wing candidate, like Jeremy Corbyn, to fight Tory austerity - but who stands a chance of actually becoming Prime Minister."
The Guardian reports that Mr Corbyn could struggle to gain the backing of 51 MPs and MEPs that may be needed to secure him a place on the ballot paper for the leadership.
But the paper points out: "He could still be on the ballot as the incumbent, a decision due to be taken on Tuesday by Labour's national executive committee, which is believed to lean in his favour."
The Telegraph says there have been calls for a secret ballot of the committee's 33 members, "but it looks likely it will be decided by a show of hands, which could discourage Corbyn critics from going public".
---
Eye-catching headlines
'Kill more drug dealers' - that's the instruction to police in the Philippines, reports the i, as part of new President Rodrigo Duterte's "brutal war on criminals".
38? Well act like an adult - that's the age when people should "act like adults and grow up", according to a UK poll reported in the Daily Express, although the results give women until 46 to keep wearing a bikini on the beach, and men until 49 to still wear trainers.
Closet knitters - Britons are keeping embarrassing hobbies such as bird watching and knitting secret "for fear of being ridiculed", reports the Daily Star.
The WI? It's a fruit-picking crime gang! - Women's Institute members under (light-hearted) fire for gathering wild fruit to sell in jam, reports the Daily Mail.