Newspaper headlines: Tory rivals, Corbyn challenge, 'Queen' Serena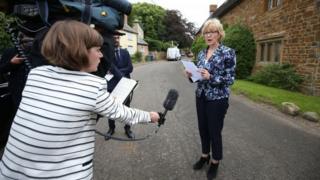 It may have been an interview in Saturday's Times where Conservative Party leadership contender Andrea Leadsom seemed to suggest she was more suitable to be prime minister than her rival Theresa May because she was a mother, but the ensuing row is reported widely across the Sunday papers.
The Sunday Times says some of energy minister Mrs Leadsom's colleagues have called on her to stand down from the leadership race, quoting business minister Anna Soubry as saying she should "do us all a favour". But the paper reports one of Mrs Leadsom's backers - former cabinet minister Iain Duncan Smith - said the attacks meant "Project Fear" from the EU referendum campaign "has morphed into Project Smear".
Mrs Leadsom "may have meant no harm," says the Sun on Sunday in its editorial, "but it was a foolish and unpleasant remark". The paper's editorial praises Mrs May, the home secretary, saying she has made a "clear statement of intent on Brexit". Its view is based on an article in the paper by Mrs May, who says the referendum sent a clear message to politicians, not just to leave the EU, but change how politics works.
The Mail on Sunday's editorial is similarly inclined towards Mrs May, with the paper saying Mrs Leadsom "may have been no worse than clumsy and naive to have entangled herself in discussing the virtues of motherhood in politics", but it adds, "the winner of this contest will be in power within minutes of the result. Do we want a naive and clumsy person heading the government of a nuclear power?".
However, the Sunday Telegraph reports the energy minister has won over a Tory grassroots organisation, with the paper saying this is the "latest sign" she has significant support among the 150,000 Conservative activists who will choose Britain's next prime minister. Ed Costelloe, chairman of the group Grassroots Conservatives, tells the Telegraph "if Andrea can improve her interview technique and responses to questions, it will be a very close and interesting contest".
So what about those activists? The Observer asks politics lecturer Rob Ford to examine who the Conservative Party members are that will vote in the election.
"They are a very grey, middle-class group," he states. With an average age of nearly 60, politically engaged and readers of the Times and Telegraph, Mr Ford believes this will help Mrs May. However, he notes that Tory members have not participated in a contested leadership for more than a decade, "so nothing can be ruled out, but [Mrs] Leadsom has a lot of work to do if she wants to deliver yet another shock to the political system".
---
Eagle to fly?
Labour is set for a "'brutal, brutal, brutal' fight to oust leader Jeremy Corbyn", says the Sunday Times, after Angela Eagle announced she would trigger a leadership election. "Moderates fear the party now faces an all-out civil war that will eclipse anything seen during the long battle to expel the Militant tendency in the 1980s and could split the party for good," the paper says.
"A defiant Mr Corbyn showed no sign of throwing in the towel in a speech calling for Labour unity at the Durham Miners' Gala," reports the Mail on Sunday. His allies, the paper says, believe he will "win a repeat of his massive victory last year thanks to continued support from the party members".
According to the Sunday Mirror, Mr Corbyn "would be unable to get the 51 nominations of MPs and MEPs other candidates need". The paper adds the Labour leader believes he is entitled to an automatic place on the ballot paper, with the party's National Executive Committee expected to rule, but its decision "could go to court".
The Sunday People though believes Mr Corbyn should quit, "but we respect his wish to let members decide his fate," says the paper in an editorial. "Labour cannot mount an effective opposition to the Tories while flapping about like a dysfunctional rabble," it adds.
Elsewhere, the Sun on Sunday reports there have been "high-level talks" between Tory rebels and Labour moderates "threatening to form a new party". According to the paper, one serving minister and a "recently-resigned" Labour shadow minister have discussed the move, which it says, would "cause a political earthquake".
"Talks should be taken seriously", reports the Observer. It says the possibility of Andrea Leadsom becoming prime minister and Jeremy Corbyn staying as Labour leader have led to the discussions. The paper believes MPs who campaigned to remain in the European Union "believe there is an opportunity to build on the newly-formed relationships between centrist MPs in both parties".
---
Eye-catching headlines
Making waves: the new bark symphonies - top punning from the Sunday Telegraph, and bonus points for referencing the Beach Boys album Pet Sounds, as it reports on the work of music technology student Ryan Harrison. He, it notes, "creates works using the sound waves from a dog's bark, a cat's meow and even a horse's neigh". His friends began asking him to make music from their pets, and his business was born, the paper says.
Fruit and veg boost happiness - this Sunday Express story might be news to any small child, but the paper says research suggests those who eat their greens (at least eight portions a day) feel happier and more positive. Scientists at Warwick University described their findings as "astonishing".
Fire up the Segway! Why life's a beach on the Cornish beat - Shades of the movie Paul Blart: Mall Cop as the Mail on Sunday reports bobbies in Newquay have been loaned motorised scooters to patrol the sands of the resort. The paper says the Segway company believes the machines will help them reach "areas inaccessible even to 4x4 vehicles - although some might argue that they could be reached easily on foot". Yes, but where would be the fun in that?
IDK these Scrabble words TBH, do you? A headline to bring out anyone's inner old fogey from the Sun on Sunday, as it reports that text-speak acronyms such as IDK (I don't know), FWIW (for what it's worth) and TBH (to be honest) are the latest editions to the Oxford English Dictionary. If you need one to describe this paper review, I suspect TLDR (too long; didn't read), will fit the bill.
---
'Sadness and anger'
With Sir John Chilcot's report into the UK's role in the 2003 Iraq war published last Wednesday, the Sunday papers have had plenty of time to pore over its contents and assess not just the findings, but what it means for the reputation of the prime minister who backed the US-led invasion, Tony Blair.
The papers take a different approach to analysing the Chilcot report, but many rely on columnists to express their feelings about the inquiry's findings, none more so than Mr Blair's former deputy, John Prescott.
Writing in the Sunday Mirror, Lord Prescott says the report was a "damning indictment of how the Blair government handled the war - and I take my fair share of the blame". Saying "a day doesn't go by when I don't think of the decision we made to go to war", Lord Prescott concludes: "In 2004 the UN secretary general Kofi Annan said that as regime change was the prime aim of the Iraq war, it was illegal. With great sadness and anger, I now believe him to be right."
The Mail on Sunday runs a column from former Labour international development secretary Clare Short, who quit Mr Blair's government after the invasion. Reflecting on Mr Blair's press conference last Wednesday, Ms Short writes that the "great communicator has come to the end of the line. He seemed a broken man".
"For me," she adds, "it is a matter of deep shame. I tried to achieve better decisions with the partial information available to me... but I failed and this will live with me for the rest of my life."
"It is enough to say that we did not really need to wait seven years for Sir John to produce 2.6 million words informing us that the war was sold on a bogus manifesto about weapons of mass destruction and the sequel to the toppling of Saddam Hussein was a disaster," is Andrew Rawnsley's summary for the Observer.
Sun on Sunday columnist Tony Parsons is scathing about Sir John Chilcot's findings: "The devastating report makes it clear that Blair sent somebody else's sons and daughters into Iraq 'before peaceful options had been exhausted'," he writes.
The Sunday Times calls on historian Niall Ferguson for his thoughts. As author of the book Virtual History (a kind of "what if" take on turning points in the globe's timeline) he takes up former Prime Minister Tony Blair's view from last week that Chilcot did not address the counter-factual question, "what if Saddam had been left in power?".
"The alternative reality Blair asks us to imagine is not wholly implausible," Ferguson states. "If Saddam had been in power in 2011, would there not have been an Arab revolution in Iraq too?," he asks. "Leaders must act on conjecture as well as intelligence. In 2003, Blair's conjecture was that leaving Saddam in power would be worse than overthrowing him," Ferguson says.
---
What the commentators say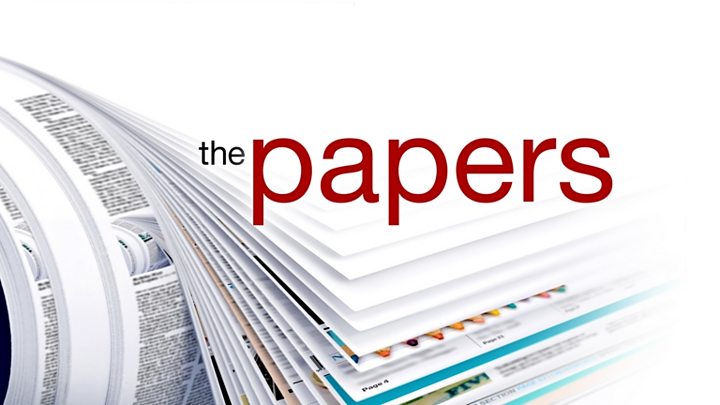 ---
'Slam Queen Serena'
US tennis player Serena Williams' equalling of Steffi Graf's 22 Grand Slam wins attracts the appreciation and acclaim of the British press, having won her seventh Wimbledon singles title on Saturday.
"Slam queen Serena is best of all time", is the Sunday Express's headline. "In public she tried to pretend that 22nd title was nothing to get excited about", says the paper's Nigel Clarke. "Privately she yearned for it , hungered for the glory it would bestow on her. She invited the hand of history to be placed on her shoulder, then couldn't always cope when it was snatched away," he writes.
Also referring to Williams as tennis royalty, Andy Dunn in the Sunday Mirror writes that "maybe now, one of the greatest sportswomen of all time will get the adoration and acclaim she deserves".
"No-one in the open era has won more slams than the American and the German," writes Kevin Mitchell in the Observer, "but as everyone knows Australia's Margaret Court... won 24 majors straddling the old and new regimes, so there is another mountain in the mist for Williams still to conquer."
"Whether Williams is the greatest woman player of them all remains a matter for discussion," suggests Nick Pitt in the Sunday Times, "but there can be no doubt that her service - so fluid, so reliable and so powerful - is the best and most effective shot ever possessed by a woman."
Oliver Holt in the Mail on Sunday notes: "tennis is still a white person's game too and it often feels as though Williams and her family have been treated as imposters... what is difficult to deny is that Williams has become someone to admire on and off the court."
---
Making us click
Mail Online - Horror as top Spanish matador, 29, is gored to death by an 87st bull that pinned him down with its horns in front of his horrified wife live on TV as he becomes first bullfighter to be killed in 30 years
The Guardian - EU referendum: youth turnout almost twice as high as first thought
Mirror Online - ISIS shoots down Russian helicopter over Syria killing two pilots
Sunday Express - John Prescott defies former boss Tony Blair and claims the Iraq war was ILLEGAL
Telegraph Online - Can you solve the mobile phone illusion confusing the internet?