Newspaper headlines: EU blamed for Brexit vote and Corbyn defiant
David Cameron "blaming" the EU for the UK's Brexit vote, Jeremy Corbyn refusing to quit as Labour leader, and the race to be the next prime minister all feature as politics dominates Wednesday's front pages.
The Daily Express says David Cameron went to Brussels for his last summit as prime minister and told his EU counterparts that their refusal to allow the UK to stop mass immigration had driven the country out.
"At a glum Brussels summit dinner, he declared their stubborn refusal to heed British anger at mass migration had caused Brexit."
He urged the EU to agree a new trade deal with his successor so Britain could restore border controls, as he gave his verdict "on his shattering referendum defeat", it adds.
The Times says Mr Cameron delivered a "migration ultimatum", saying EU leaders must allow it to be curbed if they want a future deal with Britain over the single market.
His "blunt assessment" of the in-out vote "amounts to an admission that he was wrong to think that voters would be satisfied with limits to migrant benefits", it concludes.
In return, the paper says, Mr Cameron was urged to get on with arranging Britain's exit.
It quotes Belgian Prime Minister Charles Michel as saying: "You can't say 'I want a divorce but I will live with you for a while until I make my mind up'."
The Financial Times says Mr Cameron's remarks "underscored the hard task facing both sides in reaching a new accord". It also highlighted German Chancellor Angela Merkel's warning that the UK could not "cherry pick" in its negotiations to leave.
The paper's Martin Wolf writes that "controls on immigration are the crux".
'Fart in a lift'
He adds: "If they are inescapable for the post-referendum UK and if the EU will not shift on the issue, then the UK must lose its access to the single market.
"It should, instead, open discussions on the best trade agreement to allow such controls."
The Daily Telegraph says EU leaders appear split over whether to attempt to negotiate a deal allowing Britain to maintain economic ties with the bloc.
But it adds: "Mr Cameron's comments will be seen as a sign that senior government figures believe that Britain will be able to negotiate an 'exit package' over the coming months."
Meanwhile, UKIP leader Nigel Farage's appearance at an emergency session of the European Parliament to discuss Brexit - at which he told fellow MEPs they were in denial over EU failings - attracted plenty of column inches.
Patrick Kidd, writing in the Times, says: "Nigel Farage went to Brussels and did what he has done so admirably for 17 years: got right up the noses of his fellow MEPs.
"He was as welcome as a fart in a lift."
A "triumphant" Nigel Farage was heckled and booed as he "heralded the nation's Brexit decision" and taunted EU bosses, the Daily Star reports.
---
'Alive and busy'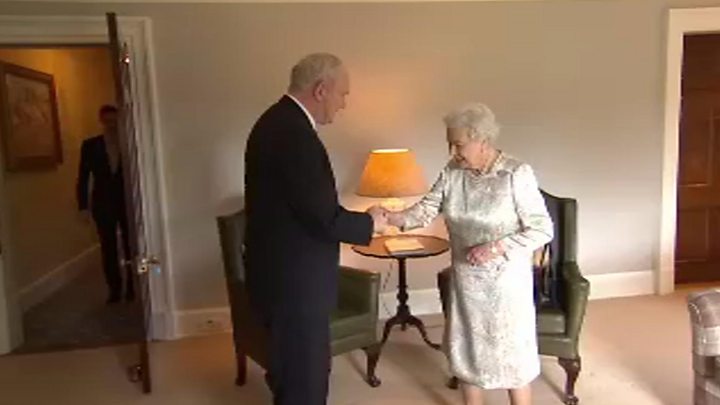 An exchange between Sinn Fein's Martin McGuinness and the Queen in Northern Ireland has some of the papers speculating about the true meaning of her words.
When asked "Are you well?" by the former IRA commander, the Queen, smiling, replied: "I'm still alive."
The Times writes: "Given the recent, and somewhat tiring, run of 90th birthday celebrations, she might just have been expressing her astonishment that she is still standing.
"But it cannot be entirely ruled out that the Queen was observing how she is still alive and kicking nearly 40 years after the IRA declared her a legitimate target."
The Daily Express sees it differently though, as it highlights how the Queen went on to say: "I've been quite busy. There's quite a lot going on."
She appeared to make light of the Brexit referendum vote, the paper says.
---
'A Labour leader besieged'
Back in Westminster, the i sees Jeremy Corbyn clinging on despite 172 Labour MPs backing a no-confidence motion in his leadership of the party.
"Corbyn; I'm not quitting," is its headline alongside a picture of him walking past an exit sign at Parliament on Tuesday.
The Daily Mirror says "Labour is heading for a bloody leadership contest after Jeremy Corbyn refused to quit, despite a crushing vote of no-confidence.
"The besieged leader caused uproar among MPs after brushing aside the result, insisting he was going nowhere."
The Sun predicts the "crisis-hit" leader could face an "all-out attempt to oust him" as early as today. "Respected MP Angela Eagle is expected to lead the coup."
According to the Times, the SNP will demand to be installed as Her Majesty's official opposition, declaring Labour a "crisis-ridden shambles" unable to fulfil its obligations.
In his analysis, i political editor Nigel Morris says that if the Labour leader is determined to stay in post, "it is hard to see how he can be ousted so soon after gaining an overwhelming mandate from activists".
His allies say he wants to transform Labour's structure to give far more power to the party members who catapulted him to the leadership last year, Mr Morris writes.
Race to No 10
The race to be the next Conservative leader - and in turn the prime minister - also occupies many pages in the papers.
The Sun suggests Boris Johnson has "surged ahead in the race for No 10 as senior Tories rushed to back him and at least 100 MPs were expected to follow their lead".
But the Daily Mail reports that Home Secretary Theresa May has edged ahead of the former London mayor, according to two early polls of party voters.
"It shatters the assumption that only a Brexiteer could lead the party following the vote to leave Europe last week," it says.
Work and Pensions Secretary Stephen Crabb will kick off the race later, the paper adds, with Business Secretary Sajid Javid as his candidate to be chancellor.
---
'Out as lions, back as donkeys'
If you are a multi-millionaire England international whose team has just crashed out of football's Euro 2016 finals with a defeat to Iceland (population about 330,000 in case you didn't know already), then you would be well advised to avoid today's papers.
While the sports pages concentrate on Roy Hodgson's bizarre, final news conference as manager, and the search for his successor, the news pages focus on the return of the players to England.
The Daily Star revived a headline given to a former England manager, observing that "England's flop footballers were 'wallies with the brollies' as they flew home to rainy England in disgrace".
For the Daily Mirror, the players' return marked England's "toothless lions" flying home with their tails between their legs.
"Roy Hodgson's flops left France in humbled silence, fully aware of the embarrassment they have brought on the nation with an exit at the hands of the least-fancied minnows."
The Sun says the squad had gone out to France as the Three Lions, but returned as "the 23 donkeys" who made "complete asses" of themselves at Euro 2016.
The Daily Mail goes to town with a double-page demolition job on the squad, suggesting the players were "distracted by dodgy hair, lucrative ad deals and pouting wags".
"No wonder they're losers," its headline says.
A number of figures are used by the papers as sticks to beat the team. One, based on a betting chain's research, suggests England's travelling fans paid, on average, £864 on tickets, flights, food and accommodation for every one of the four goals scored by the misfiring team during the tournament.
---
Making people click
36 killed in explosions at Turkey's Ataturk airport (The Guardian)
What has happened to Rooney's hair? (Daily Mirror)
Meet the grumpy cat going strong at 31 (Daily Express)
Brit hopeful Katie Swan's floating dress blamed for Wimbledon exit (The Sun)
---