Newspaper review: BHS on the brink and 'don't get sick' warning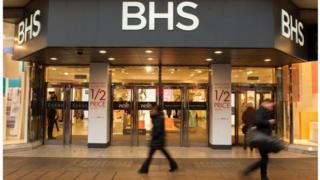 Monday's papers make grim reading for the High Street, with news that BHS is set to fall into administration, putting 11,000 jobs at risk.
"BHS SOS" is how the Daily Mirror's front page sells the story, as it reflects that "another iconic household name is brought to its knees".
The paper says the department store chain, which has 164 shops, has told staff it will file for administration today, after being unable to secure funding or a sale for the business. Its £571m pensions black hole has proved an obstacle.
"If BHS fails after 88 years of trading, it would be the biggest retail collapse since Woolworths in 2008," the paper says.
The Guardian, which also leads on the story, says BHS's collapse would provide the government "with another headache as it attempts to save thousands of jobs in the steel industry".
Administrators will be appointed unless £60m can be found to keep the business afloat, it says.
It charts how "concerns about the future of the retailer have grown" since Sir Philip Green sold the business for £1 to a consortium headed by Dominic Chappell in March 2015. It later emerged that Mr Chappell had twice been declared bankrupt before buying BHS.
The Daily Express describes the consortium as a "little-known collection of financiers, lawyers and accountants with no retail experience".
But two editorials in the New Day say that shoppers must share the blame with management for BHS's collapse, as they have turned their backs on High Street stores in favour of online shopping.
'Flashy upstarts'
Samm Taylor, writing in the paper, asks: "Outside of the tragedy for the chain's 11,000 staff, should we be mourning its passing?
"Of course. Like local pubs, chip shops and greasy spoons, BHS was part of a way of British life that is slipping through our fingers.
"Sure the company failed to get across that its products are a world away from their fusty image. We never gave them a chance. Amazon, ASOS, Primark - BHS couldn't compete with home shopping and flashy upstarts."
In a Mirror comment piece, fashion and beauty director Amber Graafland says change came for BHS, but not fast enough.
"For decades BHS simply didn't move with the times. It was outdated when the competition was fiercer than ever."
Mirror business editor Graham Hiscott writes that for generations BHS was where Britons "kitted out their homes, bought their clothes and chatted in its cafes".
Lights out?
He adds: "BHS was once THE place to head for your essentials, especially its lighting department.
"But the lights are shining less brightly for the High Street stalwart as customers deserted it for cheap fashion, Ikea and the internet."
However, he says company sources hold out hope that a slimmed-down version of the chain could survive, 88 years after US businessmen keen to copy the success of Woolworths opened their first British Homes Stores branch in Brixton, south London.
---
Perspiration and inspiration
On a brighter note, Sunday's London Marathon provides an array of colourful photo opportunities and inspirational stories for the papers to focus on.
This year they didn't have to look too much further than the event's leading runners to find good copy.
The Daily Mirror headlines its story "Fallen Hero" as it recalls how "brave Jemima Sumgong rose above all 40,000 heroic marathon runners by winning after cracking her head open in a fall".
It says the Kenyan, who was tripped by a rival after 22 miles, "got up, rubbed the cut on her head... and took her first London women's title in 2:22:58".
The Daily Telegraph describes how Sumgong was nearly taken out by an intruder on the course barely a mile later.
But "unfazed by the continuous attempts to throw her off her stride", she continued to victory in the Mall, before collapsing after the finish line "bloodied, bruised and exhausted".
The Telegraph highlights another case of triumph over adversity in the form of Tsegai Tewelde, 26, who finished as the second-fastest Briton (2:12:23) in what was his first marathon.
The former goat-herder in Eritrea, who bears the scars of a landmine blast that happened when he was eight, will now represent Britain in this summer's Olympics.
He claimed asylum after competing at the world cross country championships in Edinburgh in 2008, rather than returning to military service in his war-torn homeland, the Times reports.
On Sunday he proudly wore the running vest of Shettleston Harriers, his athletics club in the East End of Glasgow, it adds.
---
'Keep well out there'
The Daily Mail's front page carries a stark warning for people in England ahead of the junior doctors' strike starting on Tuesday; "Don't get sick tomorrow!"
It says junior doctors will go ahead with the first all-out strike in NHS history after the British Medical Association (BMA) refused to meet Jeremy Hunt, in the dispute over a new pay and conditions contract aimed at cutting weekend death rates.
In a comment piece, the paper says that, with 125,000 appointments and operations cancelled, it is "horrified" at their actions, adding: "Such blackmail demeans their profession.
"But with lives at stake, shouldn't the health secretary seriously consider the cross-party plan for trials of his contracts before imposing them nationwide.
"If such pilots do indeed cut weekend death rates, won't this destroy any excuse for further strikes?"
'Toxic dispute'
But the Sun says Mr Hunt is right to reject the proposal.
"What would be the point? The new contracts are already being phased in gradually. At best it would be a breathing space in a toxic dispute that continues to use sound bites on patient welfare.
"All of which masks a BMA agenda that is really about politics and hard cash."
The BMA also comes in for criticism in a Financial Times comment piece.
While acknowledging that Mr Hunt "has not handled the dispute well", it says the BMA is guilty of overplaying its hand. "It appears increasingly driven by a desire to damage the government rather than to seek a reasonable settlement."
The Guardian says the government needs to talk to the doctors and urges ministers to let go of the "jaded idea that the country still yearns for what was once known as the smack of firm government".
It adds: "Make no mistake, the action will have very serious consequences."
---
Eye-catching headlines
Daily Mail: Yorkshire Ripper could face another trial after detectives investigate the possibility of at least 13 more suspected victims
Daily Telegraph: Police hunt serial puddle splasher
Daily Mirror: Prince stayed awake for six days before his death as pals fear 'dodgy doctor' prescriptions
Daily Express: Anger as council officials say UK city is 'too multicultural' to celebrate St George's Day
---
Fears over green belt
"New homes eroding green belt at 'fastest rate for 20 years'" is how the Guardian headlines a front page story based on a report by the Campaign to Protect Rural England (CPRE).
The paper says the group's report outlines how the number of homes planned for England's green belt - 14 rings of protected land designed to stop urban sprawl - has risen to 275,000, nearly 200,000 more than four years ago.
The group accuses councils of altering green belt boundaries to accommodate housing at the fastest rate for two decades, the Guardian writes.
"Green belt under siege," is how i headlines its front page, adding: "London, Yorkshire and West Midlands earmarked for large-scale development."
It points to the housing crisis putting pressure on ministers and local authorities to ease planning controls on rural land.
In an editorial, the Daily Express accuses the government of trampling "roughshod over promises it has made" by not protecting the green belt.
"There is plenty of brownfield land lying neglected which could be put to better use," it writes.
"But more to the point, Britain's housing crisis has become so acute because this country cannot support the numbers who have moved here in recent years."
'55,000 rise'
The Times highlights that in the paper last July, David Cameron and George Osborne wrote: "We will always protect the green belt and make sure planning decisions are made by local people."
But it says that since CPRE carried out its last survey in March 2015, the number of planned green belt homes has risen by 55,000.
The government says there are no plans to "relax the strong protections that prevent inappropriate development on the green belt".
---