Newspaper headlines: Focus on government's EU brochures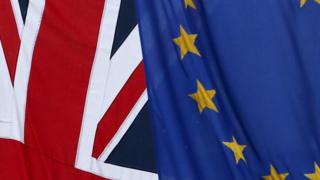 "Taxpayers to pay £9.3m for pro-EU propaganda," is how the Daily Express describes the government's move to spend millions on a booklet setting out arguments against leaving the EU, along with a website and related advertising, in advance of June's referendum.
The Express's headline is similar to those of several other papers; the i says Out campaigners have described the plan as "disgraceful" and think it puts them at an unfair disadvantage.
The i also quotes Tory MP Peter Bone as saying it is "an outrageous way to spend taxpayers' money".
The Daily Mail is among papers quoting Environment Secretary Liz Truss defending the booklet, saying it is "crucial that the public have clear and accessible information" - it also says No 10 "flatly denied it was an attempt to distract from the row over tax".
---
Royal blues
Several of the papers show the Duke and Duchess of Cambridge at a reception in advance of their tour of India and Bhutan
The duchess is shown wearing a dark blue gown by Indian-born designer Saloni Lodha
More surprisingly, Prince William said yesterday that he was "dying" for Leicester to win the Premier League, the Telegraph reports
His remarks backing Leicester, who play in blue, were made at an event marking 10 years of his presidency of the FA
Generally considered to be an Aston Villa fan, he nevertheless said it would be "great for the game" if former relegation strugglers Leicester won the title
---
The Guardian reports criticism of the government's booklet and Ms Truss's defence of it. It also says it has received a number of emails complaining about a leaflet issued by the Vote Leave group which "seems designed to look official" and reveals its origin in small letters on the back page.
"Will any celeb WITHOUT an offshore account please step forward?" asks the Daily Mirror as the papers churn out lists of British and foreign celebrities apparently named in the Panama Papers and dissect the financial holdings of David Cameron and his family.
The Guardian devotes its first seven pages to the affair - with the Prime Minister's family tree - suggesting that most of his family members are rich but not, apparently, alleging any criminality.
The Financial Times is among papers reporting that Mr Cameron told EU officials in 2013 that trusts such as those used for inheritance purposes should not be subject to the same transparency legislation as companies.
---
Eye-catching headlines
Dock Ness Monster invades the Thames (Daily Star)
Sherlock's coming back with nappies (New Day)
---
Telegraph columnist Juliet Samuel, however, points out that "doing your business offshore is not a crime," and urges: "Fix the laws and punish those who break them. Don't go after people whose only crime is to be wealthy."
The Daily Mail insists "It is not David Cameron's fault that his father took elaborate steps to avoid tax, using every legal means."
But it goes on "Now that we know his privileges sprang from this father's tax avoidance, his call for sacrifices from families who have have paid every penny asked of them becomes, to put it mildly, difficult to swallow."
---
Dock Ness monster
The Daily Star is among papers reporting the appearance of a "giant humped creature" in London's docklands near the O2 arena
The creature in the Thames is "just like the legendary Loch Ness monster" the paper claims.
---
The Mail gives most prominence to the "draconian privacy injunction" barring British media from publishing details of the private lives of a celebrity couple which have been published in America and "on social networking sites everywhere".
According to the Daily Mirror, the case is an example of how "Britain lets the rich pay to stop you reading the truth about them."
Another controversy, which commands the attention of New Day, concerns the claim by former UK Afghanistan commander Col Richard Kemp that placing female soldiers on the front line is a dangerous experiment which will be "paid for in blood".
Among pictures of women soldiers undergoing arduous training, it quotes one of them as saying his comments were "insulting, sexist and factually inaccurate".
Indignation is also directed at a couple who, the Sun says, went on a "24-hour Christmas booze binge" in 2014, and forgot where they had left their month-old son.
The baby died, but a coroner ruled it was impossible to say what the cause of death was, and prosecutors have now dropped neglect and manslaughter charges against the parents, neither of whom could remember what had happened.
The couple's local MP has said all agencies involved must "think hard and urgently" about the implications of the case, the Telegraph reports.
The setback for Donald Trump in Wisconsin attracts interest from papers, some of whom believe his triumphant march toward the US Republican nomination will soon be halted.
The Wisconsin result, according to the Times, threatens to "plunge the Republican party into a summer of chaos".
And in the Telegraph, former Foreign Secretary William Hague warns that Mr Trump's main rival Ted Cruz "might be little better" than he is.
He calls Mr Cruz an "ultra-conservative, evangelical Tea Party candidate" whose foreign policy is as dangerous as Mr Trump's.