Newspaper headlines: Migrant crisis, tax 'cut', Nancy tributes
The announcement that the UK is to commit to a new Nato mission to tackle the people smugglers who take migrants from Turkey to Greece is widely covered in Monday's papers.
The Times reports Prime Minister David Cameron believes the migrant crisis is the "greatest challenge facing Europe today" as he committed "vital military assets" including a British warship.
As well as deploying the Royal Fleet Auxiliary ship Mounts Bay to the Aegean Sea, Mr Cameron is expected to call on EU leaders to help "break the business model of the criminal smugglers" and "stop the desperate flow of people crammed into makeshift vessels", according to the Daily Mirror.
The Guardian reports the announcement comes as European Union leaders head to Brussels on Monday for a migration summit, amid warnings that "up to 100,000 migrants and refugees" could reach Greece this month.
It is the ninth such summit, says the Independent, which is expected to hear a plan drawn up by European Council President Donald Tusk which would "both prevent refugees from leaving Turkey and send them back if they do land in Greece, Italy, or other front-line countries".
The Daily Express says the deal is expected to see Turkey take back all economic migrants in Greece, in return for the EU agreeing to house Syrian refugees directly from Turkish camps.
Writing in the Daily Telegraph, Macedonian President Gjorge Ivanov says his country is "feeling the full force of the migrant crisis" because it shares a border with Greece, which it has shut, stranding some 13,000 people.
Mr Ivanov responds to criticism of that decision by saying his country is "doing it for the benefit of the EU" and "Europe as a continent is only as strong security-wise as Macedonia". Urging help for both Macedonia and Greece, Mr Ivanov warns "the effectiveness of the EU's response will shape the very future of our continent".
---
Farewell to a First Lady
All the national papers cover the death of former US First Lady Nancy Reagan at the age of 94.
Many papers see Mrs Reagan as a driving force behind the political career of her husband, President Ronald Reagan, with the Daily Mirror saying she was a "fierce guardian of his image and showed incredible loyalty to him".
The Independent says Mrs Reagan was "one of the most involved first ladies" and persuaded her husband to start the talks with the Soviet Union which would ultimately end the Cold War.
The Times reports she took on her own causes, "most notably the war on drugs under the slogan 'Just Say No'".
But other papers reflect on some of the controversies surrounding her time in the White House, with the Sun saying she was "nicknamed Queen Nancy because of her expensive tastes at a time when America was in recession".
"She never succeeded in creating a compassionate image", says the Daily Telegraph in its obituary, as she "instinctively preferred the company of the super-rich".
The Daily Mail's Tom Leonard in New York states: "As Newsweek put it, 'even her staunchest defenders concede that Nancy Reagan is more Marie Antoinette than Mother Theresa'."
But the Guardian says the former first lady "lobbied to lift restrictions on stem cell research - in opposition to the Republican Party's position" after President Reagan was diagnosed with Alzheimer's disease, and the couple later founded a research institute dedicated to studying the disease.
---
Eye-catching headlines
---
Papers eye Budget tax cut
The papers continue to preview measures likely to be included in Chancellor George Osborne's Budget, which he will deliver a week on Wednesday.
It will be a "risk-free" Budget, according to the Independent, and will concentrate on "a couple of small, eye-catching changes to tax rates designed to put pressure on Labour and portray the Tories as the party of aspirant middle classes".
The Daily Express says Mr Osborne has "made cutting income tax for middle Britain his top priority", and will "take substantial numbers out of the higher rate banding". But the paper says the chancellor is waiting for official economic forecasts "before taking his final tax and spending decisions".
The Daily Mail believes the chancellor is under "intense pressure from Tory MPs to move more quickly on the 40p tax threshold" adding that the number of people paying the higher rate of income tax has risen by about two million since 2010 to five million now.
But the Daily Mirror cautions that Mr Osborne "could be forced to cut council, transport and justice cash to raise the pay point at which the higher rate is due from £42,385 to £43,000".
The chancellor is also being warned not to raise fuel duty, according to the Daily Telegraph. It says Mr Osborne has been told not to treat motorists as a "cash cow", after an "un-named minister said petrol prices 'are so low that people will hardly notice the difference'".
Phillip Inman in the Guardian believes Mr Osborne has been "kidnapped by events" and that he will find "the sunny economic uplands are further away and his target of a budget surplus in 2020 more difficult to achieve". His Budget will "stress Britain's recovery has come under severe stress from yo-yoing share prices, a slowdown in China, slackening growth in the eurozone and a dip in the performance of the US economy", says Inman.
---
What the commentators say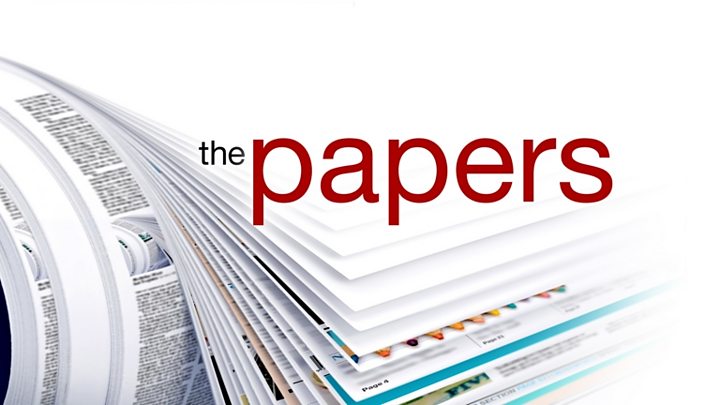 ---
Jeans getting a little tight?
A new initiative to get middle-aged people in England to take better care of their health gets a mixed reaction from the papers.
The Independent says the One You campaign "has been billed as the biggest national health drive since Change4Life" and will use advertising to urge people to do more to look after themselves by "eating better, taking exercise and shedding pounds".
The point of the adverts according to its promoter, Public Health England (PHE), is that "people who look after themselves in their 40s and 50s are twice as likely to have an active old age", reports the Times. Obesity, excessive drinking, smoking and lack of exercise are estimated to cost the NHS £11bn a year, the paper adds.
"NHS splurges £3.5m on ads telling middle aged to eat less and run more" is the Daily Mail's sceptical headline, as the paper says critics have described the One You campaign as "patronising and hectoring". It quotes Chris Snowdon of think tank the Institute of Economic Affairs as saying "while there is nothing wrong with health education, there is little that is educational about this patronising money pit".
But the Daily Mirror says PHE "wants to move away from previous government campaigns that blamed people", saying it's designed to "promote positive action against unavoidable factors such as sitting at a desk for eight hours a day".
---
'Every day is a bonus'
Several of Monday's papers pick up on a Sunday Mirror interview with the son of Paul Daniels, in which he says he does not know how long his magician father has to live after he was diagnosed with terminal brain cancer.
The 77-year-old entertainer fell at home and it was suspected he had suffered a stroke, but he was later diagnosed with an inoperable brain tumour, says the Daily Telegraph.
Martin Daniels, 55, is reported in the Sun as saying his father has taken a "when it's your time" attitude, and has "turned down radiotherapy".
"There's no treatment which can help him", Mr Daniels is quoted as saying by the Daily Express. "Doctors haven't said how many weeks or months he might have - and we haven't asked," he adds.
Seeing his father in hospital had been "unbelievably difficult", according to the Daily Mail and every day spent with him is "a bonus".
Mr Daniels, also a magician, tells the Daily Mirror "dad's made it clear he wants me to carry on with life and I am doing the best I can".
---
Making us click
Daily Mirror - Human brains evolved over thousands of years 'to make us addicted to Facebook and Twitter'
The Times - China accuses US of provocation as nuclear carrier arrives
The Guardian - Tom Hiddleston fuels Bond rumours with praise for 'extraordinary opportunity' of 007 role
The Independent - Woman found dead in elevator a month after building workers cut power
Daily Telegraph - Cameron 'seriously concerned' over Gibraltar
Daily Mail - Paul Daniels leaves hospital to spend final days with his family after being diagnosed with an inoperable brain tumour