Newspaper headlines: EU 'Project Fear', Trump 'knockout' and Oscars tips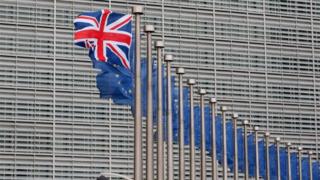 Swathes of the Sunday papers are taken up with the UK's referendum on its membership of the European Union, with an array of news stories, comment, features, analysis, interviews and guides to the debate.
Writing in the Sunday Telegraph, Prime Minister David Cameron says those campaigning to leave the EU are "extremely vague". "It's simply not good enough to assert everything will be all right when jobs and our country's future are at stake", he writes, having said the Remain campaign has a "positive and definitive" picture of what it means to be part of the European Union.
Yet former SDP leader Lord Owen, writing in the Sun on Sunday, says the prime minister is one of three men "co-ordinating a monstrous propaganda machine" and urges Mr Cameron to "abandon Project Fear".
"There's a reason why it's called Project Fear" is the headline for a comment piece by former Labour Chancellor Alistair Darling in the Mail on Sunday. Of those campaigning to quit the EU he writes: "we know more about life on Mars than we know about the Britain they hope for. Those of us who believe we are better off staying in Europe have made starkly clear the risks of leaving."
But Work and Pensions Secretary Iain Duncan Smith, interviewed in the Sunday Telegraph, says people will get "fed up" with such "pessimism" from the Remain campaign. "If all they have to offer is a lack of belief in the British people, that's not much of an advertising slogan," he tells the paper.
The Sunday Times says the prime minister has been warned by senior Tory Eurosceptics that he may face a leadership challenge unless he "tones down" attacks on MPs from the party who are campaigning to leave the EU.
Mail on Sunday columnist Rachel Johnson comes to the defence of her brother, London Mayor Boris, after he faced criticism last week for deciding to campaign for "Brexit".
Admitting she wrote her column "in defiance of my brother's orders", she says the prime minister did Mr Johnson "an injustice" during his Commons statement on the EU referendum last week and that her brother made his decision based on "what he thought was best for Britain, not for Boris".
---
The nuclear option
There's a rather nostalgic take in the Observer about Saturday's anti-Trident march and rally in central London, which drew thousands of protesters and was addressed by Labour leader Jeremy Corbyn and Scotland's First Minister Nicola Sturgeon.
Harking back to 1983, "Britain's last momentous anti-nuclear weapons rally", the paper says the 2016 equivalent attracted a "more modest" crowd, but the people there and the "spirit of determination" was similar.
The Sunday Telegraph draws similar parallels, calling it the "largest such demonstration in a generation", although 300,000 gathered in Hyde Park in 1983 to protest at the basing of US cruise missiles at Greenham Common in Berkshire.
The Mail on Sunday terms the demonstration an "old-school Campaign for Nuclear Disarmament rally" and quotes a Labour MP as saying "it looked like a political remake of Back to the Future. Next stop with Corbyn: the 1980s".
Mr Corbyn told the crowd he was there because he believes in a "nuclear-free Britain and a nuclear-free future", reports the Independent on Sunday. But the paper adds the renewal of the Trident nuclear weapons system is a "thorn in Mr Corbyn's side" because his opposition to it "contradicts the views of many of his Labour colleagues".
One of those colleagues, former security minister Admiral Lord West, is quoted in the Sunday Times saying Mr Corbyn was wrong to attend, and that he should not have "prejudged" Labour's defence review, "even though he has historically always been a CND person".
---
Eye-catching headlines
---
Trumped on Tuesday?
Tuesday, 1 March, is arguably the most significant day in the US presidential primary season, and is dubbed "Super Tuesday" because 11 states hold their contests to choose a candidate on the same day.
With billionaire property tycoon and reality TV star Donald Trump still the front-runner in the Republican Party race, it is his face that graces most of the Sunday papers' coverage.
"Trump readies knockout punch for Super Tuesday" is the headline in the Sunday Times, as it reflects on his lead in both the polls and the primary race. "Having dismissed as preposterous the notion of Trump being their nominee some [Republican] party grandees now view him as inevitable", the paper says.
According to the Sunday Telegraph, "Republican Party mandarins now fear waking up on Wednesday to the near-inevitability of a Trump nomination", a turn of events that led one senior Republican to tell the paper he would vote for Democrat Hillary Clinton instead.
Why is Mr Trump doing so well? Rupert Cornwell in the Independent on Sunday offers this thought: "He is the voice of countless ordinary Americans who are sick to the back teeth with political correctness, who detest Washington and its dysfunctional ways, who feel the country is going down the drain."
The Observer focuses its piece on one of Mr Trump's closest rivals for the Republican nomination, Florida Senator Marco Rubio, but reports that Mr Trump "steamrolls on, poised for a near-sweep on Super Tuesday". Mr Rubio accepts not everyone took Mr Trump seriously at first, but adds "I still don't think he will be the nominee".
Meanwhile, the Sun on Sunday reports £21 novelty socks featuring Mr Trump - complete with "overhang wispy hair" - are "proving a smash hit" and the company selling them has been "swamped with orders".
---
What the commentators say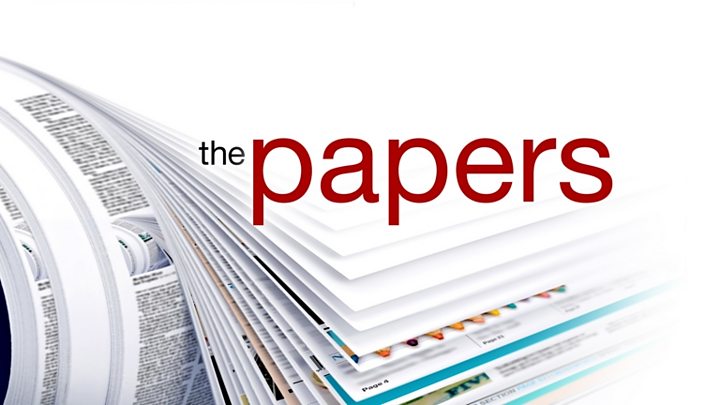 ---
Cinema's big night out
The Sunday papers are in the tricky position of previewing the 2016 Academy Awards without being able to do the next-day story of who won which Oscar.
The Observer goes in on the continuing row about the lack of diversity among the Oscar nominees - and whether tonight's could be the last "'white' ceremony. "The problems may be more deep-rooted than that", writes the paper's Ed Helmore, "in an industry where decision-makers are overwhelmingly male and white."
The film tipped by the Sunday Times to dominate this year's Oscars is The Revenant, with its star Leonardo DiCaprio at record odds of 1-100 to walk away with the best actor statuette, it says.
This should come as no surprise to British actor Eddie Redmayne, who - according to the Sunday Mirror - has conceded victory to DiCaprio, having been nominated in the same category for his role as transgender artist Lili Elbe in The Danish Girl. But Redmayne tells the paper it was the "greatest honour" to be nominated again, having won the best actor Oscar in 2015.
The Sunday People's film critic Chris Hunneysett gives his tips for who the Oscars will go to, with DiCaprio's western revenge epic The Revenant picking up the most, while choosing Brie Larson for best actress, Sylvester Stallone for best supporting actor and Alicia Vikander for best supporting actress.
The Sun on Sunday takes us through the goodie bag Oscars guests receive, including a "lavish toilet roll kit worth £194", which its reporter Mike Ridley tries out in anger, noting that customers of the firm who make it "typically spend £70 a month on caring for their nether regions".
---
Daddy duke
Prince William discussing parenthood is featured in several papers, with the Daily Mail saying his cry of "please tell me it gets easier!" will have passed the lips of almost every new father.
The Duke of Cambridge was speaking at a Welsh Rugby event in Cardiff when he was asked about his children, Prince George, two, and nine-month-old Princess Charlotte.
According to the Sunday Mirror he told reporters: "Charlotte is very easy, she is sweet. But all the fathers say to me 'just you wait, when they get to nine or 11 they get crazy. I'm looking forward to it. There will be some drama".
The Sunday Times reports the prince said there had been "no broken bones so far, but they are trying, running around and pushing things and jumping".
Elsewhere, two columnists called Camilla in separate papers consider whether Prince William is "workshy", following revelations about the number of royal duties he has carried out so far this year and the number of hours he works as an air ambulance pilot.
Camilla Long in the Sunday Times asks "does William actually want to do this?". "Does he want to be 'seen to be believed', as the Queen describes what it means to be a royal, or is he having doubts?", she asks. She describes royal engagements as "just what royals do" and a "vital part of the royal family's public image".
In his defence, Camilla Tominey in the Mail on Sunday says the prince is "not just worried about overshadowing his father, he is afraid of becoming him", adding quotes from a source "close to the duke" saying: "William does not want to be an absent father because he knew what it was like growing up with one."
---
Making us click
Mail on Sunday - Meet the couple who quit their jobs and retired in their 30s to spend their lives travelling the world - and they're sharing their VERY frugal secrets so you can too
Sunday Times - Cara Delevingne: 'I'm such an attention seeker'
Sunday Telegraph - Dementia cure may be just five years away, says world expert
The Observer - Life after the Ashley Madison affair
Independent on Sunday - Every man in Iranian village 'executed on drugs charges'
Sunday Mirror - Revealed: Why window shades have to be kept open during takeoff and landing