Sir Terry Wogan honoured in newspaper headlines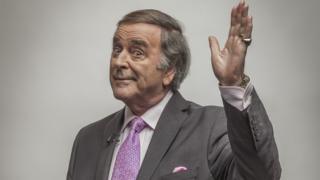 The phrase "national treasure" is used by several papers in marking the death of Sir Terry Wogan.
And fans and former colleagues alike are given space to articulate why the Irishman came to be regarded by many as Britain's best broadcaster. As Quentin Letts puts it in a touching tribute in the Daily Mail: "The radio microphone allowed his soft voice to wrap itself round the listener's consciousness and the rueful humour braced the toiling masses for another day of torment by their bosses."
BBC Radio director Helen Boaden writes in the Independent that: "Like all natural comics, Terry was often subversive, though never unkind... Above all, Terry understood the golden rule of all great radio: you are only ever talking to one person."
Referring to the TOGs - listeners nicknamed "Terry's Old Geezers/Gals" - the Guardian's Mark Lawson says: "Wogan understood, long before modern communications made this a standard part of broadcasting, what a valuable resource the audience could be. Drawing heavily from that original social media device, the postbag, he read out letters, stories and limericks... that not only provided a free script but created a sense of community with listeners."
For Andrew Billen, writing in the Times, Sir Terry had a voice that was "fluent, mellifluous... at once as dry and as sparkling as Champagne" and profited from "the licence of the Irish to get away with almost anything". He points out: "He would tease his travel reporter Lynn ('she has her knockers') Bowles in a manner that might have lost lesser presenters their jobs... Yet I recall no complaints about him, either from prudes or feminists."
As is its wont, the Financial Times finds a banking link to the beginning of Sir Terry's career. It notes that he was a clerk for the Royal Bank of Ireland before answering an Irish newspaper advert for radio announcers "on a whim".
Spectator editor Fraser Nelson writes in the Daily Telegraph that it was his annual commentary on the Eurovision Song Contest that defined that career. From the offset, he says, Sir Terry saw "the whole thing was waiting to be sent up" and so employed his "gentle genius" and "gift for saying what everyone at home was thinking" with one-liners, rude jokes. The writer adds: "His approach infuriated the Eurovision hierarchy, who complained about his irreverence to the BBC. But, happily, to no avail."
One of his best Eurovision jibes - "who knows what hellish future lies ahead? Actually, I do, I've seen the rehearsals" - is reproduced by the Daily Star in a summary of his "wit and wisdom". It also includes nuggets on barbecues - "why do men think they know how to cook outside when they haven't the smallest idea how to go about it indoors?" - and on his Radio 2 show: "Gratuitously hurtful folk declare that I am very popular in hospitals because the listeners abed there are too weak to reach out and switch me off."
Under the headline "Terry's All Gold", the Sun remembers 12 of his funniest TV moments. They range from comedian Kenny Everett's abuse of his host's wand-shaped microphone on quiz show Blankety Blank, and actor Joanna Lumley's strip tease for Children in Need, to Sir Terry's 100ft putt on Pro-Celebrity Golf and footballer George Best's infamous drunk appearance on the Wogan chat show.
Former colleagues are among those to praise the Irishman, with Radio 2 presenter Ken Bruce writing in the Daily Mirror that everybody in broadcasting has learned from his "control, timing and warmth". He adds: "His greatest lesson was just to be yourself, which he always was." Similarly, another of the station's hosts, Jeremy Vine, writes in the Daily Mail that: "If you ever heard or watched Wogan, there is not much I can add: you already knew him... Wogan's kindness and sincerity were real."
Newsreader Alan Dedicoat writes in the Daily Express that he was "eased into the day" by his colleague: "He would arrive in the studio wearing his wife Helen's cardigans because he had to get up and dress in the dark and desperately didn't want to wake her."
While many writers mention Sir Terry's self-deprecating manner, the Times diary remembers that he was well read "but wore his learning lightly". It recalls him speaking as president of the PG Wodehouse Society "magically and at length about Wodehouse, Sir Michael Gambon (a guest that night) and their shared background in Ireland, ending with praise for the food served that night". The column adds: "At the end, the editor of the society's journal asked for Wogan's script and was handed three lines scribbled on the back of the menu, almost all of which was his verdict on the beef."
No deal?
"Wogan's spirit marches on" in the political world, according to Guardian cartoonist Martin Rowson. He interprets the prime minister's ongoing attempts to renegotiate the UK's relationship with the EU as a sort of Eurovision Song Contest. Rowson draws David Cameron performing on stage, backed by his cabinet, while the audience laughs at their efforts.
Morten Morland, of the Times, imagines the PM as the host of Blankety Blank, posing the riddle: "I went to the EU and got... blank." In place of the show's celebrity panel are French President Francois Hollande, German Chancellor Angela Merkel and European Council President Donald Tusk who answer "rien", "nichts" and "nic" respectively.
This cartoon reflects his paper's lead story, which suggests that Mr Tusk walked out of Downing Street talks on Sunday night declaring "no deal". The Financial Times, meanwhile, reports that France has warned it will block any attempt on Mr Cameron's part to secure new rights for non-euro countries to veto eurozone action to manage an economic crisis.
Still, the Sun paints a happier picture for the PM. It reports that Mr Cameron has secured a "victory" and that the European Council president has been "taken to Tusk" over migrants' rights to benefits. Downing Street is claiming to have won a concession to impose a four-year ban on EU migrants claiming in-work benefits, the paper says. The Daily Express is unimpressed. "It is patently obvious that whatever small concessions Mr Cameron manages to wrest from Donald Tusk and his fellow Eurocrats will be presented as a massive triumph and a reason to stay [ in the EU]. Well, it won't wash."
Other papers focus on what Mr Cameron's MPs think of the deal, with the Mail quoting former Defence Secretary Liam Fox urging cabinet ministers to "put their consciences ahead of loyalty" by coming out in favour of a "Brexit". In the Telegraph, political academics Philip Cowley and Tim Bale - claiming to explain "what they really think on Planet Tory" - say a poll of Conservative MPs revealed only a quarter can see any great benefits from EU membership.
However, the academics say, a clear majority of MPs believe the public will vote to remain in the EU when asked in the coming referendum. Those backbenchers thinking about promotion are "bound to wonder, whatever their real feelings, whether there's much point campaigning for what so many of them evidently reckon is a lost cause".
Eye-catching headlines
"Cancer alert on 5-a-side pitches" - the Daily Star quotes a study expressing concern about the effects of playing football on artificial pitches made from old tyres
"Passenger sends in bailiffs to get £600 back from Ryanair" - a man forced to pay £320 to check in his family took his case to court and sent bailiffs to claim his compensation when the airline failed to respond, reports the Daily Mail
"Fall in, not out" - soldiers are to get a health and safety briefing, complete with slideshow, to tell them how to avoid falling out of bunk beds, after a woman broke her foot tumbling from the top bunk, reports the Sun
"The spy who came in for rough justice" - a judge consulted ex-PM Harold Macmillan before sentencing a Cold War Russian agent, according to an account of the case in a book highlighted by the Times
What the commentators say
Making people click
Telegraph: Cherie Blair fires first shot in legal battle against Government's buy-to-let tax
Independent: Jeremy Hunt's advice to parents 'could put lives at risk', doctors say
Mirror: Was Zika outbreak caused by release of genetically modified mosquitoes in Brazil?
Mail: Spot the best-supported actress! Steely stares, champagne and Sarah Silverman's showstopping cleavage... inside the super-glamorous SAG Awards
Guardian: Zzzzzzzzz … 12 simple steps to a good night's sleep