Newspaper headlines: Junior doctors' strike, Jerry Hall and Rupert Murdoch, and Tiger Mothers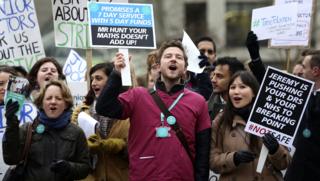 Reporters describe the atmosphere at picket lines outside hospitals where junior doctors have been on strike over changes to their pay and shift structures.
For the Daily Mirror's Brian Reade, who quotes doctors saying they want to "save the NHS" and protect patients, it was "the most civilised picket line I've stood on". He adds: "The noise came not from the doctors but the passing cars, buses, vans and taxis honking their horns and passengers yelling support."
Not all were so happy, however, as the Sun's Lauren Fruen notes. She reports how one man with a potentially fatal condition had his appointment cancelled by text message and records a complaint via Twitter of a woman suffering the cancellation of a "potentially life-saving major operation".
One doctor tells the Independent the plans mean financial penalties imposed on hospitals that dangerously overwork their doctors would be scrapped in favour of a more "unwieldy system", in which any fines money could be kept within the trust. "You could end up working unsafe hours," she complains.
Ex-NHS consultant Russell Hopkins, who chaired the Welsh Council of doctors' union the BMA, writes in the Daily Mail that he's "disgusted" by the motivation for the strike. It has little to do with altruism, he argues, but a desire "to protect outdated working practices, halt vital reforms, boost its members' pay and, above all, damage the democratically elected government of this country".
Still, Times cartoonist Peter Brookes reckons the doctors have people on their side. He pictures PM David Cameron as a nurse, inserting a thermometer into his health secretary's behind, while declaring: "A bad case of public opinion, Mr Hunt."
Despite some polls indicating widespread support for the strike, ministers have refused to back down, says the Financial Times. They believe "patients will ultimately back their goal of providing the same NHS care during weekends as on weekdays, as the party promised in its election manifesto last year", it adds.
While the Guardian reports that there were hopes of a deal, its health correspondent Denis Campbell says compromise will be difficult. "The BMA's junior doctors committee contains shades of opinion, which may hinder agreeing a common position... Hunt - whose hardline tactics have left him potentially exposed - needs to be seen to have 'won' for his credibility and political prospects."
---
Eye-catching headlines
"It could be queue" - the Daily Mirror pictures Americans in a three-hour line in Nevada to buy tickets for the world's biggest ever lottery prize, worth $1.45bn (£1bn)
"I doo doo!" - a defecating dog is among a selection of wedding day "photobombers" captured in a Sun picture spread
"Kim's summit else" - the Daily Star casts doubt on North Korean leader Kim Jong-un's claims to have scaled the country's tallest peak by suggesting his leather shoes might not have offered much protection against Mount Paekdu's -23C (-9F) temperatures
"Give me back my chubby hubby" - writer Anna May Mangan complains that dieting has turned her husband into a "smug, skinny bore", in the Daily Mail
---
The Hall-Murdoch engagement
The engagement of Jerry Hall to media mogul Rupert Murdoch generates much comment, with the Mirror's Christopher Bucktin wondering what the supermodel could see in the billionaire. The paper has agony aunt Coleen Nolan offer each some advice and keeps a tally of their past love lives. It recalls Hall's relationships with singer Bryan Ferry and Rolling Stone Mick Jagger and Murdoch's three marriages, the last of which to Wendi Deng ended in 2013.
"Murdoch and Deng had lived in a £30m Fifth Avenue penthouse but also had a hugely impressive portfolio of homes in Los Angeles, London, Canberra... It is not known if Jerry will sign a prenuptial agreement," it says.
"What a red letter day for cynics!" says Anna Pukas, in the Daily Express. But, pointing out that Hall "hardly needs to marry for money", she asks: "Could it not be that these two mature people (very mature in the case of 84-year-old Murdoch) are simply looking for the same thing as anybody else who is alone, namely someone to love who will love them back?"
The Daily Mail wonders whether the marriage will mean "Jerry has to quit Jagger's £13m mansion". It says: "The union could force Miss Hall out of the... south-west London home, under the terms of an agreement reached with her former partner Mick Jagger, 72." The couple were never legally married but "Sir Mick allowed her to stay on in Downe House, where they had lived together - but it remained a mutual asset. According to sources... Miss Hall is only allowed to remain there until she is 65, or until she marries or cohabits".
Meanwhile, Catherine Shoard wonders via the Guardian notebook at the trend among A-listers to use the Times classifieds to announce engagements. "When did it become fashionable for recently engaged celebs to make like they're in Thames Ditton in 1976? In part, it's the humblebrag. You thought you were being discreet! But somehow somebody saw it and other outlets ran with it - and what can you do?"
The writer assumes that, as proprietor, Murdoch was entitled to "mates rates" but notes he didn't upgrade from the £100 announcement to the £300 version with a black border, adding: "Every penny counts if you have an impending wedding."
---
Adulation 'overdone'?
Papers continue to digest the news of David Bowie's death, with the Daily Star's front page reporting that three of Britain's musical Knights of the Realm - Mick Jagger, Paul McCartney and Elton John - are to unite for a memorial concert in New York. Meanwhile, inside, it records fans demands for the singer to be given a state funeral.
The Independent notes that impromptu shrines to Bowie have been created on both sides of the Atlantic and speculates whether a slot in Westminster Abbey's Poets Corner, or a renamed theatre in his native Brixton, south London, might make a permanent memorial. "Initial plans to honour him include renaming the historic bandstand in Beckenham, South London, where Bowie performed in 1969, 'as a permanent memory of his genius'," writes Nick Clark.
Not everyone has joined the clamour, however. "Dare I say that the torrent of adulation in some quarters has been slightly overdone?" ventures Stephen Glover, in the Daily Mail. "Isn't it the case that in modern Britain the death of a statesman or great writer or brilliant Nobel Prize-winning scientist would have received one-tenth of the reverential coverage accorded to David Bowie?"
Similarly, Ann Widdecombe writes in the Express: "I do query the saturation coverage of his death, which had me switching from news channel to news channel in a quest to catch up with other news such as the doctors' strike. According a pop star the same degree of reverential coverage which might reasonably be expected of a monarch says all that has to be said about modern priorities."
One columnist, the Daily Telegraph Allison Pearson, is brave enough to admit: "I never liked Bowie." However, she does admit: "I was wrong."
---
What the commentators say
---
'Tiger mothers'
David Cameron's calls for women to adopt the "Tiger Mother" approach to parenthood - urging them to 'work, try hard, believe you can succeed, get up and try again' - haven't gone down well with some female columnists.
Alison Phillips, of the Daily Mirror, describes it as "patronising and insulting", adding: "Mothers were saying that to kids on council estates and normal British streets back when he was being told it by his very own Tiger Mother (who appeared in the form of an Eton housemaster)... it's kind of hard to take lessons on disciplining kids from a man whose family abdicated responsibility for a large chunk of his childhood by outsourcing his upbringing to boarding schools."
The Daily Mail's Sarah Vine says that if she attended one of the parental discipline classes being piloted by the government she would end up "on the naughty step in a dunce's cap". She disagrees with such "vanity parenting", explaining: "I think it's counter-productive, producing intolerable, precocious children and smug, arrogant adults. I'm also convinced it leads to anxiety and dysfunctional behaviour in later life."
Alice Thomson, in the Times, says: "It was brave for a man who once left his eight-year-old daughter in a pub to be advocating parenting lessons for the nation... but he's right that some families need help." Still, she says, many of the people she's interviewed at the top of their careers "suffered complicated or abusive childhoods, were bullied or traumatised". Thomson adds: "We shouldn't give up on those who appear to be messing around. They might just be the next entrepreneur, musician, thinker or artist to extend Britain's soft power around the world."
The PM has support from the Telegraph's Allison Pearson, who writes: "Insisting that your child keeps practising his hated scales, because being good at anything requires effort and perseverance, is a valuable lesson to impart. Too often, modern parents avoid confrontation and fail to set boundaries. However much they may kick against them, boundaries make children feel safe."
---
Making people click
Guardian: Iran holds two US navy boats in Gulf
FT: What market turbulence is telling us
Mirror: David Bowie made emotional final trip to London after terminal cancer diagnosis
Telegraph: Durham student cleared of rape and sex assault
Independent: Teenager invents system to stop germs travelling around planes