Newspaper headlines: Storm Eva, Christmas 'miracles' and growth figures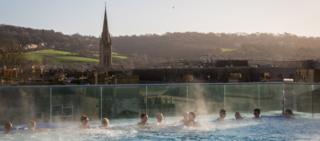 There is little of the usual speculation about a white Christmas in the papers, with the Sun declaring "Let it Glow" - rather than "snow".
"Spring-like temperatures look set to continue into the festive period," says the paper, as it pictures bare-chested sunbathers in the Hertfordshire sun-trap of Watford. "'Tis the season... to mow the lawn," reckons the Times, quoting a Woodland Trust poll suggesting four times the usual number of people are cutting the grass in December. The paper's cartoonist imagines one tortoise telling another: "I couldn't sleep either... too hot."
Meanwhile, the Daily Telegraph reports how Colchester Winter Wonderland and Ice Rink was forced to close after the warm weather melted the skating surface into what one Facebook user described as "one huge puddle".
It is, in the Daily Mail's view, merely the "balmy calm before the storm", as it warns: "Britain's set for a battering." Storm Eva, as named by the Met Office, will "unleash 80mph gales, torrential downpours and snow over the next three days," says the Daily Express.
While the paper says this could mean further misery for flood-hit communities in Cumbria, it reports predictions of a "whiteout" in other parts of the north and Scotland. "Up to four inches of snow are expected to blanket parts of the region with the risk of blizzards over high ground," it says.
"Hundreds of families are already struggling to make the best of Christmas after being forced out of their homes by floods following record rainfall caused by Storm Desmond earlier this month," notes the Independent, under photographs of sandbags bolstering Cumbrian village defences.
"Was it really so wise to name the storms blowing over these isles?" wonders the Telegraph. "Judging by the relentless torrents endured by parts of the country, the practice has only encouraged bad weather."
---
Tinsel-tastic headlines
"Oh fir pity's sake" - the Daily Mirror's reaction to reports that Bradford city council workers mistakenly chopped down a village Christmas tree twice in two months
"Festive glory for Express sprig that grew 12ft high" - the Daily Express catches up with Betty Spence, who has donated a tree to her church, having grown it from a sapling received through a reader offer a decade ago
"Pub's veggie landlady saves Turkey from axe" - the Express also reports how a publican was given a 10-month-old Norfolk black by a local butcher after joking she would love to save one of his flock
"A 46-year-old pud? Delicious!" - a microbiology academic who sampled a Christmas pudding made for a 1969 festive wedding - and found hanging from a kitchen ceiling after its owner died - said it was "a little dry" but "tastes amazing", reports the Mail
---
'Miracles'
Several papers mark Yuletide by talking of miracles, with the Daily Mirror leading on a particularly emotional case of a critically ill 18-month-old girl whose life support machine was switched off, only for her to begin kicking and screaming 30 minutes later.
Alongside a photograph of Francesca and Lee Moore-Williams giving daughter Bella "a last kiss", Mr Moore-Williams describes the ordeal. "I was holding her hand knowing there was going to be a last little breath. I could feel her hand dropping and it went down but then she started gripping my finger."
Sun doctor Carol Cooper explains that Bella had a rare genetic disorder and that treatment won't reverse any damage that has already been caused. But she adds: "Bella's return to life is little short of a miracle.... All that matters now is that Bella has pulled through."
Another "little miracle" features in the Daily Mail. It reports the case of nurse Tasha Trafford, who went against doctors' advice by refusing chemotherapy for a rare form of bone cancer in order to avoid a termination of her pregnancy. This month, she gave birth to a healthy son, Cooper, the paper says, as it pictures her planting a kiss on his tiny forehead.
Meanwhile, Telegraph columnist Tim Stanley assesses people's scepticism towards the Pope's recent recognition of a second miracle attributed to Mother Teresa. Describing how he nursed his dying father in a hospice, the historian then recalls Mother Teresa's devotion to the terminally ill - and the inspiration this has given people to help others - and says this "lasting gift to the world" is a kind of miracle.
---
What the commentators say
---
Rhodes to ruin?
A row rumbles on over calls to remove a statue of Cecil Rhodes from Oxford's Oriel College from campaigners who view him as racist.
As the Independent reports, former Australian Prime Minister Tony Abbott - whose scholarship at the college was funded by the imperialist businessman's legacy - has suggested removing the statue would "substitute moral vanity for fair-minded enquiry".
And the paper's editorial suggests "naive" student activists "should remember that labelling heroes and villains among the figures of the past is a practice that lacks the necessary nuance of a first-class scholar". It is concerned of a wider campus culture threatening free speech: "This clamping down on open debate is the enemy of liberty and a progressive society - the very social standards these campaigners would otherwise be promoting."
Jewish Chronicle editor Stephen Pollard writes in the Telegraph that if he can tolerate Adolf Hitler's Mein Kampf being republished in Germany then students can "put up" with a statue. "Free speech trumps censorship... whenever we attempt to rewrite history," he argues. "Even when it sticks in the craw."
The Times agrees the protesters are wrong about the statue but argues "they have a point about the syllabus". It says: "Their desire to 'decolonise' their curriculum has been provoked by the preponderance of white European and American men in their courses. Just as cutting down a statue of Rhodes suppresses a part of western history that students should engage with, so excluding writers outside the traditional canon suppresses competing perspectives that many will find challenging."
Meanwhile, a correspondent to the Financial Times takes issue with the college even considering the statue's removal. He writes: "If Cecil Rhodes is so egregious, why is Oxford's Oriel College thinking of toppling his statue but is happy to keep the building it stands on, which he paid for?"
---
Looking for growth
Saying shoppers are expected to blow up to £2m a minute on Christmas Eve, driving retail spending up to £3bn in total, the Sun reports: "Rising wages and zero inflation have seen take-home pay start to soar." One analyst is quoted saying: "There's no doubt that the consumer is better off and they're beginning to spend on things like eating out, going out and holidays."
"Wages are up, unemployment is down, inflation is non-existent - what better definition is there of a winning chancellor?" asks the Daily Express as it assesses George Osborne's year. However, as the Financial Times reports, Wednesday brought the chancellor a second "piece of disappointing news" in a week. "A day after worse than expected borrowing figures," it says, official estimated economic growth data was revised down.
For the Daily Mirror, this is "Osborne's big freeze", while the Guardian's Phillip Inman reports concerns that the economy remains "worryingly unbalanced". Quoting critics, he says: "Much of Osborne's supposed success is built on a return to rampant house prices and an influx of migrants to swell the number of workers rather than the lacklustre increases in business investment and trade."
Recalling a Budget in which Mr Osborne scaled back his planned cuts, the Daily Mail argues: "He may yet have cause to regret squandering billions on the strength of hugely optimistic Budget forecasts. Indeed, he may wish he had practised what he preaches about fixing the roof".
Cartoonists enjoy festive-themed digs at the chancellor. "Read the joke, George," demands the prime minister as cabinet members pull crackers in Morten Morland's effort for the Times. Mr Osborne unfurls the joke to see it reading simply: "0.4% growth." Adams, in the Telegraph, has Mr Osborne waiting expectantly next to a huge Christmas stocking. Up on the roof, Father Christmas reads his note asking for "a recovery", and drops a tiny parcel down the chimney.
National newspapers do not publish Christmas Day editions. The papers will return with Boxing Day's front pages.
---
Making people click
Mirror: Dad of British Muslim family banned from Disneyland blames Facebook page for being refused entry
Telegraph: French police detain woman with fake pregnant belly 'intended to hide bomb'
FT: US banks hit by cheap oil as Opec warns of long-term low
Guardian: Elon Musk nominated for 'luddite' of the year prize over artificial intelligence fears