Newspaper headlines: Miliband, Ebola and Ched Evans debate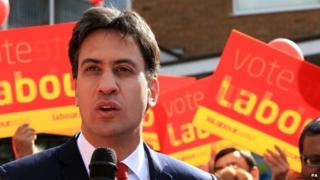 Labour leader Ed Miliband, the Ebola crisis and the fate of footballer Ched Evans are some of the main topics tackled by Saturday's papers.
The Times leads with a pledge by Mr Miliband that, under a Labour government, patients would not have to wait more than a week after going to their GP to get tests results for cancer.
There would be a £150m-a-year tax on tobacco companies to fund the policy, one of five pledges on the NHS.
In an interview with the paper, Mr Miliband "promised to make tackling cancer an overriding priority as he declared his 10-year ambition for Britain to have the best survival rates in Europe".
The government has since released a statement in response which says "Labour simply can't be trusted to deliver improvements in cancer care" and that cancer survival rates are being improved "by referring record numbers of patients with a suspected cancer for treatment".
The Times also throws some quickfire questions the way of the Labour leader.
Wallace or Gromit? "I think I've got to be Wallace." Nigel Farage or Nick Clegg? "Neither." Baseball or cricket? "I'm a fan of both. I have a rather unlikely friendship with Geoff Boycott."
In a leading article, the Times says the "great domestic policy question of the 2015 election will be how to reform the NHS without wrecking it, or the public finances".
The Daily Mirror calls it "Ed's £750m to cut Big C results waits", saying he insisted Labour had different values to the government on the NHS.
In the Inside Westminster column in the Independent, Andrew Grice says Mr Miliband knows Labour's Achilles heel - a lack of economic competence in the public's eyes.
"The Labour leadership accepts that it needs a positive message of hope to win back working-class voters who have switched to UKIP," he writes. "Labour must offer change that will help them, a balanced recovery whose benefits they will share."
Macer Hall in the Inside Politics column in the Daily Express says the parties are drawing up dividing lines.
"At last a chasm appears to be opening up in place of the footling differences that once marked out the red and blue territories on the electoral landscape," he says.
"Under Ed Miliband's leadership, Labour has returned to something akin to the old-fashioned socialist platform the party offered in the 1970s and 1980s."
He says Britain is on course for the most polarised electoral contest since Margaret Thatcher hand-bagged a donkey-jacketed Michael Foot.
Meanwhile, Michael Deacon in the Daily Telegraph writes that Mr Miliband has been challenged to a night out "on the Toon" by UKIP leader Mr Farage.
"'Why don't he and I go to a working-men's club in Newcastle on a Friday night and see who gets on best?' the UKIP leader suggested to me last week on the campaign trail," Deacon recounts.
Mr Farage apparently added: "I just think he'd be deeply uncomfortable. I don't think he connects with Labour voters in any way at all."
---
'Global leadership'
The Guardian leads with warnings from US Secretary of State John Kerry and UK Prime Minister David Cameron that the world must step up its efforts in the fight against Ebola.
Mr Kerry said failure to respond could turn the disease into "a scourge like HIV or polio", while Mr Cameron wrote in a letter in advance of a European summit next month that the loss of life in West Africa could be "substantial".
Analysis in the Guardian is scathing of countries such as China and Russia who are "world leaders at not pulling their weight".
"It may not be enough. It is certainly a bit late. But at least the response to the Ebola crisis in West Africa by the US, Britain and France now involves a significant commitment of people and resources," it says.
"The same cannot be said of others among the world's most influential countries whose miserly and irresponsible reaction to the epidemic belies their claims to 21st Century global leadership."
The Times reports that Col Hamish de Bretton-Gordon, an expert in biological warfare, has told the Ministry of Defence the military should take charge of Britain's effort to combat Ebola in Sierra Leone in an army-enforced lockdown - similar to the film Outbreak.
The Daily Telegraph reports that a leaked draft document showed the World Health Organization (WHO) acknowledged it botched attempts to stop the outbreak in West Africa, blaming factors such as incompetent staff and a lack of information.
Cartoonist Peter Brookes in the Times has health workers in protective suits carrying a stretcher, next to a WHO symbol, with one of them saying: "Not so much WHO as WHEN?"
The Telegraph interviews the Belgian scientist who co-discovered Ebola, Prof Peter Piot, who says there is good news and bad because of its virulence: "We humans make a very, very bad host. You need to jump to another host in a week because your host is dead."
"Promises, promises - but just a trickle of real help" is the headline on a special report in the Independent.
The Sun is typically forthright in an editorial, as it reports that scientists fear the virus might be mutating: "Ebola is becoming more deadly. Yet most of Europe is idly waiting for others to act. Britain is pouring resources into West Africa. We have pledged over £125m. Other nations must help. Ebola could hit every country on Earth. Our Isis troubles will then look like a picnic."
---
Prison release
There is plenty of lively debate about what should happen to footballer Ched Evans, after he was released from prison halfway through a five-year sentence for rape.
The Sun leads with a story saying his former club, Sheffield United, are willing to re-employ him on a deal worth £500,000 over two years.
The paper believes Evans "should not be allowed to resume his career in the sport he shamed".
"It cannot be right for a man convicted of such an appalling crime to saunter straight out of jail and into a £5,000-a-week job where he is meant to be a role model to millions of football-loving kids," it says.
The Mirror is of a like mind, saying Evans "should never be allowed to play professional football again".
"Of course criminals out of jail need to find work," it says. "But footballers are role models and like teachers, doctors, and nurses they shouldn't be allowed to return to their old jobs after a conviction for an offence as heinous as rape."
The Independent takes a more liberal view, saying it is a fundamental principle of justice that punishments cannot continue without limits.
"It is easy to sympathise with those who have asked Sheffield United to spurn the convicted rapist Ched Evans. That is precisely why we should not do so," it says in an editorial.
"Many people think that it would be wrong for him to return to his highly paid job as a footballer, and that it would reflect badly on the club. Such sentiments are understandable but they should be resisted."
Columnist Janice Turner writes in the Times that, in the light of the case, boys and girls need to be "crystal clear" about what constitutes rape.
"What the Evans case and the furore surrounding it demonstrates is how little consent is truly understood," she writes.
"Change to legal definitions of consent have not been accompanied by a sexual education programme to inform young men that what may occur drunkenly after the pub is not just sleazebag behaviour but a serious crime."
The Telegraph says the case involving Evans - who maintains he is innocent - has raised strong feelings in Sheffield.
The Guardian throws the question open to shadow sports minister Clive Efford and Gordon Taylor of the Professional Footballers' Association.
Mr Efford says there are lots of professions in which a person would be barred from taking part if they had committed rape - and football should be one of them.
On the other side, Mr Taylor says it is a fundamental part of the justice process that a person serves their sentence and is then entitled to continue with their life.
---
Bring to heel
The papers look ahead to the introduction of so-called dog Asbos, which are due to come into force under new laws on Monday.
The Times says dog owners who let their animals growl at strangers or bark in gardens could be ordered to control their pets or face fines of up to £2,500.
"The law bites back: owners of nuisance pets face £20,000 fines under 'dogbos'" is the headline in the Telegraph - although the £20,000 figure actually refers to businesses that use guard dogs.
The Mirror hopes the new powers will be more successful than efforts in the past to bring irresponsible owners to heel.
"Law-abiding dog lovers should have nothing to fear from fines of up to £20,000 and orders to muzzle or walk a pet on a lead. If they do, the law isn't working. Because it's the idiotic minority who need controlling," it says.
And finally, the Times reports that breakfast cereal Sugar Puffs is to be renamed Honey Monster Puffs. The paper says the Honey Monster is taking centre stage to give the product a health makeover.
Apparently, the makers of Sugar Puffs are to drop the "toxic S-word" after six decades and rename it after the character who first appeared in the 1970s with the catchphrase "Tell 'em about the honey, Mummy."
They have reduced the cereal's sugar content and replaced it with more honey which is seen as a healthier alternative.
---
Making people click
Times: What do the anti-immigration lot really want?
Telegraph: Exclusive: Gary Neville meets Jose Mourinho
Guardian: Secret space plane lands at US air force base after unknown two-year mission
Mail: Jude Law, 41, to become father for fifth time with 23-year-old
Mirror: Woman shames 'big foot' passenger who has trouble with the concept of personal space