The papers: Pension reforms - and crabzilla!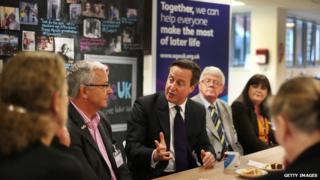 Pension reform may be an "unsexy" subject, but they are part of the Conservatives' "flagship" policies, which the party says will give people new freedoms to do what they like with the money they've saved for their latter years.
The Daily Mail is one of a number of papers which puts the latest phase of the shake-up - new rules allowing over-55s to dip into their pension pots - on its front page.
"George Osborne's move raises the prospect of pensioners using their funds almost like bank accounts to invest in property or shares, pay off debts or help children and grandchildren," the paper says.
The Daily Telegraph quotes the chancellor as explaining: "People who have worked and saved all their lives will be able to access as much or as little of their defined contribution pension as they want from next year and pass on their hard-earned pensions to their families tax free."
However the government's "old people tsar" Ros Altmann admits to the paper that "most pension companies do not make it easy for pensioners to withdraw their pensions".
She urges them to adapt to the new flexibility that the changes offer their customers.
Not everyone in the pension industry has welcomed the change, outlined in a draft bill.
One financial consultant tells the Times he is "alarmed at the idea that a fund would apparently be obliged to pay out as much as an individual required.
"Managing a pension pot in retirement is a task that even a pension professional finds challenging but, for someone who has never engaged before with pensions, it is extraordinarily difficult," Tom McPhail, of Hargreaves Lansdown says.
---
'Maverick'
"I disagree with Nigel" is how the Daily Mirror headlines a story saying that national broadcasters are to invite Nigel Farage to join a series of pre-general election televised debates alongside the leaders of the "big three" parties.
The Mirror says David Cameron thinks UKIP's invite is "unfair" on the Green party, although Labour leader Ed Miliband said the PM should welcome the debate and not put up "false obstacles".
The Guardian says the invitation has led to "a deluge of criticism and threats of legal action" with the Liberal Democrats, George Galloway and the nationalist parties, joining Mr Cameron and the Greens in their disquiet.
Green party leader Natalie Bennett tells the paper: "We are deadly serious about taking legal action over this, and seeing how we can raise the funds.
"The public want a serious debate in which they hear the full range of views, including a party that stands up against UKIP on immigration."
The Daily Express's editorial welcomes the expanded debates plan, but says: "For the established parties sharing a stage with the UKIP leader is a huge risk. As the maverick opponent of the established political class Mr Farage undoubtedly has an advantage."
The Independent agrees. Calling the debates "democracy in action" it cautions the other three participants "not to agree too much with Nigel".
But the paper adds, "barring something extraordinary, past experience, limited though it may be, suggests the debates will not be the election's deciding factor."
The Sun says the debates should be limited to Tory, Labour and UKIP.
"There's not much Lib Dem leader Nick Clegg could say that viewers would believe. And current polls show his party to be an irrelevance," is its view.
---
Drifting
The House of Commons 274 to 12 vote to recognise Palestinian statehood is covered in most of the press.
The Independent says the vote, which is symbolic as it does not have government backing, is "a significant change in the political landscape".
It adds that the fact that Labour, alone of the main parties, "whipped" its MPs to vote for the proposal suggests "that the party would defy Israel's wishes and recognise Palestine as a state should it come to power at the next election."
In his sketch from the Commons in the paper, Donald Macintyre notes Tory Richard Ottaway's speech.
Mr Ottaway, a previous staunch supporter of Israel, said: "Israel had been drifting away from world public opinion" in recent years and the "annexation of 950 acres of the West Bank… has enraged me more than anything in my political life".
Macintyre notes opponents of the motion included former foreign secretary Malcolm Rifkind, who said it was "abnormal to recognise a state without trappings like an army."
Mr Rifkind is also quoted in the Daily Mail, who he tells "efforts by other UN nations to recognise Palestine had had little impact beyond 24 hours of publicity".
In its analysis, the Guardian says the fact that the vote is not binding policy is not important as "the direction of travel is already clear.
"David Cameron remains reluctant to break with Barack Obama, it is said. But things may change after the US mid-term elections next month."
The paper notes, "The summer's war in Gaza, with more than 2,000 Palestinian dead, was a bloody reminder that this remains a conflict with no military solution."
---
Long-term impact
It is fair to say that veteran broadcaster Judy Finnigan enjoyed a "nightmare" debut on ITV's Loose Women programme when she appeared to leap to the defence of footballer Ched Evans, who has been jailed for rape.
Evans is the subject of heated debate, petition and counter petition over whether he should resume his playing career with Sheffield United when he completes his five-year sentence next week.
The Daily Mirror says Ms Finnigan faces "an angry backlash" after saying Evans should be allowed to play again because his "unpleasant" crime was "not violent" and "he didn't cause any bodily harm to the person."
Rape Crisis England and Wales tells the Mirror, "Judy Finnigan's comments are really unfortunate.
"Her words do imply that rape involving extreme physical violence is more traumatic than rape that does not.
"All rape causes bodily harm and is a lot more than 'unpleasant'. Rape has a wide range of long-term impacts."
The Sun notes Ms Finnigan's apology over any offence she caused.
"The point I was attempting to raise was 'What should happen to someone after they have served their time?'
"I absolutely wasn't suggesting that rape was anything other than a horrendous crime."
ITV tells the paper, "Loose Women is centred around topical debate and frank discussion. Opinions are expressed from a mix of viewpoints."
The Daily Mail says Ms Finnigan, appearing on TV for the first time in five years, sparked a "huge public backlash in which hundreds complained online".
However the paper notes broadcast regulator Ofcom has only received one formal complaint, and ITV says it has heard none.
---
Can they fix it?
Tuesday proves to be a good day for quirkier stories in the press, and in a story that might infuriate those living to the immediate north and west of Birmingham the Daily Telegraph says a school that banned Black Country slang found it got better results in English.
Colley Lane primary school in Halesowen called time on pupils using phrases such as "I cor do that" ("I can't do that") and "ya" ("you") and has found grades in reading and writing have increased.
John White, the primary's head teacher, says, "Our intention was not to remove any local culture or identity but to give our children the spoken language skills to compete against the best."
But the paper says many parents oppose the move.
One tells it (presumably in a broad Black Country accent): "The school may claim the results of gone up but there is no evidence that is because of this barmy ban."
One group of unlikely linguists might not have the skills to communicate with locals in the borough of Dudley, but can reach out in a surprising way.
The Times reports that killer whales have learned to "speak dolphin" when kept in captivity alongside the aquatic mammals.
American researchers found the whales added clicks and whistles to their normal "pulsed" calls in aquaria they shared with bottle-nosed dolphins.
The lead researcher tells the Times, "killer whales seem to be really motivated to match the features of their social partners".
Communicating just as efficiently, but through angry tweets rather than clicks and whistles, are the opponents of the "remodelled" Bob the Builder.
The children's TV favourite is now a slimmer, more youthful looking computer generated version of his old stop-frame animation self, the Daily Mail tells us.
Now voiced by Lee Ingleby rather than Neil Morrissey, the new Bob's "renovation" has not been welcomed on social media.
One tweeter said, "the new Bob the Builder looks like the type that overcharges for his work".
And another reckoned: "New Bob looks like he drinks Carling and votes Ukip."
I wonder if he'll watch the televised leader debates with Wendy?
Making people click
Telegraph Kim Jong-un scotches coup rumours
Times The UK pays the price for jobs "miracle"
FT Nigeria's hard-learned Ebola lesson
Sun Prisoner's "day-release romps"