The papers: Tory turmoil ahead of conference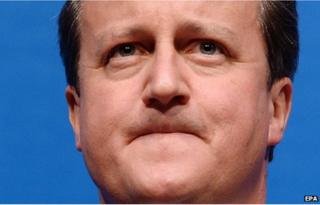 As is so often the case, a UK political story leads most of Sunday's papers.
Perhaps, that should read two stories, for on the eve of their party conference in Birmingham the Conservatives face unwelcome diversions caused by the resignation of minister for civil society Brooks Newmark over a "sexting" scandal, and the defection to UKIP of backbencher Mark Reckless, whose surname provides Fleet Street subs with hours of fun.
The Sunday Telegraph says the opening of the Tory conference will be "overshadowed by the dramatic revelations over Mr Newmark's resignation".
"Mr Reckless's defection has already sparked fresh speculation that more MPs are plotting to quit the Tories."
Matthew D'Ancona, writing a column for the paper, says "many rank-and-file Tories will feel not so much a batsqueak of sympathy for the departing MP as a foghornful".
Mr Reckless turns to the Mail on Sunday to put his reasoning for leaving the party and standing in his Kent constituency under his new colours in a by-election.
He said that David Cameron "goaded" him and his fellow defector Douglas Carswell into leaving the party, at a committee meeting.
"The penny dropped for us that the PM was not serious about renegotiation [with the EU]. All he aspired to was a few token changes, which he could then present as something more significant," the Rochester MP recalls.
He also criticises the coalition's record on reducing the national debt, housing targets and immigration.
The Sunday Times highlights a poll commissioned by Tory peer Lord Ashcroft showing that Conservative support is leaching away to UKIP.
In a survey of 8,000 voters, 27% who voted Tory in 2010 said they would not again, and 73% of those said they would vote UKIP.
The Sunday Telegraph's leader column echoes many commentators when it says of Mr Reckless, "his attention-seeking performance is a mere sideshow.
"By defecting to UKIP, Mr Reckless does not advance the philosophical cause of conservatism or further the interests of his constituents.
"All he does is put the winning of a Tory majority in jeopardy and so help Labour to slip into office through electoral good luck."
David Davis in the Mail on Sunday argues that UKIP's appeal has grown because the Conservatives had abandoned their "central tenets" in the face of modernisers drawn from "London's metropolitan elite".
He says the tax burden must be reduced because "the aspirational classes on which the party has traditionally relied are crumbling".
---
Dependency pledge
With the Newmark and Reckless affairs hanging over the Conservative gathering in Birmingham, the wind has been somewhat taken out of the sails of Mr Cameron's big announcement.
The Sunday Times says the PM will announce a pledge to "tighten [the] screws on benefit.
"Families will be banned from claiming more than £23,000 a year in state handouts and school leavers will be stripped of joblessness benefits" under the "crackdown", the paper explains.
Mr Cameron tells the paper: "Our ambition is to abolish youth unemployment and make it the case that it's simply not possible anymore to finish school, leave home, sign on and get a flat through housing benefit."
In a wide-ranging interview, he also admits that he would have wanted to resign had the "Yes" campaign won the Scottish referendum.
Mr Cameron's words on welfare are echoed in the Mail on Sunday, who run their own extensive interview with George Osborne.
The chancellor says: "Our mission is not just to save the pounds here and there, we're trying to change the welfare system so it doesn't trap people in poverty and a culture of dependency."
The paper quotes a Labour aide who says "the Tories are wrong to think they can win easy votes by attacking people on welfare.
"It is not the fault of under-21s that they cannot find work. It is Osborne's fault for not having policies to create jobs for them."
The Sun says the policy extends the benefits cap, currently £26,000 a year, which was introduced 18 months ago.
"About 33,000 families who were getting over £26,000 a year in benefits saw their incomes drop," it adds.
The Sunday People has a different benefits story, claiming the government turned down a chance to potentially save taxpayers £2bn a year.
The paper says the Welfare Reform minister Lord Freud snubbed an offer to share data with fraud prevention service Cifas that might help it to identify potential benefit cheats.
Cifas head Simon Dukes said the offer to share data on cheats came at no cost to the government.
"I find it extraordinary they have not taken it up."
---
'Grandiose claims'
Politics may take the front pages, but inside Sunday's press the conflict in Iraq and Syria - and the prospect of imminent British airstrikes on Islamic State jihadists - gets most coverage.
For those fascinated by military hardware, and maps of deployments, there is much to enjoy, but the papers also give voice to those questioning UK involvement.
Former Deputy Prime Minister John Prescott, in the Sunday Mirror, says the conflict is a "regional religious dispute that we should leave to the Arab nations.
"IS desperately wants Britain to join in. The public beheadings of journalists and other hostages were an open invitation for the West to strike.
"They're desperate to drag us in so they can paint this as a true Holy War. To some, it will legitimise IS's self-proclaimed statehood and lead to further recruitment and funding from around the world."
He adds, "make no mistake, this will be a war. Not a limited air strike. We will get sucked in. Again."
In the Sunday Times, former head of defence staff Lord Richards questions Britain's airstrike strategy.
Lord Richards (a "tough-talker who has guarded Rudolph Hess and Joan Collins" the paper notes) argues that only a ground force can tackle IS.
"These air systems are very expensive and our air force is small because we've all been cut. I'm not sure how long we can sustain this," he says.
He questions whether the public will have "have tolerance for something that at the end of the day cannot be won.
"Are we still going to be bombing them in three years? Five years?"
Elsewhere in the paper, columnist Dominic Lawson takes the Lord Prescott line, arguing that the intervention will make Britain more at risk, not safer.
"If in the coming months there is an IS-inspired slaughter on the streets of Britain, it will not be despite the decision taken by the House of Commons on Friday, but more likely because of it," he says.
Lawson adds: "There is a complete disjunction between the grandiose claims of our ministers - that this is "the most serious threat the West faces", that it is "a new Battle of Britain" - and the tentativeness of our real military commitment.
"This betrays either that ministers do not believe a word of what they are saying, or that they dare not confront a public opinion that would not back the scale of engagement that the cause requires."
Lord Richards' former general staff colleague Lord Dannatt writes in the Sunday Telegraph, arguing that by hitting IS only in Iraq the west is only "dealing with half the problem".
"IS recognises no international borders; it wants to impose its caliphate wherever it chooses. So if our enemy does not recognise borders, but we do, we are constraining our response," he contends.
The Sunday Mirror says British intelligence officers have been holding talks with Syrian dictator Bashar al-Assad to pave the way for UK strikes in Syria.
The paper says its information "contradicts Foreign Secretary Philip Hammond's insistence that Britain will not strike deals with the despot as such an alliance would not be 'practical, sensible or helpful'".
---
Crab and figs
With George Clooney and Amal Alamuddin's marriage announced overnight, the early papers are full of tales of the paparazzi pandemonium that surrounded the starry couple as they prepared for their nuptials.
"As the sun sank over the marbled Venetian skyline, Clooney appeared at the head of an immense flotilla, a beaming figure in black tie.
"He was travelling in a speedboat named Amore, but it might have been a doge's barge of old, such was the reception from the cheering crowds lining the banks of the Grand Canal," notes the Sunday Times team of three reporters on the story.
Perhaps Venetians are happy because, as the paper observes, "Clooney's bash, and the worldwide publicity it has provoked 'is worth 1,000 tourist promotion campaigns'", according to a local publication.
The Independent on Sunday's two-man Clooneywatch team take a more jaded view of affairs.
"If Gucci made sick bags, they would be selling out in Venice this weekend.
"The Most Romantic City in the World is playing host to the glossiest three-day celebrity wedding ever, and those of us in the cheap vaporetto seats can be forgiven for feeling just a tiny bit nauseous."
The team followed the US star to the swanky restaurant where he enjoyed his stag night on Friday, to note that the meal included stuffed courgette flowers, pasta with truffles, lobster, crab and figs.
Clooney arrived with two bottles of his own brand tequila, "which he and six chums polished off, before starting on a magnum of Sassicaia, the famed Tuscan red wine, at £250 a bottle".
Hopefully, it had all been digested by Saturday, when the Daily Star Sunday notes a "lavish ceremony" at a "seven-star hotel" was completed by "a five-course banquet created by Italian chef Riccardo de Pra, famous for pairing European and Asian flavours.
"The party continued with a spectacular firework display. Security was tight with around 400 minders and private security staff on hand," the paper adds.
Want any more details? The Observer notes that hotel staff were "covered by the non-disclosure agreement, and Venice newspaper Il Gazzettino reported [before the ceremony] that employees not needed at the party would be kept in a room without their mobile phones for the duration of the reception unless their help was required."
If that's enough Clooney for you today, more is sure to feature in Monday's papers, when the 53-year-old film star will officially wed his 36-year-old British-Lebanese partner in a civic ceremony to be conducted by the former mayor of Rome. Ciao for now.
---
Making people click
Independent: "Keeping a sense of perspective" over DLT
Observer: Chelsea Clinton announces daughter's birth on Twitter
Express: Labour's assisted dying row
Star: Chelsea make a £50m move for Everton's Ross Barkley