Obama and Cameron unite against Islamic State, Ebola nurse's joy and sterling 'crisis'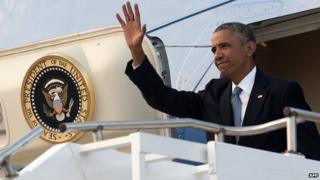 As Nato meets in Great Britain for the first time since 1990, and the Independent urges "Your move, Mr President", there is fighting talk from America's Barack Obama in the Times.
Writing jointly with British Prime Minister David Cameron, he says: "If terrorists think we will weaken in the face of their threats they could not be more wrong. Countries like Britain and America will not be cowed by barbaric killers." The pair also write about "supporting the partners who are taking the fight" to Islamic State. "Obama and Cameron have belatedly grasped the scale of the crisis in Syria and Iraq," argues the Times's editorial, adding: "They must match fine words with the right actions."
However, few commentators seem convinced by what they have seen so far from Western leaders. Having watched MPs debate the situation in the Commons, the Independent's Donald MacIntyre sums things up by saying: "The PM said the only response was to 'stand firm...' [Labour leader Ed] Miliband said that 'he can be assured of our full support in standing firm against them.' They were equally united in not saying what 'standing firm' would actually mean."
"At such moments, we turn to our national leaders for wisdom, reassurance and decision. Instead, we get posturing, dithering and waffle," complains Max Hastings, in the Daily Mail. Meanwhile, the Independent's cartoonist Brian Adcock imagines a jihadist using a reflex hammer on Mr Obama, with the US president straining to prevent a reaction.
---
'Tough choices'
The Sun, which urges the PM to "send in the drones", prints the results of a YouGov poll it says indicates that Britons are in favour of both air strikes and arming Kurdish fighters. However, it says people remain against sending in ground troops. Sources quoted by the Telegraph suggest Labour and the Liberal Democrats have indicated they would back bombing missions, and that "British soldiers could return to Iraq to help train troops fighting [Islamic State]".
The Daily Mirror lays out the "tough choices" ahead for world leaders - including a deal with Syrian President Bashar al-Assad, a ground attack against IS and ignoring the problem as a "local issue". The paper spells out the pros and cons of each.
Daily Express columnist Leo McKinstry argues that nothing better illustrates the UK's policy "confusion" than continuing friendly ties with Saudi Arabia and Qatar. "[They] give support to our deadly enemies, not only through bankrolling jihadists but also through their backing for the global export of the vile creed of Wahhabism, the ultra-puritan, ruthlessly authoritarian version of Islam that inspires extremists," he writes.
A Sun investigation claims to lift the lid on IS, explaining who are its key leaders - including former members of Saddam Hussein's regime, how it's bankrolled by smuggling, extortion and the ransacking of cities, and how its "moral police" dictate ordinary life.
Meanwhile, Martin Chulov writes in the Guardian that Islamic State leader Abu Bakr al-Baghdadi is aiming to bring on an "apocalyptic showdown" between Muslims and Christians that was predicted 1,400 years ago, quoting one academic saying the Islamist believes this would "prove he is the leader of Muslims".
---
'Bacon butty'
Some front pages carry photographs of British nurse William Pooley, who has been discharged from hospital after recovering from the Ebola virus he contracted while volunteering in Sierra Leone last month. The Independent records him praising the "world class" care of the NHS and wishing it could be offered in West Africa, where more than 1,900 people have died as a result of the outbreak.
Earlier reports had suggested Mr Pooley would return to Sierra Leone on his recovery, but he is quoted saying: "My mum is pleased to know I'm not going anywhere." The paper points out that he can't, because his passport has been incinerated. That's not the only thing to go up in smoke, according to the Times, which says: "His isolation unit will now undergo a thorough decontamination and his £25,000 hospital bed will be burnt."
It is not just the experimental drug ZMapp that's being credited with aiding Mr Pooley's recovery. The Sun reckons a breakfast bacon butty and vegetable rogan josh - brought to him in hospital by his parents - also played a part, quoting his father.
Meanwhile, the Financial Times reports that researchers at Oxford University's Jenner Institute are looking for 60 healthy humans to take part in trials of an Ebola vaccine which could start in a fortnight. It is hoped the drug could be approved for use by the end of the year, it says. The Daily Mirror reports that an American survivor has offered to return to Liberia to treat a colleague who has the disease.
---
Foreign 'pests'
The Times picks up on naturalist Sir David Attenborough's comments that Britain should welcome foreign species which arrive in the UK because of climate change, rather than treating them as invasive pests. "Instead of thinking that every new arrival is an exotic foreigner that ought to be repelled we ought to recognise them as our new populations," the paper quotes him telling a conference. It names the hummingbird hawk moth, black-winged stilt and bee-eater as such species.
One creature which isn't being welcomed is the Spanish slug, reports the Daily Mail. "The six-inch-long monsters have a voracious appetite and gardeners and growers fear their crops and prize plants will be annihilated," it says. They adapted to hot climates, where eggs are at risk of drying out, by laying hundreds so thrive in our wet weather, it adds. "Cor slimy!" says the Daily Star, quoting one gardener saying: "Their slime has even become a skid hazard on the roads."
---
Crisis, earthquake or meltdown?
On a day that Scotland's Daily Record is being guest edited by former Chancellor Alistair Darling in his capacity as leader of the pro-union Better Together campaign, some papers convey an air of alarm over the possibility of Scottish independence.
First Minister Alex Salmond will argue the case for a "Yes" vote in Friday's Record but the effect of such a result could be a "currency crisis", according to the Daily Telegraph. It quotes a senior economist at investment bank Goldman Sachs suggesting that - if Scotland votes for independence - it could prompt "a run on banks and money fleeing the UK", causing the value of sterling to crash.
The same line is being taken by Chief Secretary to the Treasury Danny Alexander, according to the Independent. The paper quotes him describing the fall in the value of the pound after recent polls suggesting gains for the Yes campaign as "tremors" ahead of a potential "economic earthquake". As Nils Pratley puts it in the Guardian: "The City has had to wake up. For the past year, economists, investors and financial strategists have barely bothered to think what Scottish independence would mean."
Meanwhile, the Guardian is also warning of a "constitutional meltdown". A "Yes" vote would put David Cameron under "severe personal political pressure" to postpone a general election in which there would be a possibility of Labour depending on Scottish MPs to form a government, when the Conservatives held a majority in the rest of the country. "There is a growing sense of panic among MPs from all parties," it adds.
The Mail says Labour leader Ed Miliband will tell people not to use the referendum to "rid themselves of the Tory government... because he says he'll win the general election". And the Financial Times picks up on a comment from Scottish Conservative leader Ruth Davidson that "it isn't looking likely" that her party will still be in power by next summer, describing it as an "intriguing plan to persuade wavering voters to reject independence".
---
Times: MH370: The real search starts now
Guardian: Jennifer Lawrence's naked photos: To click or not to click?
Mail: 'He dumped me by text': Geordie Shore star Charlotte Crosby opens up to MailOnline about split from boyfriend Mitch Jenkins
Telegraph: How standing might be the best anti-ageing technique