Child sex abuse inquiry, London Tour fever and Christian Dior at Paris in papers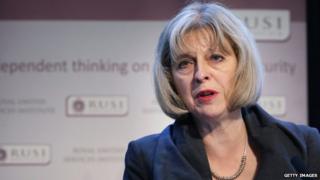 Home Secretary Theresa May's launch of inquiries into the way child sex abuse claims were handled in Westminster and the wider society dominate the front pages.
As Times sketchwriter Ann Treneman saw it, Mrs May announced two things. "The first was a review of a previous review, which would be comical if it were not so serious, as to what happened to 114 files lost by the Home Office. The second was a super-inquiry into child abuse so over-arching that it is the parliamentary equivalent of a rainbow but also so vague that trying to categorise it is like touching air."
The Daily Mail's James Slack sets out some of the detail, saying the inquiry is expected to last at least two years and cost millions of pounds. A panel of experts, he says, "will initially be tasked with trawling over mountains of evidence of how children were not properly protected from sexual predators".
The Daily Mirror complains that the inquiry will not be judge-led. "Mr Cameron appointed a judge, Lord [Justice] Leveson, to scrutinise the media. He should have done the same in this case and picked a senior legal figure to examine what most people will consider are far more heinous crimes."
Alan Travis, in the Guardian, explains that this is because it aims to "complement, not undermine" the various criminal investigations into the matters. But he adds that it will "have powers to request all government papers, including MI5 and special branch files... and intriguingly, it will be able to take evidence including from the political parties' whips offices, which are said to hold the darkest secrets of Westminster".
The Telegraph notes that it was mentioned in the Commons that one former Conservative whip, Tim Fortescue, had told the BBC in the 1990s that party whips might not disclose certain behaviour of colleagues including that "involving small boys".
The Independent's Steve Richards writes: "Context does not excuse, but is part of the explanation. I raise the possibility that casual complacency might have played a part because I recall how we as journalists responded to various rumours of sex scandals involving senior politicians in the 1980s. We did not take them very seriously. We would do now."
In the Sun, Antonella Lazzeri remembers interviewing rent boys in the 1980s - many who had run away from sexual abuse in children's homes - who told her they would be "taken to a flat or a hotel and subjected to virtually every act imaginable".
Meanwhile the Metro notes David Cameron's promise that the inquiry would leave "no stone unturned". The Independent's cartoonist Dave Brown imagines the prime minister using a magnifying glass to peer under rocks, with a host of demon eyes peering out from under a huge, rock-shaped Palace of Westminster behind him.
Mac, in the Daily Mail, sketches two Home Office officials reading reports about Rolf Harris and Jimmy Savile. "Disgusting. How did they get away with it for so long?" one asks, as he and his colleague sit elevated because of a pile of child abuse dossiers swept under the carpet.
---
Cycling in London
The Tour de France fever that spread through Britain for a third day is captured by the press, with the Daily Star declaring the finish of the stage from Cambridge to the Mall at Buckingham Palace a "French revolution on London streets".
"We have taken the Tour de France to our hearts in a big way. What a magnificent event," says the Daily Express, which reports a £200m boost to the UK economy from hosting three stages. Robert Hardman, in the Mail, writes that: "For one chaotic afternoon, the spirit of that glorious bunting-draped Jubilee-Olympic summer of fun gripped London once more... Even the most experienced, hard-bottomed veterans of this 2,300-mile epic voiced astonishment at the delirious reception from les Anglais."
The Independent declares that Britain has retained the "yellow jersey for sport-watching" but as reporter Glenn Moore points out: "Most, in truth, will have spent a very long time waiting to see not very much. There is diverting entertainment to be had from waving at motorcycle outriders and cheering the sponsors' floats of the Tour Caravan, but the actual racers are come and gone in seconds."
David Brown, writing in the Times, reckons it was a "day in the life of a London cyclist" for the peloton, as various riders found themselves negotiating bus lane dividers, dodging tricky speed bumps and knocked to the ground by spectators. And the paper's diary, TMS, heard a parliamentary aide huff that the Westminster cafeterias hadn't entered the spirit of things in the way Yorkshirefolk had done, by failing to even manage a French onion soup. "But the staff did all take an extra-long lunch break to watch, which is quite French," it adds.
Matthew Engel, in the Financial Times, detected a "small hint of cultural cringe" in the host areas being so "thrilled that the French noticed their existence and said nice things about them". He added: "One transatlantic interviewer concluded his post-race conversation with the words 'See you on the mainland.' The mainland! That puts Little Britain in its place."
However, the Sun is determined that something should come of the excitement. "Now let's see that enthusiasm translated into something that will really make a difference. Get your bikes out of the shed - and get fit," it urges.
---
18th Century modernity
A little more than a fortnight past the summer solstice, fashion writers are already in autumn/winter mode as they wax lyrical about the Christian Dior collection at Paris Haute Couture Fashion Week.
The Independent's Alexander Fury finds the festival "hanging heavy" with its 19th Century legacy and bound by rigid, codified rules on hand-construction. But he adds: "What [designer] Raf Simons did... was to show, with extraordinary finesse, that you can use history to invent the future."
Laura Craik, in the Times, agrees that the "18th Century references were unmistakeable, as was the inference from zippered boiler suits in shiny parachute silk". But she also reckons: "There was a 60s feel to the mini dresses in their pastel hues, and a 70s look to the flared trousers worn with long coats. There was also something of the 50s in the classic bar jackets, with a soupcon of 20s thrown in for good measure via the drop-waisted flapper dresses with their beaded skirts."
For the Guardian's Lauren Cochrane, Simons had put together "the fashion equivalent of a concept album" and found "something modern as the result". It was "perfect harmony" for the Telegraph's Lisa Armstrong, although she's as interested in the presence of South African actress Charlize Theron at the show. The Metro, meanwhile, notes that "her leathery faced lover", the actor Sean Penn, was very much in a "support role".
The Mail's focus is on Emma Watson, or rather the Harry Potter actress's "edgy" heels, rather than the latest fashions. It reckons she must have used a bit of Hogwart's magic to stay upright, given her shoes "featured a cut-out wedge heel and looked as though they would have tested the balance of a supermodel".
---
Page-turner or turnoff?
A Wisconsin professor claims his analysis of ebook reader's favourite passages - as referenced from the Kindle device's Popular Highlights tool - has identified the books "that many will take on holiday but few will ever finish", reports the Times.
And while the statistics suggest 98.5% of readers get to the end of Donna Tartt's The Goldfinch, the research indicates just 2.4% complete Thomas Piketty's tome on wealth and inequality, Capital in the Twenty-First Century. Even fewer - 1.9% - can reportedly stomach Hillary Clinton's memoir Hard Choices in full.
AN Wilson, writing in the Telegraph, is unsurprised, suggesting that "the summer holiday is not, for most of us, a time which is especially conducive to reading", and particularly not denser matter. "Although to be as well-read as possible is a sort of duty for any intelligent person, this does not mean that it is a duty to read Plato's Republic on a beach, or Proust by the poolside," he argues, while offering five more digestible alternatives to books better saved for a rainy day.
Meanwhile, the Guardian paints a bleak picture for the future of books in its report of a survey of 2,500 writers which suggested the median income last year was just £11,000, with only 11.5% of them earning their living solely from writing.
The paper says the figures support the theory of author Wilf Self, who said in May that "the literary novel as an artwork and a narrative art form central to our culture is indeed dying before our eyes".
---
Making people click
Daily Mirror: 'British' teenager killed after being thrown from roller-coaster called Hell at Benidorm theme park
Guardian: How is this painting 'pornographic' and 'disgusting'?
Times: British hospitality chief held over World Cup ticket scam
Telegraph: Dramatic near-miss at Barcelona airport
Financial Times: ECB under pressure to tackle 'crazy' euro