Fruit juice 'ban' call, Wonga payout, David Cameron's 'folly' and Wimbledon off-court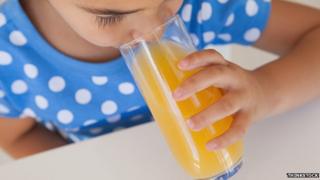 Fruit juice might be a staple for many families but some papers lead on warnings from government advisers about its sugar content.
"Ban fruit juice at dinner time," is how the Daily Mail sums up the recommendation, quoting an Oxford academic. The paper points out that a 250ml serving of orange juice contains just two teaspoons of sugar fewer than a can of cola.
The Daily Telegraph quotes the government's chief obesity adviser saying that parents should ensure only water or milk is on the dinner table. It looks ahead to the publication of two reports - one setting out new recommendations on daily sugar limits and another considering the merits of tighter restrictions on advertising processed foods, or taxing sugary products.
Meanwhile, orange juice has escaped a ban in one primary school which - the Daily Star reports - has barred pupils from drinking fruit squash, on the grounds it makes them naughty in class. The school head is quoted saying sugar-laden drinks make children disruptive, while a mum has reportedly started a petition to have the "barmy" ban scrapped.
---
Bad pennies?
The actions of payday loan firm Wonga - which sent threatening letters from imaginary lawyers to debtors, and charged them for the privilege - are roundly condemned, with the Sun renaming the firm "Wronga".
"It was so pernicious because it would have frightened many already in debt into borrowing more just to get themselves out of a hole, and thus landing themselves - needlessly - in even more trouble," says the Independent.
"Wonga's abuse of its customers makes the case for tighter regulation of legal loan sharks," argues the Daily Mirror. The Financial Times's Lex Column agrees, saying: "Charging lawyers' fees without paying lawyers, in an industry that will always face moral scrutiny, is picking up pennies in front of a regulatory steamroller."
But the Daily Mail goes further, asking: "Why isn't Wonga in the dock?" The company has apologised and is to pay £2.6m in compensation to the 45,000 people who were targeted by the letters. But, noting that City regulators have sent a file to police, the paper hears one lawyer describe how a criminal investigation could proceed, if police so wished, by examining laws on fraud, blackmail and falsely claiming to be a solicitor.
As the Sun notes, with some irony: "Wonga's £50 [compensation] to each customer sent a fake legal letter in 2010 would be worth £12,194 now if the firm applied its own interest rate of 5,853% per year." It also hears from money saving adviser Martin Lewis, who says hard-pressed families would be better off raising cash by selling unwanted belongings at car boot sales and advises people to visit credit unions before going to payday loan firms.
---
Poor judge?
For a second consecutive day, the Guardian's front page calls into question David Cameron's judgement, reporting how the judge in the News of the World (NoW) phone-hacking trial criticised the prime minister for speaking about the case before the jury had finished deliberating.
The Daily Mirror's mind is made up, its editorial arguing: "High standards in government do matter. So too does the prime minister's judgement. And yet again the PM has been found wanting."
Likewise the Daily Mail criticises the PM for taking on ex-NoW editor Andy Coulson as his media chief, calling it a "gross misjudgement", and says his "leaping in with an apology" before the trial was over only served to "compound his folly".
His opposite number, Labour's Ed Miliband, doesn't fare much better in the judgement of sketchwriters watching his efforts to embarrass Mr Cameron at Prime Minister's Questions. The Guardian suggests he "dropped the ball when faced with an open goal", while the Mail's Quentin Letts reckons "toothless Ed drew less blood than Suarez" - a reference to Uruguay striker Luis's World Cup "bite" at an Italian defender.
Mind you, says the Times's Ann Treneman, the PM did have a "friend" on his side - Sir Brian Leveson - from whose report into press practices he quoted: "There can be no criticism of Mr Cameron..."
Peter Oborne, writing in the Daily Telegraph, would disagree, arguing that "it it is no longer possible to regard [Mr Cameron] as a man of sound character and reliably decent morality".
Condemning politicians' reliance on "PR cronies", he adds: "It is not just the prime minister, and the coterie of chancers who surround him, who carry on as if nothing has changed. The same is true of Ed Miliband."
---
Tennis shorts
Thursday's papers enjoy as much of the action away from Wimbledon's Centre Court as within the famous arena, as - according to the Times - did the Duchess of Cornwall.
She "flouted convention" by abandoning the Royal Box to instead head to Court One to follow the fortunes of reigning champion Andy Murray. And the Sun is as interested in "lanky" groundsman Lydon Sutcliffe who, at 7ft 1in, is "such a giant of the game that even celebrities look up to him". He's pictured with singer Sir Cliff Richard and TV presenter Holly Willoughby.
The Independent's main interest wasn't even within the grounds of the SW19 venue. Its main image is of Murray's mother, Judy, handing out coffee to drowsy campers at the front of the queue for entry.
Back on the court, the Daily Telegraph enjoys suggesting that racquet-smashing Frenchman Benoit Paire might be considered a "mauvais perdant" (sore loser) for moaning after his first-round exit. "I'm not at all sad to leave this place where the atmosphere displeases me greatly," he grumbled.
However, there's trouble round the corner, according to the Daily Mail. "Ball boys are on the brink of extinction," it complains, suggesting the "PC brigade" is behind a change to "ball kids". It notes that BBC commentators have used the latter, although the corporation has insisted there is "no official policy" on the matter and a Wimbledon spokesman says there are no plans to stop using the terms "ball boys" and "ball girls".
Readers who fear things are going to pot can indulge in some tennis nostalgia in the Metro. The paper reports that the dress worn by a model who posed as a tennis player, scratching her naked behind, in one of the most famous posters ever produced is to be "saved for posterior-ity". The revealing garment is being auctioned and, says the Daily Express, could fetch up to £2,000.
---
Making people click
Daily Mail: England and Italy are blowing 'bite' storm out of proportion says Suarez's lawyer as pictures reveal disgraced striker's previous 'attack' on SAME player a year ago
Guardian: North Korea threatens 'merciless' response over Seth Rogen film
Times: Como locks down to shield Clooney and his British fiancee
Financial Times: Google takes 'wearable' battle to Apple with smartwatch services