The papers: A 'Tory bloodbath' and fresh Fifa allegations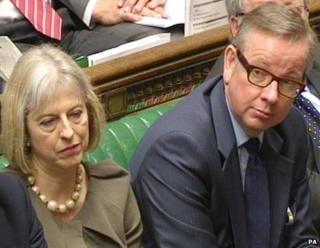 Like children gathering around a playground tiff with joyous shouts of "fight, fight", so our national press enjoy a political barney - and with the Michael Gove versus Theresa May spat they have certainly got one.
Now David Cameron has stepped in like a disapproving headmaster, and The Mail on Sunday reflects on what it calls a "Cabinet meltdown".
The Mail says the prime minister forced Mr Gove, his education secretary, into making a "grovelling apology" for remarks he made to The Times which criticised Mrs May and her Home Office anti-terrorism head, Charles Farr.
The paper adds that the departure of Fiona Cunningham - censured for publishing a private letter from Mrs May to Mr Gove and thought to have briefed papers against him - will be a "devastating blow" to the home secretary, "depriving her of a trusted spin doctor, fashion adviser and aide-de-camp".
The Mail says behind the row, sparked over the "Trojan Horse" extremism in schools claims, there is manoeuvring over who could be leader of a post-Cameron Conservative Party.
It says that while Mrs May wants the job herself - and is increasingly popular with Tory grassroots members - Mr Gove is backing George Osborne as the successor.
The Sunday Telegraph publishes a comment piece which says that the reputations both of Mr Gove and Mrs May have been tarnished by the episode.
"Both Mrs May and Mr Gove tried, in vain, to pretend in public that there was no problem and it had been overhyped by the press. This was nonsense. In reality, it was war," the paper says.
The Sunday Express says Mr Gove is "fighting" for his political career, after the PM's intervention.
But the education secretary gets some backing from the Express's leader column, which says that Mr Gove is a "class act" who "must stay on to finish his job at [the department for] education".
"Cameron would do well to remember that Gove has been a loyal ally," the paper adds.
The Independent on Sunday may make better reading for the two Cabinet protagonists as it reckons Mr Gove and Mrs May will not be moved in a "ruthless reshuffle" which the prime minister will embark on in a few days.
The Sindy's verdict may be less good news for Sir George Young, Andrew Lansley, Owen Paterson, Ken Clarke and Grant Shapps, all of whom the paper says will be "nervous about their positions".
---
'Naive'
Meanwhile the newspaper stories on the "Trojan Horse" affair keep coming.
In an Andrew Gilligan piece, The Sunday Telegraph says teachers and governors who are judged to be "enforcing Islam" on pupils face being barred from all UK schools.
Gilligan also says Michael Gove is considering removing all state schools in Birmingham from the local education authority's control.
In an investigation, Gilligan says he has uncovered links between a parents' association leader at one of the schools under Ofsted investigation and Syrian rebels.
He also says he has been leaked social media messages which talk of the new head at another of the investigated schools starting "an Islamising agenda".
In an opinion piece in the Sunday Times, Camilla Cavendish says "the government has utterly failed to turn enough youngsters away from extremism".
Accusing universities - many of whom receive Middle Eastern funding - of being "supine" and charities "staggeringly naive" over the threat of extremism, Cavendish argues that people should be prepared to "state clearly what is meant by integration".
"The way to turn people away from extremism is to be as ruthless and confident in your beliefs as the extremists," she concludes.
The Sunday People's leader column says "our children are too precious to give anyone other than proper teachers access to their minds".
It adds that what may have happened in Birmingham "is of concern to every parent in the land".
The Sunday Express has a story suggesting that "Islamist infiltration" in Birmingham schools may have begun earlier than thought.
It says the headteacher of one Birmingham school was forced out by "hardline Muslim" governors in 2008, and in 2010 the then-education secretary Ed Balls disbanded the school's governing body.
Only The Observer takes a different line on the story, reporting on a group formed by the Bishop of Birmingham and two local MPs to counter "increasingly bellicose rhetoric by the government" over the alleged plot.
One MP, Liam Byrne, told the paper that Muslim families in Birmingham were being treated as "second-rate citizens" by the "branding" of those who sought an education that accommodated religious views as extremists.
Inside the paper, there is a report from teachers and pupils at some of the schools being investigated by Ofsted.
They have been left "baffled and angry" by the allegations of extremism, the paper says.
---
Augean stables
The Sunday Times continues its in-depth investigation into the circumstances under which Qatar was awarded the right to host the 2022 World Cup across seven of its pages.
Citing further leaked documents - the paper says it has acquired "hundreds of millions" of pieces of evidence - the paper says it can show how former Fifa vice-president Mohammed bin Hammam "pulled strings" to arrange "meetings and favours" for key voters in the World Cup bidding process.
It details payments it says were made to the heads of the football associations in a number of Asian countries.
The paper even suggests a deal between Qatar and Thailand over gas might be linked to the Gulf state's quest to secure votes for 2022.
The Qatar bid committee deny links to Mr bin Hammam and say they have done nothing wrong.
But the paper chronicles a number of doubters for that position, including Labour leader Ed Miliband who has called on Fifa's investigator to consider the Sunday Times' evidence.
Perhaps, more pressingly, for Fifa, the paper says that Sony, one of the six main sponsors of the 2014 World Cup told it that it expects the allegations to be "investigated appropriately".
In an opinion piece in the ST, Brian Glanville says that for the last 40 years, Fifa has been an "Augean stables without a Hercules in sight", a "putrescent body".
In listing a series of scandals and corruption allegations linked to Fifa and its European subsidiary Uefa, Glanville says the central problem with Fifa is its voting system.
The one member association one vote system makes it easy for Fifa presidents to stave off opposition, he suggests.
"It has been suggested that if Qatar loses the right to hold the 2022 Cup, the resulting legal action could bankrupt Fifa. So there's hope," he concludes.
But the "happy conclusion" of that Sunday Times piece is unlikely if Mihir Bose in the Independent on Sunday is correct.
He reports that Qatar has signed away its right to take legal action against Fifa in its original 2022 bidding document.
And he adds that a mechanism exists to order a rerun of the 2022 ballot if an infringement of Fifa's code of ethics is found.
---
'Favourite runaway'
Saturday's papers were full of the exploits of Bernard Jordan, the 89-year-old East Sussex-based veteran who slipped away from his retirement home to join the D-Day commemorations. Sunday's press follow up on the story.
Although Mr Jordan's carers deny they had banned him from going to the commemoration, his sudden disappearance had sparked a police alert, until he was found safe and well in Normandy.
The Mail on Sunday exclusively speaks to Mr Jordan, saying the former Royal Navy lieutenant is "Britain's favourite runaway".
"I was naughty," he tells the MoS, "but I had to be there.
"I can be very secretive when I want to be and when I set my mind to do something, I do it."
Now back in the care home in Hove he shares with his wife, Mr Jordan said: "I loved my time in Normandy and I met lovely people there, but when I was here on the afternoon of the D-Day anniversary, I began to feel guilty and sad about leaving Irene."
The Observer says the veteran - who is 90 next week - feared he would be "told off" when he returned to the Pines nursing home.
Instead he was met by "a hero's welcome and a cup of tea".
The Daily Mirror says flag-waving staff at the home sang "for he's a jolly good fellow" on Mr Jordan's return.
The Sun's comment on Mr Jordan - "the great escaper" - is "they don't make 'em like that nowadays. More's the pity."
Making people click
Telegraph: Fasting for three days can regenerate immune system
Star: Farage "mistress" suicide bid
Independent: David Haye - "I lied"
Mirror: Huge shark eaten by "sea monster"
Mail: TV chef dies in sky dive accident