King Juan Carlos's abdication, Madeleine McCann search and World Cup fever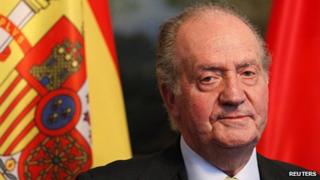 The abdication of King Juan Carlos of Spain provokes much comment in the press, with the Guardian describing it as a "humbling".
Juan Carlos had come to the conclusion he could no longer save the monarchy from its plummeting popularity, writes Giles Tremlett from Madrid, calling it a "humiliating end to four decades on the throne," which comes "despite the king generally being viewed as having made a great, even historic, contribution to his country".
Under the headline "reign in Spain has lately been a pain," the Daily Mirror notes that the king's reputation had suffered from a corruption probe into his youngest daughter's husband and from having been photographed hunting elephants in Botswana while Spain suffered in the economic downturn.
"Gone Juan," is the Metro's headline, while the Daily Mail describes him as a "tarnished monarch" and Times cartoonist Morten Morland imagines Juan Carlos handing over a battered crown - held together by sticking plasters - to his son Prince Felipe.
A former Olympic yachtsman, the crown prince "sails to monarchy's rescue," says the Guardian. Meanwhile, the Daily Telegraph is interested in the woman who will become queen, former TV presenter Letizia Ortiz, who is pictured on its front page.
Despite the king's struggles, the Times says he should be honoured for skilfully navigating the country out of fascism and into freedom. It remembers that Juan Carlos's "formidable achievements" in that he "brought the Spanish Socialist party back into the political mainstream, steered the country towards its first democratic elections and in 1981 helped to foil an attempted military coup".
The Daily Express's cartoon imagines Prince Charles casting an envious eye on events in Madrid, picturing him waving a Spanish flag and asking the Queen: "Anything on the news?"
However, the Sun - which runs through "Europe's long rulers" - feels he'd be out of luck. It gives space to Majesty magazine editor Ingrid Seward to explain why Queen Elizabeth would never follow suit. "Abdication is a dirty word in our Royal Family," she says, arguing that the Queen would only hand over power if she felt mentally unfit to continue.
---
High-tech search
The tabloids are closely following progress in the search for Madeleine McCann, who disappeared as a three-year-old while on holiday with her family in Portugal in 2007.
The Daily Express is one of those leading on the story, noting that British police are using ground-penetrating radar to aid their work, which is being carried out "on wasteland 300 yards from the apartment where Madeleine was staying when she vanished" in the Praia de Luz resort.
According to the Daily Star, officers are "liaising with archaeologists and using... sniffer dogs" to comb what it describes as a "former cabbage patch".
The Sun quotes the family's lawyer suggesting Madeleine's parents, Gerry and Kate, are bracing themselves for "significant news".
And the Mirror describes it as the "saddest search".
It quotes former Metropolitan Police detective Peter Kirkham saying officers may be searching the area because "they have new information... it has not been searched before or... it was searched only superficially back when Madeleine vanished".
"This one site is much too big to be dug up in its entirety.
"The ground-penetrating radar will indicate spots where digging may prove most productive," he adds.
---
Delayed departures
More than one newspaper shows the government to be at loggerheads with the courts over its deportation efforts.
A judge halted the deportation of a failed asylum seeker whose lawyers argued he should not be flown to Mogadishu until an immigration upper-tribunal had considered ministers' claims that the Somali capital is safe, reports the Independent.
It's "being seen as a test case affecting thousands of Somalis in Britain," the paper says.
Meanwhile, the Daily Mail leads on a ruling that a foreign nurse who force-fed her baby to death cannot be deported to Ghana because it has been ruled that the move would "breach her right to a family life".
Conservative MP Dominic Raab tells the paper many will feel it "reflects the warped nature of our human rights laws".
The Telegraph says the woman's baby died from respiratory pneumonia in 2010, having had liquidised food poured into her mouth from a milk jug. However, the nurse will be allowed to stay in Britain indefinitely, in the same house as her three surviving children, it says.
Meanwhile, the Express highlights the cost of deporting criminals and failed asylum seekers.
It says it's seen figures showing the government chartered 45 flights - at a cost of at least £11m- to send people home but that often they only have a handful on board because countries restrict the numbers they will accept at one time.
Just 2,571 people were on the flights, which had a total capacity of 13,000 seats, it says, adding: "In the worst case, a 265-seat airliner was hired to take just 13 unwanted Ghanaians home."
---
Stadium anthem?
World Cup fever is building in the press as England's footballers arrive in Miami ahead of their warm-up matches against Ecuador and Honduras.
And the Daily Telegraph spots that Leighton Baines has packed his guitar for the trip. An "accomplished guitarist" who reportedly counts musicians Miles Kane and Alex Turner, of the Arctic Monkeys, among his friends, the left back might provide musical accompaniment to the national anthem, the paper's Gordon Rayner suggests.
It's a reference to manager Roy Hodgson pledging to ensure his players join in the pre-match singing of God Save the Queen during the tournament in Brazil. However, his Telegraph colleague Harry Wallop doesn't much care if they "hit the high notes" before kick off. "The correlation between lion-hearted choral skills and sure-footedness on the pitch is unproven," he suggests. "Brazil rarely raises its singing passion above idly-bobbing-along-to-Maroon-Five-in-the-shower levels, and yet the country's World Cup record is unparalleled."
Meanwhile, the Times reports that young football fans might learn a valuable lesson in probability during this summer. It refers to an article in the Economist suggesting that if those collecting Panini stickers "gang up" with nine others, they can reduce the average cost of filling their album to £84. Without playground swaps, the average cost would be £450, it says.
"Naturally there will be tales of collectors amassing 50 copies of the Honduras left back and none of Lionel Messi, though Panini insists that the same number of copies of each sticker is printed," adds writer Patrick Kidd.
If that's a headache for schoolchildren, the Sun's Me health pullout runs through a list of ailments football fans can expect from watching their teams once the action gets under way. As well as rising blood pressure and anxiety and back pain from slouching on the sofa, supporters can expect cuts and bruises as they "hurt themselves on lamps, lightshades and coffee tables when they suddenly spring to their feet to celebrate a goal or dispute a penalty decision".
It also counts up how many minutes of football you'd have to play to burn off the calories taken on by drinking a beer, snacking on crisps or munching down your favourite chocolates while the game is on.
---
Making people click
Financial Times: Apple's iOS 8 opens door to developers
Daily Mail: Good Morning Britain 'heading for the chop after ratings slump' (and not even host Susanna Reid can pull in the viewers)
Independent: Nike is pronounced Nikey, confirms guy who ought to know
Daily Telegraph: Cameron to push Putin over Ukraine at D-Day meeting
Times: Europe tells Britain to increase taxes