Election contrasts and flooding fears - the papers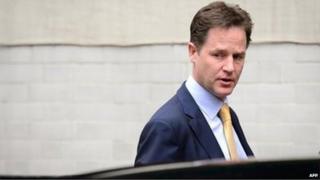 It is a time of reflection for the UK's party leaders and, in the aftermath of a weekend of electoral ups and downs, Tuesday's papers waste little time in dishing out both praise and admonishment.
The face of Liberal Democrat leader Nick Clegg is splashed across page one of both the Daily Mail and the Guardian looking anything but cheerful.
The Mail says party activists and MPs "broke cover" to insist that Mr Clegg should resign, "saying it would be 'insanity' to carry on without a change of leadership after such an 'abysmal' result".
And according to a leader in the Guardian, "Mr Clegg embodies the politics rejected this weekend and - make no mistake - the battering endured by the Lib Dems this week poses existential questions for them".
The Independent says special constituency meetings are being planned in several towns and cities amidst moves aimed at forcing a leadership contest. It says "more than 340 members have now signed an e-petition calling on Mr Clegg to stand down" - and they represent 150 different local parties.
The Sun offers some hope for the deputy prime minister. It carries the headline, "Vince vows not to nick Clegg's job", alongside a picture of Mr Clegg and Business Secretary Vince Cable dressed as Julius Ceasar and a knife-wielding Brutus respectively, captioned: "I'm right behind you all the way, boss".
But for UKIP leader Nigel Farage it is a different story. The Daily Mirror says a "jubilant" Mr Farage has warned "you ain't seen nothing yet", while the Times says he has made it a "priority to force Labour to concede an in-out vote" on EU membership.
In its comment column, the Daily Mail says "this roar of anger can be ignored no longer". It takes both David Cameron and Ed Miliband to task, as well as the beleaguered Mr Clegg. "The truth is that all three leaders appear to be treating UKIP's phenomenal upsurge as merely a bad dream, which will melt away as the general election draws near."
And the Daily Star says in its editorial that Mr Farage's "calls to end the tidal wave of immigration have struck a chord".
But it is not all positive comments for the UKIP leader. Daily Express political editor Macer Hall says Mr Farage, too, will be under pressure and "faces the challenge of maintaining the thrilling momentum achieved by his insurgent movement".
And the Daily Telegraph reports that Mr Farage's wife, Kirsten - in her "first ever interview" - says her husband "drinks and smokes too much" and is worried that his hectic lifestyle "in which he skips meals and lives on adrenaline, will take its toll on him".
'Unsafe NHS'
Various health-related stories are featured in both tabloid and broadsheet publications.
The Daily Telegraph carries details of an interview with the chairman of the inquiry into the Mid Staffordshire NHS Trust scandal.
Robert Francis QC tells the paper the NHS is so unsafe that if it were an airline "planes would fall out of the sky all the time". And Mr Francis says people have been given a falsely positive impression about the quality of care provided in many hospitals.
"Because we've not had access to genuine information about how well things are done, the public have had a perception that things are rather better than they probably are," he says.
The Times, meanwhile, says an "investigation is to be started into claims that the big insurance companies are routinely handed access to full details of patients' GP records".
The paper says the information commissioner will look at allegations that data about patients' mental health and relationship history is among the information being supplied.
And another investigation is reported in the Daily Mail, which says police are looking into claims that "unreasonable force is being used to restrain vulnerable patients on NHS wards".
The paper says the allegations came to light after a "whistleblower" told it that hospital guards were ordered to lock up elderly patients and children for up to 13 hours with no food or drink.
The Guardian focuses on what it says are claims by leading accident and emergency surgeons that ministers are failing to fulfil a coalition pledge to roll out a violence reduction scheme shown to reduce attacks by as much as 40%.
The paper says the scheme involves A&E departments sharing anonymous information about violent attacks with police forces.
But it goes on to report that "as few as a third of A&E departments in England have fully adopted the programme".
Free dolphins
Writing in the Independent, Michael McCarthy hails the fact that only the over-50s can remember when "every other British theme park or seaside resort seemed to have an aquarium that housed performing dolphins".
But he says he has learned that "outside the UK there is still a flourishing business" of keeping captive dolphins, porpoises and whales, and cites research from the charity Born Free which claims "more more than 2,000 dolphins, 227 beluga whales, 52 killer whales, 17 false killer whales and 37 porpoises are currently being held in 343 captive facilities in 63 countries across the world".
Mr McCarthy says he could not agree more with Born Free president Will Travers that he hoped the days of the dolphinarium were over.
And he suggests to his readers that "if you want to see dolphins this summer, get on a boat. It's vastly preferable to watching these magnificent creatures do tricks in a concrete tank".
Weather warning
While politics dominates most of the front pages, another national obsession, the weather, is the chosen lead for both the Daily Mirror and the Daily Star. And neither paper has particularly cheery news to impart.
The Mirror says heavy rain will bring "the threat of flooding misery to many parts of Britain". The paper says Met Office forecasters warn up to 1.6in (4cm) of rain could fall in 24 hours.
It says 10 flood alerts had been put in place by the Environment Agency on Monday evening, mostly in the South East.
Not to be outdone, the Star extends that warning to 3in (7.6cm) over 48 hours and says 13 alerts have been issued.
It says "experts blame a deep low pressure system developing over Holland".
Making them click
Daily Mail - Royal privacy row
Guardian - CIA cover blown
Independent - Traffic warden dispute
Daily Telegraph - Cailifornia killings
Daily Mirror - Kate Middleton picture