Newspaper review: Russian 'fury' at Charles, and eBay security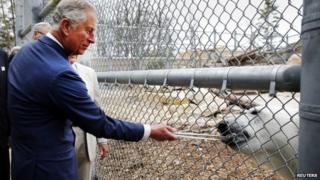 Should Prince Charles - as heir to the throne - be able to express forthright political views or must he maintain a dignified ever-neutral position? The fallout from Wednesday's Daily Mail exclusive about his comments about Russian leader Vladimir Putin offers newspaper editorial writers the opportunity to fully resurrect the debate.
The Mail leads on the global storm that its story has created, saying Russian diplomats are demanding an explanation for the Prince of Wales's comparison of President Putin to Adolf Hitler.
In its editorial column, the paper declares that "Charles dares say what our politicians dare not" but adds: "Charles would be very unwise to make such frank remarks - even in private - when he ascends to the throne."
The Guardian has no truck with the argument that the prince's comments were made in a private conversation, saying: "Two-thirds of a century into his job-training scheme, Charles should know there are no private words during public engagements."
Andreas Whittam Smith, in his Independent column, warns of grave consequences, saying President Putin will be "less willing to reach agreements with the UK about the many matters of common interest that the two countries share".
The Daily Telegraph is more supportive, pointing out in its editorial that, as a "keen observer of world affairs", Prince Charles is "perfectly entitled to have his own views" on what is happening in Ukraine. In a separate piece, Tim Stanley points out that Hillary Clinton, Mitt Romney and John McCain have each previously made an allusion linking President Putin and Hitler.
Political commentator Susie Boniface, writing in the Daily Express, points out that Prince Charles has often been criticised for offering his opinions on subjects such as organic farming or modern architecture - when he often turns out to be right.
And David Aaronovitch, in the Times, points out that Mr Putin has the kind of power that no British monarch has had since Charles I. He adds: "The future King Charles III has no power, except to speak. I'd let him have that."
Discharged at night
As with many mornings, a healthy range of stories about the NHS make it into newsprint.
The Times leads on the discovery, via a freedom of information request made by Sky News, that 300,000 people have been discharged during the night from hospitals in England over the past two years.
The paper points out that it first exposed the practice two years ago and was told then by the Department of Health that patients would be moved at night only in exceptional circumstances.
The Daily Telegraph focuses on an upcoming debate on the introduction of a £25 charge for patients to see their GP - planned as a deterrent to people who routinely miss appointments.
NHS funding is also front-page news for the Independent which says that hard-up hospitals are pleading for bailout loans to replace defunct equipment or pay electricity bills.
And the Guardian's health story of the day is a warning from a doctors' leader that politicians are alienating GPs with their "relentless attacks" on their work.
Break-up
They were "sport's golden couple", as the Daily Telegraph points out, but now golfer Rory McIlroy and tennis star Caroline Wozniacki are no longer a romantic pairing after calling off their engagement just months before their planned wedding.
Other papers are not particularly kind in their coverage of the break-up.
The Independent headlines the story "Has McIlroy choked again - but this time on the way to the altar?" and says in its introduction: "There is never a perfect time to break off an engagement, but directly after putting the wedding invitations in the post might be the worst."
The Sun, under the headline "Ditch and Putt", charts how the couple's respective world rankings in their sports have slid during their time together.
And although the quietly-spoken Northern Irishman has hardly acquired a reputation as a playboy during his steady three-year courtship of Wozniacki, the Times decides to inform its readers of Paddy Power's odds for "who's next" for McIlroy. Current tennis number one Serena Williams is a 100-1 shot in that list.
Have your cake...
It's hard to believe that the year-round media coverage of football can endure its own "silly season" but it seems that the week between the FA Cup and Champions League finals is that time, as coverage of Yaya Toure's birthday blues continues for another day.
As any keen student of the beautiful game is now aware, the Ivory Coast and Manchester City midfield powerhouse has become disenchanted with his £250,000-a-week employment because the club's owners failed to suitably acknowledge his birthday.
Simon Kelner, writing in the Independent, says today's cosseted Premier League footballers are living in a Disneyland existence "where everyone has a birthday Bugatti and an absurd sense of entitlement".
But Matthew Syed fights the sportsman's corner in his Times opinion piece, saying that no matter how much a superstar earns, it is the small personal touches from his employers that can make the most difference. As he explains, that was why he [Syed] played his best table tennis during eight seasons at a family-run French club and David Beckham was always happiest in a Manchester United shirt.
The Daily Mirror's Derek McGovern does not let the opportunity for a timely joke pass and steams in with the rumour that Arsene Wenger has already tabled a transfer bid for Toure of £40m and a Victoria sponge.
But the final word should go to Guardian letter writer Julie Savage who offers some sage advice: "Perhaps someone should let Yaya Toure know that out here in the real world, if it's your birthday, you buy the cake."