Housing 'bubble' warning, Pfizer bid examined and Met Gala reviews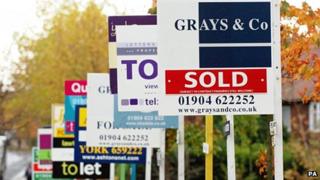 Some papers see concerns the housing market is "overheating" in a report from the Organisation for Economic Cooperation and Development (OECD).
According to the Daily Telegraph, the group is urging the Bank of England to use powers introduced by the coalition government that allow it to limit banks' freedom to lend to housebuyers if it thinks the market is becoming unsustainable.
Meanwhile, the Daily Mail picks up on OECD recommendations that would-be purchasers should be required to put down larger deposits and that access to funds under the government's Help to Buy mortgage guarantee scheme be tightened.
However, the paper notes that the government's shares in people's properties could see the Treasury cash in on a £4.5bn windfall based on future sales, if prices keep rising at projected rates until 2020.
In his analysis, Guardian economics editor Larry Elliott describes Threadneedle Street's planned response to a property "bubble" as based on the "defcon" approach used by the US military to prepare for nuclear conflict. We moved on from defcon 5 when the Bank first expressed concerns and will move to defcon 3 if and when it imposes restrictions on lending, he says. The "nuclear option" would be pushing up the cost of borrowing, he adds.
Deal under microscope
Sweden's finance minister has become the latest politician to voice concern over US pharmaceutical giant Pfizer's takeover bid for British-based AstraZeneca, reports the Financial Times.
But while the Independent has Vince Cable declaring the UK economy should not be used simply as a "tax haven" by American firms and saying he hasn't ruled out blocking the deal on public interest grounds, the Mail says the business secretary has admitted ministers are "ultimately powerless" to do so.
The Mail also points out that while Pfizer paid £118m in UK corporation tax between 2010 and 2012, it was handed £184m in tax credits over the same period.
In any case, argues the Telegraph, the deal is "ultimately a matter for [AstraZeneca's] shareholders... politicians should play no part in the decision". It adds: "Britain's hard-won economic recovery, and its global success, is based on our willingness not just to talk about free trade, but also to practice it."
The Financial Times acknowledges the UK's liberal takeover regime has arguably secured it a greater share of foreign direct investment than might be expected. However, it argues for the creation of an independent body to assess - and, if necessary, block - bids that might damage the UK's science base.
"The government should not allow facilities built up over many years - and often with the benefit of public support - to be neglected or stripped for financial or competitive advantage through the short-sightedness of shareholders," it says.
Likewise, the Times argues that people's "serious reservations" are not "rooted in protectionism or misplaced national pride", saying there are concerns over job losses and whether a takeover would add value to the UK pharmaceutical sector. "Shareholders should stay their hand because Pfizer must make more lasting commitments to British interest before its offer can be accepted," it says.
The Daily Mirror is a little more direct, arguing: "The public interest demands that this toxic deal must be binned."
Fashion victims?
The Met Gala - at New York's Metropolitan Museum of Art - is the "most fashionable night of the year", according to the Daily Express. But you wouldn't know it from the red tops' verdicts on some of the gowns on display.
There were as many "nasty shocks" as "hot frocks", according to the Daily Star. "Part glitter, part feather, all awful," is its verdict on actress Kristen Stewart's number, while singer Beyonce's "funeral chic" is branded "just plain weird".
Likewise, the Mirror sees more "alarm belles" than "screen sirens", with acid-tongued fashion editor Didi Danso suggesting actress Katie Holmes came as "a custard tart" in her yellow Marchesa gown and that fellow screen star Maggie Gyllenhaal could have been wearing "dotty 60s curtains".
However, they're not in agreement on everything. While Danso says British pop star Lily Allen looked "elegant" in grey stripes, the Star thought she looked like "she should be scanned through the self-service till at Tesco".
The Mail is concerned that Brits "lowered the tone" at the £14,700-a-head fundraiser by showing off on social media. "Gurning in rollers, posing in their underwear, grabbing each other's bottoms and generally behaving like students on a night out during Freshers' Week, here was the cream of young British talent," it complains.
While the Mail ticks off designer Stella McCartney for helping herself to a handful of singer Rihanna's rear, the Sun pictures the pair alongside model Cara Delevingne and actresses Reese Witherspoon and Kate Bosworth - each wearing a McCartney outfit - and says they "stole the show".
Trust issues
News that BBC Trust chairman Lord Patten has stepped down after undergoing major heart surgery prompts reviews of his time at the helm.
The Times runs through three "turbulent years", including the highs of the London 2012 Olympics and lows of the Jimmy Savile scandal, controversial executive payoffs and the scrapping of a digital media archive at a cost of £100m.
The Guardian says the former Hong Kong governor had "weathered many storms". But it foresees "plenty more to come" in the form of charter renewal negotiations, a review of the law that makes evasion of the TV licence fee a crime and the findings of Dame Janet Smith's inquiry into the BBC's culture and practices during the Savile era.
The Mail's Stephen Glover says Lord Patten was "doomed" by the "poisoned chalice" from the start but adds that "a fresher and more critical broom" is needed. The paper wonders whether a woman, such as vice chairman Diane Coyle or fellow trustee Alison Hastings, might take the reins - or even whether veteran broadcaster David Dimbleby might get the job.
The Financial Times suggests Labour fears a "Tory stooge" will be installed, given the decision rests with the prime minister.
For that reason, the Telegraph names former Lib Dem media spokesman Don Foster among 10 likely successors. It also suggests ex-Culture Secretary Lord Smith, Pearson media executive and Twitter board member Marjorie Scardino and the corporation's former chief-operating officer Caroline Thomson are in the running.
Making people click
Times: Internet abused me not Bill, says Lewinsky
Mail: 'I'll sue police', says Starr as sex case is finally dropped: TV comic is left frail and bloated after 18 months in legal limbo
Telegraph: World could see first trillionaire in 25 years
Mirror: Who is Yovanna Ventura? 11 things you need to know about Justin Bieber's 'girlfriend'
Guardian: 10 overlooked novels: how many have you read?