Mick Jagger's grief over L'Wren Scott and Budget childcare boost on front pages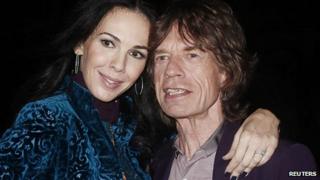 The death of designer L'Wren Scott - and the reaction of her "devastated" partner Mick Jagger - make most front pages.
The Daily Mail is among those papers speculating that the 49-year-old might have killed herself, with her company reportedly £5.6m in debt, while the Daily Star rounds up tributes tweeted by celebrities including Jagger's former wife, Bianca.
According to the Daily Telegraph, those close to Ms Scott seemed to have had no warning that anything was wrong. "Her official Twitter account was even updated by an aide, with a link to a fashion shoot, an hour after police had been called to her apartment," it notes.
Independent fashion editor Alexander Fury says news of Ms Scott's death came as both a shock and a mystery "because she was at the top of her game". In the Daily Mirror, Louise Gannon - who "knew and interviewed L'Wren" - recalls the designer telling her: "No life is ever perfect. Mine isn't. But I think I worry too much." The writer says that was "the first hint of the insecurities that lay hidden beneath this carefully controlled, highly talented person".
'Fairytale looks'
Telegraph fashion editor Lisa Armstrong describes Ms Scott, the adopted daughter of Mormons, as "charmingly steely", adding: "the supreme swan: utterly composed outwardly, [she] never seemed to be anything other than self-assured".
The Times's obituary says: "A small-town girl turned stylist and fashion designer to Hollywood's A-list, L'Wren Scott was famous for her impossibly long legs and slick dresses before finding worldwide fame as Sir Mick Jagger's partner."
Hadley Freeman writes in the Guardian that "even among the attention-seeking and glittery hordes... L'Wren Scott was hard to miss, even while she sought no notice. Of course there was the height, all 1.93m (6ft 4in) of her, which she wore with languid ease... Her looks were like something out of a fairytale".
Some papers reel off Jagger's previous girlfriends, with biographer Philip Norman writing in the Daily Mail of their "overdoses, broken hearts and troubles".
Many newspapers use an image they claim shows Jagger at the moment he was told the news. Reviewing the papers for the BBC News Channel, entrepreneur Shazia Awan said: "This is terribly intrusive. I feel really uncomfortable even looking at this picture. It's a private moment of grief."
However, Martin Bentham, of London's Evening Standard, argued: "I don't think it's that awful. It just captures this terrible moment shortly after he's heard."
Budget giveaway?
As Chancellor George Osborne puts the finishing touches to Wednesday's Budget, the Financial Times sees him preparing answers to Labour's complaints about the cost of living. The Guardian highlights a support package for working parents, seeing them offered up to £2,000 per year in tax breaks per child towards the cost of childcare.
Chief Secretary to the Treasury Danny Alexander writes in the Sun that the Budget announcements will mark "another step to giving our country the stronger economy and fairer society that you deserve".
While the Daily Mail applauds the policy's broad aims, it points out that "if a family wishes to benefit, both parents must work" and says the government must not forget the "traditional" family. Its cartoonist Pugh envisages a husband getting a phone call from his mother-in-law, before telling his wife: "It's your mother - her babysitting rates have gone up to £40 an hour."
The Daily Mirror sees the measure as an "old trick of attempting to buy votes" but reckons: "[Mr Osborne's] flawed childcare plan is an inadequate Budget response to the catastrophic decline in living standards overseen by a Chancellor stripped of his highly prized triple-A rating."
Ed Miliband writes in the Guardian that the chancellor's policies will "increase inequality" which, he says, is "not only unjust but bad for our economy".
Meanwhile, the Daily Mail calculates that those "trapped in the 40p tax band" will pay an extra £3.4bn over the next four years. And the Times's editorial argues that it's "simply wrong for the state to be making such an imposition on people who are not wealthy". However, the Sun presents the results of a YouGov poll it says found that two-thirds of respondents wanted Mr Osborne to snub a tax cut for middle and higher earners in favour of targeting the low paid.
The Independent advises Mr Osborne to "prioritise the poor, avoid gimmickry and move to rebalance growth". Meanwhile, the Daily Express's cartoon shows an aide suggesting Mr Osborne should wrap a bow around his red briefcase to make it "look like a 'giveaway Budget'..."
Sky News economics editor Ed Conway, writing in the Times, has some unusual advice for viewers: "The moment George Osborne stands up in the House of Commons to deliver the Budget, switch your television on to mute." He explains that while the chancellor's words are likely to be those of a "high priest of austerity", in fact "it's hard to find much evidence that Mr Obsorne is a Conservative at all". (The writer reminds viewers to turn up the volume again afterwards.)
Fat Lady sings
Papers mark the death of Clarissa Dickson Wright, best known as one half of TV's Two Fat Ladies.
Quentin Letts, in the Daily Mail, writes: "Though she will be remembered by millions as a TV chef, Miss Dickson Wright... was more influential and complex than that plastic term suggests. She was a former lawyer, an alcoholic and a daughter of wealth who plunged into penury through her own profligate faults."
But for the drink and rebellious streak she might have been Lord Chancellor, says the writer, who recalls how she twice slept on benches at London Victoria coach station and claimed to have made love to an unnamed MP behind the Speaker's Chair in the Commons.
In its editorial column, the Telegraph notes that "one of her striking qualities was to begin again when each career failed her".
For the Guardian, delicatessen owner Mary Contini remembers Dickson Wright from her days as a bookshop owner in Edinburgh. "Meeting her led instantly to an enduring friendship. In our cafe bar, she held court, too, usually with an entourage of authors, food producers, and celebrities."
Simon Edge, in the Daily Express, describes how she reached nationwide fame when she "clicked" on screen with another "posh foodie eccentric", Jennifer Paterson, in the Two Fat Ladies. The pair didn't always get on behind the scenes, he says, adding that Dickson Wright was "a woman of volcanic temper who was known as 'Krakatoa'" to the show's crew.
Christopher Hirst writes in the Independent: "Honest, ungussied, and wonderfully hearty, her dishes are among the best food to be found on these islands... She may have gone but she's left a lasting impression on our plate."
Daily Mirror: Teenager died from cervical cancer after being refused smear test 'because she was too young to get disease'
Daily Express: Diego Maradona denied permission to congratulate Luis Suarez
The Times: Live: Taleban deny involvement in missing MH370
Metro: Courtney Love thinks she's found Malaysian plane - and posts images as 'proof'
Financial Times: 'Cosmic inflation' data show Big Bang secrets