Diana's 'revenge', nurses 'betrayed', price wars and farewell to Sir David Frost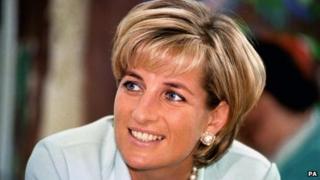 Claims aired in court that Diana, Princess of Wales, gave a phone book of royal contacts to the News of the World to "take on" Prince Charles make many front pages.
The Daily Express leads on the "sensational claims" made by the NoW's former royal editor Clive Goodman, who said Diana wanted to demonstrate the "forces ranged against her".
Mr Goodman made the suggestions as part of his defence against accusations he paid police for royal phone books.
"The Enemy within?" is how the Metro sells the story, with the strapline: "Diana 'was tabloid's mole in the palace'". Meanwhile, the Daily Star's front page reads: "Diana was a royal grass."
Healthy salary?
"Betrayal of the NHS nurses," is how the Daily Mirror describes a public sector pay settlement that will see nurses who qualify for annual "progression pay" increases denied the 1% basic pay rise. Its associate editor Kevin Maguire sees it as a deliberate ploy to demoralise workers so "they'll be easier to sack and privatise".
And the Mirror also prints an open letter from a nurse who complains that after five years without a "significant pay rise" his "disposable income has been reduced to virtually nothing".
The Independent says Jeremy Hunt is seeking performance-related pay in the NHS, with the health secretary arguing that "it shouldn't be about time served. It should be about how well you look after patients".
"Carry on nurse? Not a chance," says the Sun's headline, as it anticipates strike action by aggrieved health staff. Pointing out that nurses denied the 1% rise will get automatic incremental increases, its editorial column argues that if the unions "had their way on pay" they'd be threatening strikes anyway, because the alternative would have been "thousands of job losses".
'Fat cats'
Meanwhile, the Daily Mail highlights the row over "pay hypocrisy", listing the names of eight "hospital fat cats" already on six-figure salaries who've enjoyed increases of between 3% and 18%.
In its editorial, the Daily Telegraph says Mr Hunt is in the right, saying pay should be decided on a regional basis to address inequality between public and private employees in different areas and that payment on merit would be fairer to "hard-working staff". It adds: "Why should poor performers who blight our classrooms or surgeries get automatic pay rises?"
The Times agrees that national bargaining has had its day. "Variations by region are substantial and distort local labour markets," it says. "There is no public sector premium in the south east of England... while the estimated premium in Wales is more than 18%."
The cartoonists give their take on the story, with Steve Bell in the Guardian drawing Mr Hunt proffering a tray of peanuts "for the well-behaved monkeys". Peter Brookes, in the Times, depicts the percentage sign in "1%" as a see-saw, with a bulky David Cameron weighing down one end to leave a soldier, prison officer and judge suspended in mid-air and a nurse tumbling to the ground from the other end.
Meanwhile, the Express's cartoon features a nervous patient telling his dentist: "Before you start, I definitely think dentists deserve more than a 1% rise."
Basket case?
Grocery shopping is about to become a little cheaper, according to the Daily Mail. It foresees a "price war at the checkout" after Morrisons announced discounts worth £1bn over three years "in a bid to fight off budget rivals Aldi and Lidl".
The paper says Asda immediately responded by claiming to undercut Morrisons and predicts Tesco and Sainsbury's will "almost certainly be forced to follow suit". Illustrating how budget stores "squeeze the rest", the Mail uses a price comparison website to illustrate how much a basket of typical groceries would cost in each store.
Noting that Morrisons announced the fightback in the face of £176m in losses, the Sun wonders if supermarkets are "basket cases". It quotes one retail analyst who sees Morrisons in "meltdown" as customers in its northern heartlands desert to Aldi and Lidl, while "no middle-class Waitrose customer would be seen dead" in the store.
Business Editor Simon English says price comparison websites mean stores can't rely on customer loyalty, trust has been hit by the horsemeat scandal, home delivery has hit out-of-town stores, while people are no longer snobbish about cheap German rivals.
Noting that a "tide of salmon en croute and sea bass fillets" is lifting Waitrose to "ever-giddier heights", the Guardian sees "divergence in customers' circumstances, the slow split into two economic nations".
And TV stars are among the have-nots, if comments attributed to former Cold Feet star Hermione Norris are to be believed. The Daily Telegraph quotes from an interview she gave to the Reader's Digest, saying "there's quite a lot of Asda Smart Price going on" at home, because of reduced payments for working in British drama.
Two years ago, the paper points out, when asked to name the temptation she most wished she could resist, Norris had replied: "Buying for a family of 10 when I'm in Waitrose. I'll happily spend an hour there and rack up a bill of £300."
Farewell to Frost
"There must be few occasions when a Rolling Stone finds himself seated next to a former chancellor of the exchequer," says the Telegraph's Jasper Copping, as he runs through some of the famous names attending a memorial service for Sir David Frost at Westminster Abbey.
But he suggests "accomplished social networker" Sir David might not have been so surprised at the "eclectic turnout" that included Sir Michael Caine, Ronnie Corbett, Sienna Miller and Joanna Lumley.
With several royals, including the Prince of Wales and Duchess of Cornwall, in attendance, the Daily Mirror dispatched royal reporter Victoria Murphy to join the 2,000-strong congregation. She wrote: "In life Sir David Frost had a contacts book a prime minister would envy - and yesterday stars, politicians and royals stepped from every page of it to attend his memorial."
The Guardian says the congregation amounted to "Frostie's fan club", saying the star - who died in August - "pulled off his last big showbusiness coup", which the newspaper dubbed "the wake that was" in a twist on the name of one of the former presenter's hit shows.
Lewis Smith, in the Independent, enjoys a tribute in verse, spoken by Joanna Lumley and co-written with musician Sir Richard Stilgoe, which began: "Shall I compare thee to Sir Robin Day? Thou wert more lovely and more temperate."
The Times finds space to pay tribute to Frost in its leader column, and refers to him as "the king of interviewers".
Making people click
Daily Mail: Did gypsies cut off man's penis in revenge for him sleeping with one of their girlfriends? Police search A-road for missing manhood after arrest of suspect, 22
Daily Telegraph: Zuckerberg tells Obama he is 'frustrated' over government surveillance
Independent: Oscar Pistorius trial: Athlete vomits again after photographs of Reeva Steenkamp's body are shown in court
The Times: Live: 'Seabed event detected shortly after flight went missing