DLT's 'hell', flood defence, Valentine's Day and Wayne Rooney's Rio challenge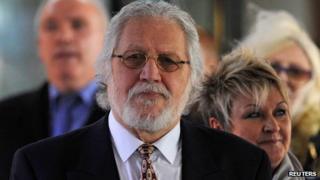 Not for the first time recently, the front pages feature a celebrity speaking from court steps after being cleared of sexual offences.
A week ago it was Coronation Street actor William Roache. This Friday's papers repeat the description of a "year of hell" endured by BBC Radio 1 DJ Dave Lee Travis as he fought indecent assault claims.
And the debate is similar, with the Daily Mail and Times among the papers airing claims of a "witch-hunt" of household names. "Prosecutors in the dock," is how the Mail describes the renewed scrutiny on the police and Crown Prosecution Service.
However, ex-Director of Public Prosecutions Keir Starmer writes in the Guardian that "calm and rational analysis" is required. Likewise, the Daily Mirror cautions against "knee-jerk" reactions, saying that trusting a jury to decide cases is "the only answer".
Noting the usual difficulty of securing sexual assault convictions, the Guardian says it would be a "tragedy" if these high-profile acquittals caused the authorities to revert to a "hyper-cautious approach" to prosecutions. "Victims should now know they can complain, and they will be heard," it says.
Flood defensive
Reports from flood-stricken communities once more fill many pages, along with photographs of huge waves, people wading through waist-deep water and overturned or otherwise damaged vehicles.
The Times's David Sanderson reports from villages along the River Severn which, he says, are "likely to be marooned for weeks". Meanwhile, the Sun is still doing its bit - handing out free sandbags while reporting how the prime minister had to step in to order some councils to stop charging people for the same.
UKIP leader Nigel Farage writes in the Daily Express that some of the UK's foreign aid should be diverted, funding the reestablishment of county civil defence corps. Meanwhile, the Independent suggests that extra help was already available to the government - in the form of the European Union's Solidarity Fund - but that the Conservative-led government "was loath to act in any way that suggested Britain either needed, or benefited from, its EU membership".
The Sun's voice is the latest adding to criticism of the Environment Agency, this time for reportedly selling off dredging equipment. However, in the Guardian, there is praise for the agency's work in Herefordshire and Worcestershire, where the paper says the organisation is so popular that its regional manager has his own "official" fan club.
Meanwhile, former Conservative environment minister Richard Benyon is also fighting back against criticism. He writes in the Guardian that he is "uncomfortable with those that reach for the easy option of looking for a scapegoat".
Another man defending himself, this time in the Daily Star, is Alan Titchmarsh. He reportedly says its "laughable and totally unjust" for government adviser Lord Krebs to blame TV gardeners for flooding on the basis that they encourage people to pave or deck lawns.
Love stories
The papers mark Valentine's Day by peppering their pages with romance, and the Times is in particularly amorous mood. Its Pop School pullout lists the 20 best love songs of all time, while its Bricks & Mortar section even has a feature on "romantic properties".
The Times even dedicates a section of its leader column to the subject, imagining a conversation between a couple marooned by floods that it admits might not be everyone's idea of a heavenly evening. But, if you are stuck at home, it adds: "At least you don't need to worry about getting a reservation."
The Guardian has something to warm the hearts of those planning to tie the knot. It prints an ode, To My Husband, by poet Wendy Cope on its front page. Having originally wanted a civil partnership, which are not available to heterosexual couples, Cope writes inside that she is now glad she married her partner of 19 years and that they are happier than previously.
Several papers feature a still image from a Margot Fonteyn version of the ballet Sleeping Beauty, in which the lead character is kissed by a handsome prince. The Daily Telegraph describes the film's rediscovery in BBC archives as a "magical monochrome gift for Valentine's Day".
The Telegraph also notes that erotic fiction has made its first appearance in the top 10 books borrowed at British libraries in the form of EL James's Fifty Shades of Grey trilogy. The other two volumes in the "steamy" trilogy are apparently in the top 20.
But the most loved-up paper this 14 February is probably the Sun, which pictures three men on bended knee on its front page. It carries their written proposals to the partners inside. Some might feel the effect is spoiled a couple of pages later, where a report headlined "Ski humpers" explains how stars at Sochi's Winter Olympics are using the Tinder app "to hook up with fellow athletes". Its editorial warns: "It's a slippery slope."
A further word of warning appears in the Financial Times, courtesy of philosopher Simon May. He argues that we expect too much from romantic love and urges a Valentine's resolution: "Pursue it with less hubris, less impatience and less intolerance to risk."
'Wayne's World Cup'
Several papers look ahead to football's World Cup and interpret England manager Roy Hodgson's latest comments as a call for Wayne Rooney to realise his potential - or, as the Guardian has it, "explode" - on the international stage.
"Wayne's World Cup," is what the Daily Express envisages, while the Mirror says: "Roo can rule the world."
Whether that materialises or not, Hodgson can relax if comments from FA general secretary Alex Horne - reported in the Times - are anything to go by. He's quoted as saying that he could not envisage any reason why the former Fulham and Liverpool boss wouldn't lead the side into the 2016 European Championships in France.
Hodgson still wouldn't be able to call on the services of Adnan Januzaj - so often Manchester United's saviour this season - even though the manager has indicated the FA might try to secure the youngster's services for the Three Lions, the Independent reports.
Belgium-born but eligible through family ties to play for Kosovo, Albania, Turkey and Serbia, Januzaj could be in the 2018 World Cup squad if he lives in England five years after his 18th birthday. But, argues chief football correspondent Sam Wallace, selecting him "defies the principles of international football".
Making people click
Daily Telegraph: British child beaten to death with cricket bat by father in Australia
Independent: The imperfect but honest image of a woman's body
Times: Huge seas alert as 80mph storm threatens the South
Financial Times: GPS pioneer warns on network's security
Metro: Penguin desperate for attention follows zookeeper everywhere