UK storms and floods 'havoc', illegal ivory, mortgage 'joy' and commuter misery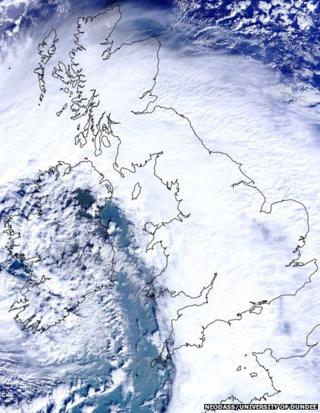 Satellite images feature on the front pages of five newspapers to illustrate the power of the storms that have affected Britain.
Among those showing the country covered in cloud is the Daily Mirror, which warns that the current weather is the first part of a "triple whammy", with two more storms on the way.
The Daily Telegraph reproduces two tweets to show just how bad things have been. Alongside a sequence of photographs showing a woman being blown off her feet onto her back in Manchester, one tweet from local police warns readers: "Do not come into the city centre unless it's absolutely essential." Another, from Virgin Trains, says simply: "All customers to abandon travel."
The Times sends reporters to flood-affected areas. In Berkshire, David Sanderson finds a philosophical acceptance of "an act of nature" among many. Meanwhile, Billy Kenber finds locals full of praise for staff at a Surrey day centre turned into emergency accommodation. One 92-year-old man was impressed with the "proper mattress" he'd slept on but had one complaint: "All bloody night long there were groups of women who stayed up, yap, yap, yapping."
Meanwhile, the Daily Mail reports that a GP set up a makeshift consulting room in a pub after floodwaters cut off his surgery. Cartoonist Pugh imagines a husband telling his wife: "I'm off to the doctor's - I'm feeling ill again."
A couple of papers are concerned by some behaviour. The Daily Mirror says "sandbag bandits" have been charging flood victims up to £50 a sack as councils struggle to keep up with demand. And the Daily Mail says it has seen evidence the Environment Agency ruled out dredging part of the Thames, near a flooded area, because the river bed was home to endangered Depressed River Mussels.
'Ultra-action mode'
There is much scrutiny of David Cameron's declaration that money was "no object" when it came to the relief effort.
The Sun reckons it did not take long after the PM's efforts to "steady the ship" for Transport Secretary Patrick McLoughlin to "steer it back on the rocks" by saying there was no "blank cheque".
"Perhaps he just meant the government would be paying by BACS," speculates Telegraph sketchwriter Michael Deacon.
Reviewing the papers for the BBC News Channel, Financial Times political correspondent Kiran Stacey said: "Only now has this started to be laid at the doorstep of ministers and we have seen a pretty chaotic response. They just can't get their message straight."
Co-panellist Susie Boniface added: "[Mr Cameron's] really got his back against the wall."
He came out fighting at Prime Minister's Questions, according to the Times's Ann Treneman. She names Mr Cameron as the "Duke of Wellingtons", writing: "Suddenly, after weeks of chillaxing, he has gone into ultra-action mode."
Esther Addley, in the Guardian, says the main battle in the Commons was not over action on flooding at all but a "woman-off". After being taunted about his all-male front bench last week, she says, the PM appeared surrounded by women: "An inundation of them, all over the government benches, lined up like neat little sandbags on either side of the PM, to keep at bay any accusations of sexism still sloshing around."
Economic forecast
There is a brighter forecast on the Daily Express's front page.
It predicts "mortgage joy" for millions of Britons, interpreting Bank of England Governor Mark Carney's latest comments on the cost of borrowing as meaning that "interest rates will stay low for years".
The Guardian can't see any rise until "after the 2015 general election", although the Daily Mail speculates it could happen "early next year". Both papers also see negatives in the news, with the Guardian saying Mr Carney "warned that economic recovery was 'neither balanced nor sustainable'" and the Mail saying years of low interest rates would spell "misery for savers".
The Financial Times notes that Mr Carney has "ditched" his "big idea" of forward guidance - in the form of a clear link between the unemployment rate and monetary policy - in favour of "fuzzy guidance", made up of five elements including "spare capacity" in the economy.
The FT explains this "underemployment" - the proportion of part-time workers who are unable to find full-time work - is the "new mantra in Threadneedle Street" and central to the Bank's justification for retaining low interest rates.
Ugly trade
Ahead of a conference on the illegal wildlife trade, the Independent gives over its front page to its campaign to stop the killing of African elephants for their ivory. It prints a full-page picture of the body of one beast, its tusks removed.
The paper, which has raised £450,000 from readers, says a population of 10 million at the turn of the century has been reduced to "nearly half a million", with some 36,000 killed last year. "Without action, experts fear this noble creature could be extinct in Africa within as little as a decade," it says.
Prince William has called on the "world to unite" to stop the trade in illegal wildlife products, reports the Daily Express. Speaking at a reception for delegates - including actor Jackie Chan - at the Natural History Museum, he highlighted five strategies to stop the trade, including using technology such as drones and educating people in the Far East to cut demand.
In its editorial, the Telegraph picks up on this, arguing: "The real key to ending this despicable trade is to tackle the demand side. Beijing continues to operate a legal market for ivory... this is stoking demand and must be closed down if any progress is to be made."
The Times warns that "talk alone" won't save the elephants, pointing out that: "International conferences on urgent environmental issues have a way of promising more than they deliver."
Tiresome travel
Thursday's headlines make grim reading for anyone catching up on the news while on public transport, assuming anyone can find a route unaffected by the weather.
Want the road to happiness? "Don't catch the bus to work," says the Independent's headline, as it reports Office for National Statistics figures suggesting that commuting by bus for more than half an hour each way remains the mode of transport "most likely to leave you anxious and dissatisfied".
The Daily Telegraph pulls out the statistic that those who spend between 61 and 90 minutes travelling to work each morning - by whatever means - "suffer the most as the burden of their journey robs them of their sense of purpose". And it has little comfort for those opting for a more healthy means of transport, saying walkers were more anxious than drivers and people who spent anything over 15 minutes cycling were less happy than those using a faster means of transport.
In its editorial, the Telegraph notes that: "Oddly, resilience appears to be rewarded: the negative effects disappear after three hours' travel. Whether that is because respondents are comatose or because that is time enough to watch a downloaded full-length feature film, the ONS does not say."
Little wonder then, perhaps, that the Daily Express uncovers statistics painting a "disturbing picture of Sicknote Britain" in which 500,000 people are off work each day and 130 million working days are lost every year.
It lists 10 bizarre excuses for not showing up, including such gems as "the exhaust has fallen off my car" and "my only pair of work trousers are still wet after my mother washed them".
Making people click
The Times: Leaked Plebgate email points finger at Mitchell
Daily Mail: Man wins parking ticket battle with council - who hit back by painting double yellow lines on the space outside his house
Independent: The lasers fueling hopes of unlimited, clean nuclear energy
Guardian: The top 10 sexiest works of art ever
Financial Times: Comcast to acquire Time Warner Cable