Flood 'misery', Storm Brigid, 'New Balls' and Pete Seeger tributes in press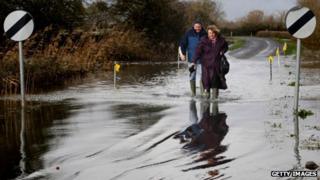 A "catalogue of failures" is how the Daily Mail describes the causes of the ongoing flooding on the Somerset levels, featured on its front page.
"No-one in this part of the world seems in any doubt about who is to blame," writes Robert Hardman inside: "The elusive quangocrats of the Environment Agency."
He says the body's "new orthodoxy" of helping develop wildlife areas instead of dredging rivers ticks Whitehall's environmental boxes, but adds: "If you are watching your home, your family business, your children's birthright sink before your eyes, it's a disgrace."
Another reporter visiting the area is the Daily Telegraph's Joe Shute, who finds a similar story of residents complaining that - when rivers were dredged - flooding wasn't such a big problem.
And there is little cheer for those affected in the Daily Express, which reports that forecasters say "no area of the UK will escape" an onslaught of heavy rain brought by "Storm Brigid" which is approaching from the Atlantic. It quotes the Met Office predicting heavy rain and gales across the UK on Friday.
The Express says the storm earned its nickname because it's due to hit Ireland on the day of the feast of St Brigid, one of the country's patron saints. But the Daily Star has a slightly different take: "It could have been called after movie heroine Bridget Jones, because Brits will have to wrap up in massive drawers like hers to keep warm."
Plenty of people are doing that using central heating, notes the Daily Mail, which reports the results of a survey suggesting that the average thermostat is set at 23C (73F) - hotter than a typical summer's day - with more than a third of people regularly cranking it up to 25C (77F).
Put-down politics
Balls baiting was "taken to a new level" at Treasury Question Time, according to the Independent's Donald MacIntyre. He's referring to Conservative delight in mocking Shadow Chancellor Ed after improving economic growth figures countered his previous predictions of a triple-dip recession.
Michael Deacon, in the Daily Telegraph, hears Tory backbenchers "sounding terrifically well-drilled" in their taunting, characterising their questions with the example: "Would it benefit my career to tee up [the Chancellor] for a scripted put-down?"
The typical reply, the sketchwriter suggests, went: "The shadow chancellor smells of bum and is personally responsible for every economic disaster since the South Sea Bubble."
It all made for "Balls's longest hour," according to the Guardian's Hugh Muir, who recalls bad puns from both the Speaker - who likened the need for patience to receive "new balls" in tennis with that required to hear Mr Balls speak - and the Chancellor, who suggested Labour needed new "crystal balls".
Ann Treneman, in the Times, recalls one Tory MP finishing the session by suggesting it was "game, set and match" to Mr Osborne. But her sketch concludes: "Not so fast. I have been looking into my own crystal orb and I predict many New Balls to come."
Folk legend
"The gentle king of folk music," is how Tom Leonard describes Pete Seeger, who has died aged 94, in the Daily Mail.
"His death... marks the passing of an era of popular music so different to today's soulless and narcissistic products of TV talent shows," he adds. The writer also notes how Seeger became "an apologist for Stalin" before he later "attempted to rectify his one blind spot in his quest for social justice".
Bart Barnes, in the Independent, calls Seeger "the voice of US protest", while the paper's music critic Andy Gill says Seeger "viewed songs as a cement helping glue communities together when they were under stress".
The Daily Telegraph's obituary notes that Seeger's "profound belief in the power of song" meant that despite his opposition to the Vietnam War, he travelled to the conflict zone with his banjo to rally troops' morale. He was also branded a traitor for visiting North Vietnam, whose soldiers were still in combat with US troops, notes the Times's obituary. "Given his standing in the folk world it was perhaps surprising that he wrote so few songs himself," it adds.
Meanwhile, left-wing musician Billy Bragg is given space on the Guardian's front page to pay his tribute, summing up Seeger's attitude by saying: "He never sold out. He wasn't just a folk singer, or an activist: he was both."
Bragg also offers a personal insight into Seeger, the man, by recalling an awards ceremony where he spotted the then-ageing singer lying on his back and cycling his legs in the air. "He was something else," says Bragg.
Keeping up appearances
"Nice to see Who again," is the Daily Mirror's headline on a series of images from the filming of Doctor Who, showing scenes where the companion Clara Oswald is united with the 12th incarnation of the Time Lord.
"She doesn't seem a bit bothered that he's changed from geeky, young Matt Smith, 31, into craggy, Crombie coat-clad Caledonian... Peter Capaldi, 55," it notes.
Design critic Stephen Bayley, writing in the Independent, says he cares "nothing for Doctor Who as television". Instead, he focuses on the latest Doctor's sartorial choices - the overcoat and Doc Martins - and wonders "if it is too daring to speculate that Doctor Who might now become a promotional vehicle for that sleeping army of forgotten British brands not yet acquired by voracious private equity?"
Meanwhile, its the appearance of BBC children's TV presenters making headlines in the Daily Telegraph. They've been told "not to wear red lipstick or sexy clothes," is how the paper describes an editor's desire to ensure young girls see "positive role models" on television.
Making people click
Guardian: Dark lands: the grim truth behind the 'Scandinavian miracle'
Financial Times: Scarlett Johansson goes viral in anti-Israel settler campaign
Metro: Woo-hoo! Tube ticket barrier that sounds like Blur's Song 2
Daily Telegraph: Iraq and Iran plot oil revolution in challenge to Saudi Arabia
Times: Facelift Briton jumps naked to her death