Rolf Harris, William Roache and Dave Lee Travis cases on front pages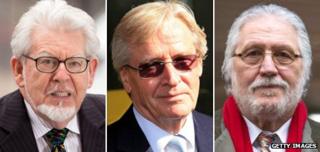 "One extraordinary day," is how the Daily Mail sums up the appearances of three different celebrities in separate courtrooms, charged with unrelated sex offences.
The faces of Coronation Street actor William Roache, DJ and ex-Top of the Pops presenter Dave Lee Travis and the artist, singer, and TV personality Rolf Harris appear on several of Wednesday's papers.
Many describe the scene as they appeared before judges. The Daily Mirror's Brian Reade was in Preston to see Mr Roache arrive at crown court, surrounded by his family.
"The line was delivered in the usual smooth, unruffled tone we'd heard coming out of our television sets for half a century," he says. "This time though, it wasn't Ken Barlow, the character, ordering a half at the Rovers, but Bill Roache the man, denying he'd committed serious sexual offences against young women."
The Sun's Tom Morgan describes the "show of force" surrounding Mr Harris's arrival at Southwark Crown Court, south London, flanked by family and pushing his wife in a wheelchair: "The TV veteran... stood solemnly in the dock after a posse of four grey-suited minders ushered him into court."
Meanwhile, the Guardian's Josh Halliday describes how Mr Travis, also at Southwark, "sat in the dock of the court, listening to proceedings through a hearing loop and at times shaking his head as the barrister told jurors how he indecently assaulted young women while acting in pantomimes, working as a DJ, and at the opening of a hospital radio station".
Hollande and France
French President Francois Hollande's eagerly awaited press conference, at which the gathered hordes hoped he might say something about claims of his infidelity, turned out to be all "anticipation... but no satisfaction", according to the Daily Telegraph's sketchwriter Michael Deacon.
As Kim Willsher, for the Guardian, put it: "There was no subject that did not merit a long discourse. Except one - his alleged affair." Only one or two journalists broached the subject, and Mr Hollande flatly refused to discuss it during a 35-minute address about the economy. For the Daily Express, it made for a "French farce".
Reviewing the papers for the BBC News Channel, freelance journalist Samira Shackle said: "I can't really imagine it playing out in this way if it happened here. There's probably more of a confluence between sexual morality and public persona in the UK than in France."
The Independent's Whitehall editor Oliver Wright added: "We were all in Westminster this afternoon. David Cameron was before the liaison committee and Francois Hollande was giving his press conference. I'm afraid we were all tuned into the Elysee."
Among the press lobby doing just that was the Daily Mail's Quentin Letts, who writes: "What are we to think of the military officer who always follows the President of the Republic with a thick briefcase? Will it contain France's nuclear codes? Or a clean shirt and a packet of three? He spoke of his desire for (banking) union. 'I want France to be full of vitality.' Oh stop it, stop it. You're doing it on purpose."
Cartoonists enjoy a second day of fun at Mr Hollande's expense. Peter Brookes, in the Times, draws a version of Delacroix's Liberty Leading the People, with the French president squeezed between her bare breasts, saying: "I want to talk about the economy."
Steve Bell, in the Guardian, offers a take on Manet's Olympia with a nude Mr Hollande lying on the bed wearing a motorcycle helmet - a nod to claims the president travelled to his alleged tryst by scooter. And the Independent's Dave Brown sketches Mr Hollande mopping his brow with a pair of knickers bearing the phrase "C'est l'economie stupide!"
Class action
Back at home, the papers have been digesting Ed Miliband's pledge to "save the middle classes".
"No more 'squeezed bottom' for a Labour leader reaching higher," is how the Independent sees it. And the Guardian says it's a "smart move" to recognise that the "squeezed middle now describes pretty well the whole middle class".
Not everyone is convinced by Mr Miliband's pledge. Chris Roycroft-Davis, in the Daily Express, doesn't believe it, declaring it an early contender for "Porkie of the Year", while Telegraph illustrator Adams pictures the Labour leader as cartoon favourite Mr Benn telling the shopkeeper: "Today I'm going to be middle class."
The Sun's editorial says: "Last year he was all about... standing up for the poor and those on benefits. All we're waiting on now is his passionate pitch for the upper-class vote too. Then we'll have the full set."
The Daily Mail lists the Labour leader's claims on issues like costs of living, home ownership and anxiety of the middle classes, versus "reality". Home affairs editor James Slack notes: "The timing of Mr Miliband's intervention was unfortunate. Yesterday inflation fell to 2%... wages are predicted to grow 2.5% this year, meaning the cost of living should now begin to fall."
"Is he badly out of date? The answer is no," argues the Independent. "Real wages continue to fall. The middle is still being squeezed hard."
Benefit culture
Channel 4 reality show Benefits Street continues to provoke debate, with the Daily Express recording a London Conservative council leader's anger at people "who claim to have no money but are then pictured standing around in the street drinking beer and smoking".
But the Daily Mirror's Ros Wynne-Jones describes "another Benefits Street where poverty kills", citing the example of a man who'd "worked hard and paid taxes" until a year ago, only to die "alone in a freezing cold flat, wearing several layers of clothes and two dressing gowns" after a wrangle over his welfare payments.
And Daniel Finkelstein, in the Times, says it would be a "shallow interpretation" of the programme to say it supports arguments for cutting welfare. "While it is true that the State seems to be supporting some feckless lives, the point is made even more strongly that withdrawing that help doesn't end the fecklessness. The challenge for the Right is that independence doesn't begin automatically when dependence ends."
Meanwhile, the Telegraph reports that comedian Frank Skinner turned down a job narrating the documentary because he "didn't want to be involved in something where I'm derogatory about people from Birmingham".
Feeling the heat
Images of tennis players cooling themselves with damp towels abound in the sports sections, with the Guardian describing a "Melbourne meltdown" at the Australian Open. "It was a day of heat - emotionally and on the baked courts of Melbourne Park. One or two players collapsed and so did reputations," says its sports writer Kevin Mitchell under a picture of Canadian Frank Dancevic prostrate on the court.
Meanwhile, there is a "meltdown" of a different sort on England's south coast, according to the Sun. It says the chairman of Southampton Football Club - "the mastermind behind their resurrection" - is ready to walk out and that his exit "could trigger a mass exodus", although no explanation is given for his potential departure.
Another club chairman who could be on the move is Assem Allam, who's not happy about Hull City fans protesting against his attempts to rename the club Hull Tigers, reports the Times. The paper quotes him as saying he could walk out in 24 hours, if his attempts are foiled and sets aside space for its writers to argue for and against Allam, with Oliver Kay describing his as attempting "dictatorship".
City fan Robert Crampton, on the other hand, points out that without Allam's intervention, the club "could have done a Portsmouth". He also doubts his fellow fans' conservative stance: "If City fans had their way, Nick Barmby would still be manager, going nowhere.... we'd still be at Boothferry Park, even as it fell to pieces."
Making people click
Daily Telegraph: Melting glaciers in northern Italy reveal corpses of WW1 soldiers
Daily Mail: Couple who took their children out of school for a week's holiday in Rhodes could face jail for refusing to pay fines
The Times: Fitter, happier, better sex: so this is what it's like to be 70
Financial Times: Failing elites threaten our future
Guardian: Why the world needs OpenStreetMap