'Maddie arrests' and obesity warning - front pages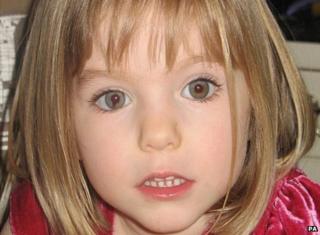 News that British police are ready to make three arrests in the Madeleine McCann case leads the Daily Mirror on Monday.
Elsewhere, the Daily Mail and Times have ominous news about obesity from a report that warns the crisis could be much worse than previously thought.
A number of papers feature images of Valerie Trierweiler, the partner of French President Francois Hollande, who has been treated in hospital after allegations of his infidelity emerged.
The Independent, finally, leads with an apparent drop in the number of race hate crimes being reported to police.
Discussing the issue of obesity for the BBC News Channel paper review, freelance journalist Lucy Cavendish said: "I'm wondering how we can stop this. There have been so many campaigns around it, everyone's aware of it."
Tom Bergin, Reuters correspondent, said: "It's not just about education. We've been trying with education for a long time. The question now is whether stronger regulation - taxes on unhealthy food - are going to come in."
There will also be huge costs in terms of "anguish" and money if we don't take action, he added, saying: "Will the government be able to pay the bill for this in 50 years time?"
Affairs of state
"What began as a severe embarrassment for President Hollande is turning into a personal and political crisis," writes the Independent. Tuesday was meant to be "the first day of a reinvigorated presidency", with a press conference on new economic plans, but that "now risks falling flat on its face unless Mr Hollande can find a way to defuse questions about his alleged affair".
Charles Bremner, in the Times, says the president "can count on the understanding of a broad section of the nation", while adding: "Yet he can be in no doubt that failure to tidy all this up swiftly will block his hopes of turning attention onto his efforts to rekindle the economy."
The Financial Times agrees that "the stakes are high" and "the onus is firmly on Mr Hollande to give a signal that his government can accelerate the recovery".
Away from the financial angle, Steve Bird, in the Daily Mail, is utterly scathing about Mr Hollande's partner-of-seven-years Valerie Trierweiler. He says "not since the days of Marie Antoinette has a woman been so reviled by the French people". As a former long-term mistress of Hollande herself, many feel she has now "got her come-uppance", he adds.
"A scandal as juicy as a proper coq au vin" - that's how Christina Odone describes the affair in the Daily Telegraph. "Francois Hollande has stepped into Silvio Berlusconi's role as G8 merrymaker-in-chief" - "the latest and most ignoble exponent of a long tradition of libidinous politicians".
Brussels bashing
Will there ever be a day without a story about benefits or migration in Europe? If so, it's not today.
Following reports that Work and Pensions Secretary Iain Duncan Smith was in favour of a two-year ban on migrants receiving benefits, the Sun says such a move is "so obviously right". But, its leader says, EU law won't allow it, so there are two options available: "Either we persuade the other 27 members to change the law. Or we leave."
A couple of papers have fun with the issue in their cartoons. The Independent depicts IDS nodding off at the desk for "New migrant benefit claims", presumably, the paper thinks, because there really aren't that many of them. There's a similar sentiment in the Guardian, which shows a maniacal-looking IDS hunched over the "Handy all-in-one scapegoat in a barrel". It's labelled "European, immigration, welfare".
Elsewhere, another EU development is picked over - the letter written by 95 Tory MPs to David Cameron demanding he give Parliament a veto over all laws emanating from Brussels.
"This is unrealistic, as Brussels would never countenance it," says Leo McKinstry, in the Daily Express.
"True, it's a radical proposal, but it is far from being a rant," says the Daily Mail leader, and "how insulting", it feels it is for William Hague to "glibly dismiss" it. Instead, the paper thinks Mr Cameron "must embrace the radicalism of his backbenchers" if he is to meet the challenge of UKIP.
The signatories believe "the only way to force both their leader and the rest of Europe into negotiating truly significant changes is to hold the largest possible gun to Brussels' head", says the Daily Telegraph. Unfortunately, it feels, "reforming the EU will always be a case of working within the limits of the possible".
'Refound cool'
Fashion editors wax lyrical about the spectacles on show at Milan fashion week.
"The theatre of fashion shows is very difficult to get right. It's like walking a tightrope where you risk falling off into sartorial extremity or allowing catwalk histrionics to overshadow the clothing," writes Alexander Fury, in the Independent. "Miuccia Prada walks that fine line better than anyone."
"Afterwards she said that her inspiration came from German figures from the Eighties, such as Pina Bausch, the choreographer and modern dancer," says Peter Howarth, in the Times, also of the Prada show.
Lauren Cochrane, meanwhile, in the Guardian, reports on Calvin Klein's "refound cool". Guests at the show, she says, found "bottles of Obsession on their seats, the designer's perfume first released in 1986. It was a hint of what to expect on the catwalk."
Sharon's legacy
On the day of Ariel Sharon's funeral, the papers discuss his relationship with the country he fought for and led.
He was "the last prime minister of the generation that built Israel," writes the Financial Times, and "was at the centre of some of the bloodiest episodes" in its history.
"Sharon's life was inextricably linked to that country's development," agrees Con Coughlin, in the Daily Telegraph. "When it came to sustaining Israel's strength, security and prosperity for future generations [he] had a canny knack of knowing when to engage constructively when he deemed it to be in Israel's interests."
"Nobody in the short, turbulent and frequently bloody history of Israel has inspired such extremes of hate and adoration as Ariel Sharon," says Philip Jacobson, in the Daily Mail. He "stamped himself so indelibly on the face of the Jewish state that it was once as hard to imagine it without his glowering presence as it was to think of the Palestinians without Sharon's mortal enemy, Yasser Arafat".
But Avi Shlaim, emeritus professor of international relations at Oxford University, tells the Guardian his legacy "has been to empower and embolden some of the most racist, xenophobic, expansionist and intransigent elements in Israel's dysfunctional political system".
'Shouting and arguing'
After more than half a century on our screens, Coronation Street is to introduce its first Muslim family.
"The move has been made to reflect multicultural Manchester," writes the Daily Star, although the soap's boss says it's "bizarre" it hasn't been done before.
The Daily Mirror says it "is a reflection of a Britain which is changing yet remaining fundamentally the same". "So the new family will behave just like any other in Weatherfield by spending most of its time shouting and arguing."
Making people click
Daily Mail - What sort of country gives £1.2m benefits to an odious family like this?
Financial Times - The tide is rising for America's libertarians
Daily Telegraph - Meet al-Qaeda's new poster boy for the Middle East
Guardian - Golden Globes 2014: Host Amy Poehler finally wins for Parks and Rec