Benefits 'turmoil' and Helmand fears in newspapers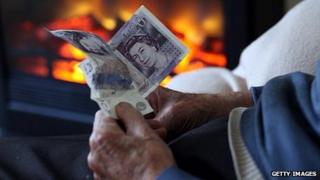 Confusion over "perks for pensioners" is the lead in two of Monday's newspapers, after Downing Street appeared to send somewhat mixed messages about the future of benefits like universal winter fuel allowance.
It's benefits of a different kind in the Daily Express, meanwhile, which focuses on a promised clampdown on migrants to the UK sending payments back to family overseas.
Elsewhere, the Times carries a warning from British military commanders that the Taliban will quickly retake hard-won areas of Afghanistan when UK troops leave later this year.
Images of flooding also appear on several front pages alongside warnings of more weather woe to come.
Rachel Shabi, a freelance journalist, told the BBC News Channel's paper review that David Cameron's attention on pensioners was "distracting" and "essentially a vote pleaser".
She said news stories recently about children "feeling they have no future" showed the focus was "wrong", adding: "That is the population we have utterly failed - young people."
Daily Telegraph leader writer Tim Stanley said it was "madness" that wealthy pensioners received a free TV licence and a free bus pass, "so on a moral and ethical level, it ought to be means tested in some way".
But he added that benefits like these cost the Treasury very little compared with "the mounting pensions bill... [so] we need to get more people getting private insurance, rather than relying totally on in the state".
'Pomnishambles'
"Just as all good things must come to an end, so too must the unrelentingly awful," writes Barney Ronay, in the Guardian.
But although England's slow Ashes death is over, the post-mortem and the blame game now begin - with captain Alastair Cook top of the list.
"When Cook insisted that stability at the top is the key to recovering from this mess, while at the same time promising changes underneath, you could almost hear the jaws drop among his listeners," says Gideon Brooks, in the Daily Express.
"He was doing what his England side had done throughout the tour, he was going through the motions. He was talking, but he wasn't really saying much," agrees Dean Wilson in the Daily Mirror.
"Cook managed to again do the one thing England have consistently achieved over the winter. That is not to admit this team have produced some of the most spineless, shambolic, feeble and embarrassing cricket ever shown by a Three Lions team," according to Pete Samson, in the Daily Star.
But former England captain Nasser Hussain tells the Daily Mail he wants Cook to stay on, "get better as a leader and come back stronger".
Also in the papers' firing line is England's coach Andy Flower. "If he was a manager in the Premier League he would have had the sack long ago. Loads of the backroom staff would be out of a job too," says former Test batsman, and one of England's most vocal critics, Geoffrey Boycott, in the Daily Telegraph.
And finally, what of the chairman of the England and Wales Cricket board, Giles Clarke? He "says he wants and expects" Flower to stay on and "no-one expects [Cook] to be sacked", writes Matthew Engel, in the Financial Times. He adds: "It is as though Clarke were running a bank."
'True legend'
"As long as football is played, Eusebio will be legendary," says the Sun, paying glowing tribute - as all the papers do - to the giant of the game who has died aged 71. The red top, like others, praises his conduct off the field as well as on. "What an example he set - and how small he makes today's stars seem by comparison," it says.
"Eusebio emerged as football's popularity was exploding across the world and he was partly responsible for the globalisation of the sport," says the Guardian, not least because he was "the first black African global soccer star".
His stratospheric status in Portugal also draws comment. Henry Winter, in the Daily Telegraph, writes: "More than a footballer, Eusebio was an ambassador for the nation, an icon and a sporting beacon."
Gabriele Marcotti, in the Times, says sporting legends normally go one of two ways. "You either turn into politician/corporate pitchman... so everything you say must be bland, inoffensive and consensus-orientated. Or you do the opposite, you use your achievements as a licence to say whatever you want... like Diego Maradona or Johan Cruyff." Marcotti says Eusebio "carried himself as the former, with an almost regal demeanour" but suddenly "he'd flicker into life... and he would tell you something unexpected."
'Cunning row'
There's a new twist in the World War One row swirling around Education Secretary Michael Gove - with Blackadder star Sir Tony Robinson the latest participant in the fray.
"Baldrick hits back," says the Daily Mail. After Mr Gove said programmes like Blackadder presented a skewed version of the conflict and shouldn't be shown to schoolchildren, Sir Tony said the remarks were just a way of "slagging off teachers".
"Mr Gove had a cunning plan," says the Times, and "hoped to re-inject patriotism into historical accounts of the conflict 100 years on". It appears to have backfired, however, and left him facing "a torrent of indignation", the paper adds.
The Independent sums up its take in a cartoon, parodying a famous episode of Blackadder Goes Forth in which Rowan Atkinson's character attempts to feign insanity to get out of fighting. The cartoon shows him saying of Mr Gove: "He's madder than mad Jack McMad, winner of this year's madman competition."
London Mayor Boris Johnson, meanwhile, focuses on a different element of the row. Mr Gove was accused by some - notably his Labour shadow Tristram Hunt - of departing from the government's agreed line not to apportion blame during the centenary celebrations. But Mr Johnson tells the Daily Telegraph that "the First World War - in all its murderous horror - was overwhelmingly the result of German expansionism and aggression" and it's vital "that we remember it".
Silencing or moderating?
The BBC's political editor Nick Robinson has said the corporation was wrong not to reflect public concerns about immigration during the last Labour government, having "decided these are not acceptable views".
"As with the Labour Party, we suspect the BBC's only real regret over immigration is that its shameful attempt to silence all public debate on the subject did not succeed," says the Daily Mail, in a scathing editorial.
In contrast though, Yasmin Alibhai-Brown believes the BBC "has a duty to moderate our national conversation". "The BBC and other journalists have not excitedly prioritised the majority view that the death penalty should be brought back or that paedophiles should be put away on some remote island forever," she adds in her Independent column.
Promises, promises
Tax cuts and better pensions - both carrots being dangled by David Cameron as he begins setting out his stall for the 2015 general election.
The Daily Express is very enthusiastic about the prospect of the former for middle earners, for whom it says there has been "a startling lack of help to date". "Aggressively lowering the threshold for paying tax at 40 per cent in order to drag in more people, as the coalition has done, is deplorable," its editorial says.
On the pensions promise, the Guardian says one thing is clear - "the continuing priority, in both party political and public spending terms, that the Tories intend to attach to older people as voters and as recipients of state financial support."
But the Daily Telegraph leader brings all these pledges together as it backs George Osborne's message to be delivered in a speech on Monday. "The 'hard truth' to be confronted in 2014: without growth, all talk of inflation-proof pensions, lower deficits and tax cuts will be meaningless."
Making people click
Guardian - Jerry Seinfeld on how to be funny without sex and swearing
Daily Mirror - Celebrity Big Brother 2014 contestants revealed: Who's who in the CBB house
Financial Times - New York state to allow medical use of marijuana
Daily Telegraph - Jet in 'near miss' with UFO