Rigby horror and theatre drama in press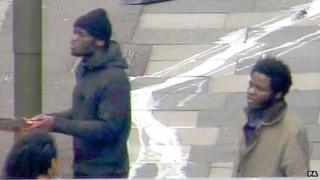 Late-breaking news from London's West End, where scores of theatregoers were injured by the collapse of part of the ceiling at the Apollo Theatre, makes several front pages.
Others stick with reports from the Old Bailey where Michael Adebolajo and Michael Adebowale were convicted of murdering Fusilier Lee Rigby by running him over in a car before trying to decapitate him.
But they have contrasting approaches. The Guardian and Independent focus on the dignified conduct of the victim's family, while the i and Times choose to examine whether MI5 could have done more. The Times claims officers from the security service had "extensive contact" with Adebolajo and had even "tried to recruit him as an informant".
The Sun, meanwhile, has an exclusive interview with the mother of the other killer, who says Adebolajo's influence turned her "shy" son into a jihadist in just seven weeks.
Reviewing the papers for the BBC News Channel, financial analyst Louise Cooper said: "How many Sun readers will feel sympathy for the murderer's mum? I find it a bit odd. Today is about getting justice for the family [of Lee Rigby]."
And Daily Express deputy editor Michael Booker added: "It's an interesting angle... but it seems to be an odd way of going about it."
'Angels of Woolwich'
Among the coverage of the Rigby murder case are several reminders of those who witnessed the killing at first hand. The Daily Telegraph describes those who "braved the fanatics" to offer help as the "Angels of Woolwich".
"He's not forgotten. I say, 'all right, mate' most times I pass," is the headline on one item in the Independent, quoting a fellow soldier in an examination of how people - regardless of race or creed - have united in revulsion at the killing.
"One youth worker said race relations in the town were now better than they have ever been," it says, although its reporter notes that anti-Muslim attacks have become more violent.
The Daily Mirror gives space to Fiyaz Mughal, director of interfaith charity Faith Matters, who says: "Collectively we must not allow either the Far Right or al-Qaeda-supporting groups to drive a wedge between us and our neighbours."
The Times reports the warnings from anti-terrorism police that "hundreds of homegrown extremists would like to copy the murderers".
However, the Guardian's Alan Travis says British authorities seemed to view Fusilier Rigby's killing as "a one-off barbaric murder rather than part of a terrorist campaign", given the national threat level was not raised in its wake.
Caustic carols
A report by retired judge Sir Peter Gibson may have revealed evidence that Britain was inappropriately involved in the rendition and ill-treatment of terror suspects but it doesn't go far enough for some.
After Minister without Portfolio Ken Clarke announced a further investigation, the Independent prints a list of questions that are yet to be answered.
And the cartoonists give their take. The Independent's Dave Brown pictures Mr Clarke as a caroller at the doorstep of Tony Blair and Jack Straw, who were in power at the time of the alleged extraordinary rendition - the term for handing over prisoners to another jurisdiction.
"God rest ye merry gentlemen, let nothing you dismay; for all these claims of to-or-ture may now be hushed away," he sings, from a hymnsheet titled "Gibson Report".
In similar vein, Peter Brookes, of the Times, sketches a boat passing the Thames-side MI6 building, from where the words "I'm dreaming of a whitewash Christmas" are being sung.
"It's the MI6 Christmas party," notes one passenger, to hear the reply: "What an extraordinary rendition!"
Strictly women only
The press is highly excited about the first Strictly Come Dancing final to feature only women celebrities, with the Daily Mirror profiling each contestant under the headline: "Strictly 4 girls".
But there's little doubt as to the favourite, according to the Sun's Katie Hopkins. She waxes lyrical about Susanna Reid, who she describes as appearing like an "every woman - a wife, a mum, a real woman over 40". However, she reckons, Reid is like a "fierce tiger" inside, desperate to win not just the competition but a longer career at the BBC.
As the Daily Express puts it: "Strictly, age is no barrier says Susanna," describing the BBC Breakfast presenter's musings that - unlike women before her - she "can't imagine" being turned down for a job in TV because of her age.
The Daily Telegraph reports that Reid hit back at Newsnight's Jeremy Paxman for suggesting his colleague needed their "heads examined" for appearing on the show.
Meanwhile, the Times focuses on one of her fellow finalists - Coronation Street's Natalie Gumede - who complains that the costume department tried to "send her out in the skimpiest skirts in the wardrobe". Nine times out of 10, she asks for material to be added, according to the report.
Party time
As many papers print photographs of the Queen and Duke of Edinburgh arriving at King's Lynn station for their annual break in Sandringham, the Express reveals some "Royal Christmas secrets".
Writer Anna Pukas spells out the guests, the food - "tradition all the way" - the presents and even the Christmas Eve timetable: "When everyone gathers in the white drawing room for tea at 4pm they are handed a schedule for their stay."
Valentine Low, in the Times, reckons Prince Harry's girlfriend - Cressida Bonas - might "be happy to be left in the cold" if not invited, as fun and festivity have been "in short supply" on previous occasions.
Apparently, Christmas lunch is always served at 1.15pm to allow everyone to finish in time for the Queen's Christmas message, while presents are "cheap and humorous, like the 'grow your own girlfriend' kit that Kate gave Harry once".
It's a very different affair in the Mirror, where columnist Paul Routledge pictures his "dream" Christmas table of writers, actors, comedians, lefties and media troublemakers. He's flanked by Likely Lad James Bolam and actress Barbara Flynn, while other guests include comedian Barry Cryer and BBC weatherman Tomasz Schafernaker - "because he's funny and my wife fancies him".
Meanwhile, the Mail's Tom Utley wishes party hosts would introduce guests clearly and by name, as he wonders whether he should have corrected the TV star who greeted him with a cheerful: "Good to see you, John"
Making people click
Daily Mail: Accountant who believes he is secret illegitimate son of Princess Margaret wins legal victory in bid to see her will
Daily Mirror: Ian Watkins 'fan gets tattoo of paedophile's police mugshot and 'mega lolz' slogan'
Daily Telegraph: Duke and Duchess of Cambridge confirm Australia and New Zealand visit next April
Guardian: Comment: I wrote the Anarchist Cookbook in 1969. Now I see its premise as flawed | William Powell
Financial Times: We still need to learn the real lessons of the crisis