Front pages: Mandela and O'Toole share headlines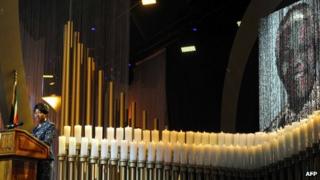 Two men from very different walks of life dominate Monday's front pages - Nelson Mandela and Peter O'Toole.
A third - Andy Murray - will most likely share billing in the later editions but his victory in the BBC's Sports Personality of the Year contest came too late for many of the first takes.
Every paper uses an image of O'Toole in his most famous role, Lawrence of Arabia, to illustrate its coverage, with the word "hellraiser" used more than once to describe him.
The funeral of Nelson Mandela is generally pushed into at least second place, but is movingly described in the Daily Telegraph, for one, as "a vast display of pomp so unlike the man they came to bury".
O'Toole remembered
Not many people could push Nelson Mandela's funeral down the Fleet Street running order, but Peter O'Toole has managed it.
Every paper discusses both his acting talent and his talent for hard living, and they come to varying conclusions about whether the latter eclipsed the former.
Film critic Barry Norman, writing in the Daily Mirror, says he was "a great actor" and "a great movie star" although "the two didn't necessarily go together". But he insists O'Toole was "one of the best British film actors" who "delivered many glorious performances", despite drinking also being "a very serious profession" for him.
The Daily Express says "he could be mesmerising" but will also always be remembered for his 1980 Macbeth "which was so comically awful it became a theatre legend". It points out that "big film roles in middle-age eluded him and he never enjoyed the iconic status of his contemporaries Sean Connery and Michael Caine".
The Guardian's obituary says he produced many "astonishing performances" yet also became "a warning figure for young actors". "He is one of those who make us ponder the terrible stress of the job and its art, its curse and its inspiration."
The Daily Telegraph thinks he "never quite fulfilled his early promise" as shown in Lawrence of Arabia. "The status of an Olivier, a Redgrave or a Gielgud always eluded him - or perhaps he it." It makes the point that his "hell-raising exploits" meant "the traditional distinction between the actor and the role soon became something of a blur".
"It was a career of flair, mischief and showmanship. O'Toole was seldom dull, even when his films were," says Nigel Andrews, in the Financial Times.
"O'Toole liked to pull out all the stops. If he pulled out too many too often for modern tastes, so much for modern tastes." So concludes his obituary in the Independent.
Letting go of Mandela
The final steps on Nelson Mandela's famous long walk were made on Sunday with his funeral, and the papers pay moving tribute to him.
"In life his greatest quality had been an ability to let go of the past. But when his people realised yesterday the moment had come to let Nelson Mandela go, they struggled to do so," writes Andy Lines, in the Daily Mirror.
The imagery the papers use is split between pictures of his coffin, draped in the nation's flag, pictures of dignitaries who attended the service and pictures of ordinary South Africans remembering their hero.
The Financial Times goes for the latter on its front page, showing emotional mourners standing on a rocky outcrop in Qunu overlooking the burial. During the funeral, it says, there was light and shade, with granddaughter Nandi speaking of "his mischief and the twinkle in his eye", while others focused on "his efforts to unite a nation many feared would slide into civil war".
The Guardian uses the same image as the FT for its main inside photo. It says that "as so often in South Africa" the funeral mixed African and western tradition. "The burial rites of Mandela's Abu Thembu clan and songs of his African National Congress party, merged with Christian hymns, marching bands, a fly-past."
"The anti-apartheid warrior who reconciled black and white would have relished the occasion's symbolism," says the Sun. It also pictures some of the famous faces present at the funeral - Prince Charles, Jesse Jackson, Oprah Winfrey and Richard Branson among them.
Several papers, including the Times, agree that the most moving address came from Mr Mandela's former jail mate Ahmed Kathrada. As the Times says: "He paid tribute to the man he called his 'brother', a fighter and a leader reduced to a 'shadow of himself' by the ravages of age and illness."
'People's champion'
"There had never been a favourite quite like Andy Murray," says the Times. Nevertheless, despite being "heavily fancied" for the Sports Personality award, Murray managed to miss his slot earlier in the BBC show because he was in the shower. His mum, though, held the fort "until he dug out a denim shirt and a winning smile to talk about that day of momentous relief in July".
There had been some murmurings about whether Murray should have turned up in person to collect the award, rather than stay at his training camp in Miami. But Mike Walters, in the Daily Mirror, says "we should be grateful an elite athlete remains so in thrall to his coach... and his preparations for next month's Australian Open to let a 12,000 audience fawn all over him."
Ian Chadband, in the Daily Telegraph, says the award gave Andy Murray "one final sense of the extent to which he captured British hearts in 2013". He added: "Even pitted against a field of monumental achievers... Murray's feat of emulating Fred Perry after a gap of 77 years felt on a plateau of its own."
Doctors' 'duty'?
There is widespread support in Monday's papers for the news that NHS consultants will no longer be able to opt out - without financial sanctions for their hospitals anyway - of working weekends, in an effort to cut death rates.
The Sun's leader column says "hospital consultants earn big money and rightly so... But that talent isn't much use on a golf course on Saturday mornings." The paper actually doesn't think the plans go far enough. Instead of guaranteeing that emergency patients see a consultant within 14 hours, "why not two or three?" it asks.
The Daily Mail also wants more: "Surely it must be pushed through faster than the three years planned." On the subject of time generally, its editorial adds: "Isn't the greatest wonder of all that it has taken hospitals such an age to notice that accidents and illnesses are no respecters of the five-day week."
Both of the aforementioned papers, along with the Daily Telegraph, call for action on non-emergency out-of-hours care too - in other words, GPs. The Telegraph says the NHS is currently still using "working patterns that in most other walks of life were abandoned in the Eighties".
Finally, there is a message for shadow health secretary Andy Burnham in the Independent, which urges him to "get behind the proposals fully". "Political rivalry should not be allowed to impede a change that will clearly save many lives."
Beeb under fire
Discussing the papers for the BBC's News Channel, Pippa Crerar, from the London Evening Standard, said it would be "really interesting" to see how the BBC reacted to a scathing report by MPs on severance payments for senior executives.
"I suspect there will be self-flagellation in public," she said, but what happens behind the scenes matters more - whether director general Lord Hall and BBC Trust chairman Lord Patten "decide that now is time to really draw a line under it, stop these bad headlines and move on".
Hugh Muir, from the Guardian, says the BBC will be able to say that action is already being taken because Lord Hall has capped severance payments.
But, he adds, there will still be "a lot of pressure on Lord Hall, and also on Mark Thompson, because... he was responsible for agreeing a lot of the severance payments".
The man in the Daily Mail's crosshairs is Lord Patten, and it accuses him of both "arrogance and complacency". It fears he may still be "so steeped in the public sector mentality - 'it's only other people's money' - that he still won't accept anything fundamentally is wrong".
The Times' own editorial says that for all its "impressive journalism", the BBC is "a managerial basket case". It is pleased Lord Hall is taking action, but warns: "It remains to be seen, however, whether habits of opacity and entitlement which permeate the upper ranks of the corporation can be excised."
Making people click
Daily Mirror X Factor final 2013 recap: Sam Bailey wins, leaving Nicholas McDonald in second place
Guardian NSA officials consider Edward Snowden amnesty in return for documents
Telegraph Nelson Mandela memorial interpreter 'was a fake'
Times Andre Villas-Boas needs lifeline as Luis Suarez sinks Tottenham Hotspur