Newspaper review: Tulisa, 'Fergie' and space travel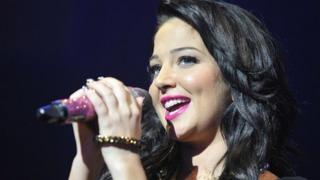 Singer Tulisa appears on three of Tuesday's front pages after prosecutors said they would charge her over alleged involvement in supplying Class A drugs.
The X factor judge denies supplying cocaine to an undercover newspaper reporter.
Another story to appear on more than one front page is research suggesting there are five steps to help combat dementia - taking regular exercise, drinking alcohol only in moderation, eating healthily, keeping your weight low and not smoking.
The Daily Express calls it a "simple plan" and its editorial says: "Science is merely underlining the truth of the old recommendation towards moderation in all things. Those who believe in taking personal responsibility will wish to take note."
Reviewing the papers for the BBC News Channel, Mina Al-Oraibi, of Arabic newspaper Asharq Al-Awsat, said: "People almost take for granted that [these steps] could be quite easy but there's scientific evidence that it could help in fighting this."
Describing dementia, the Independent's James Rampton added: "Your mind gives up and you become almost a stranger to yourself. The vibrant, attractive person you once were fades away and it's really depressing to watch that."
The condition is a "modern plague", according to the Times, which notes that health specialists from across the world are arriving in London for a conference on the subject on Wednesday.
Credit discredit
Iain Duncan Smith is under fire from some of the papers over the mounting costs of implementing his universal credit.
The Guardian reminds us that the work and pensions secretary said in September that: "This is not an IT disaster. This will be delivered in time and on budget." It says he yesterday revealed a £6m increase in the sum to be written off as a result of IT failures and points out he's going to miss his deadline.
Summing up his performance in front of a committee of MPs, the Mirror's "Real Britain" columnist Ros Wynne Jones said: "Iain is to statistics what George Osborne was to the Olympics. How the audience longed to boo."
Cartoonist Dave Brown, in the Independent, pictures "IDS" sitting in front of colleagues as a disorganised, dishevelled mess, his papers dropped over the floor, insisting: "Don't worry... everything's completely on target."
Peter Brookes, in the Times, sketches the minister as Caesar, stabbed seven times through the midriff and leaning on a pillar, as a voice warns: "Beware the IDS of December."
Times columnist Rachel Sylvester says the "shambles... highlights a lack of accountability throughout the civil service" and suggests it should be renamed "universal discredit".
Space oddity
"Stevenage... we have a problem," is how the Daily Mirror reports Science Minister David Willetts' announcement that the Hertfordshire town could become the "heart of the global space effort", thanks to the number of aerospace and technology firms located in the area.
The Daily Telegraph says the new town could become "our answer to Cape Canaveral" after the UK struck a "memorandum of understanding on co-operation in space" with China, which Mr Willetts hopes will involve working jointly with the US and European space agencies on a manned mission to Mars.
Meanwhile, the Mail says the UK is backing a push to put a female astronaut on the moon for the first time. It quotes the minister as saying China will land robotic equipment on lunar soil, before putting a man - "or I suspect a woman if they're being smart" - on the moon. "We are up for co-operation with them," he adds.
The Sun backs Mr Willetts's stance on space exploration but is doubtful about his claims for Stevenage, asking: "Has he been on the stellar?"
Generating heat
Energy prices are in the news once again. The Independent reports claims that the charity Save the Children "repeatedly quashed press releases criticising British Gas price rises to avoid damaging its corporate partnership with the company, which was worth £1.5m over 10 years".
Inside, the charity's former head of news, Dominic Nutt, gives his account of the incident and describes NGOs - in a desire to boost income - contradicting their founding principles. "Corporations are stuffing the mouths of some NGOs with gold, and it is wrong," he adds.
The charity's chief executive Justin Forsyth says: "Save the Children would never put in jeopardy our values and our cause by pulling our punches on a campaign for money from a corporate partnership."
Meanwhile, the Daily Mirror says Whitehall departments are "frittering taxpayers' money" by failing to switch suppliers for a better deal, despite departmental electricity bills climbing at a steeper rate than the domestic average.
And the Sun visits areas where it says up to two-thirds of families cannot afford to heat their homes, describing them as Britain's most fuel-poor neighbourhoods. It hears from one resident of Shelton, Stoke-on-Trent, which tops the list, who says he only puts on the heating when he can see his breath.
The paper says the situation is "scandalous" and calls for greater competition and transparency, and more home-generated electricity.
Snap unhappy
Research suggesting that taking photographs may result in people paying less attention to a memorable scene and relying on the camera to remember for them, is reported by the Times.
Students who visited a museum remembered exhibits much better if they hadn't taken pictures, leading the research leader to suggest: "Taking a photo could serve as a cue to 'dismiss and forget'," the paper says.
For the Telegraph, it confirms what many people already suspected. "As expert practitioners know," it says, "for a photo to be worth taking, the photographer must first have learned how to look."
The Daily Mail's cartoonist, Pugh, offers an alternative view. He pictures two ladies looking at a photograph of a man riding a camel, one saying to the other: "It slightly ruins the happy memories. I didn't get one of him falling off."
United disunited
The tribulations at Old Trafford fill the back pages, where the Daily Mail headline: "My team, my way, my fault," sums up Manchester United manager David Moyes's attitude in Monday's press conference.
Roy Keane's not so sure, however. "Fergie won't let go," is how the Daily Express reports the views of the former United midfielder, who accused ex-boss Sir Alex Ferguson of still trying to exert "control of power". His "massive ego" is undermining Moyes, the report says.
However, as the Independent makes clear, Keane was serving revenge "icily and carefully cold", after Sir Alex criticised his former captain in his latest autobiography.
The Daily Mirror uses two one-word headlines to sum up the situation. "Power" and "gory".
Making people click
Daily Mail: Harassed boyfriend jumped to his death after his girlfriend insisted on going into another clothes shop
Independent: Sir Ian McKellen hits back at Damian Lewis's 'fruity' claims
Financial Times: Irish exodus casts shadow on recovery from financial crisis
Daily Mirror: Video: Watch launch of lingerie range inspired by 50 Shades of Grey trilogy
Guardian: David Simon: 'There are now two Americas. My country is a horror show'