Newspaper review: 'Mourning after' Mandela and World Cup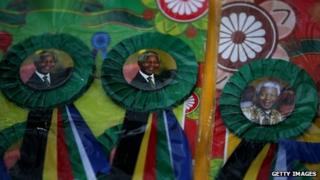 Saturday's front pages are largely split between those continuing to lead with Nelson Mandela's death and those focusing on England's World Cup 2014 draw.
An image of a young white man comforting a clearly distressed black woman - an image Mandela himself surely would have welcomed - appears in the Daily Telegraph and Daily Mail.
The Independent chooses the headline, "The mourning after", looking at how people have reacted to the former president's death in South Africa and around the world.
Meanwhile, the papers' verdict seems to be that England has been drawn in the dreaded - and cliched - "group of death", to face Italy, Uruguay and Costa Rica in Brazil next year.
Discussing the papers for the BBC's News Channel, the Sun's chief political correspondent Kevin Schofield says that according to the Times's front page, an influential think tank, the Institute for Fiscal Studies, "has poured a huge bucket of cold water" over Chancellor George Osborne's Autumn Statement.
The IFS, the Times says, is warning of a £12bn hole in his plans - news which Kevin Schofield says will "cheer up Labour" after shadow chancellor Ed Balls "pretty much flunked" his response to the statement in the Commons.
Alison Kervin, sports editor of the Mail on Sunday, says the figures involved in the story are "staggering" and it's hard to imagine how Britain's economic affairs are ever going to be "sorted out".
Mandela voices
Among the global clamour to remember Nelson Mandela, the papers choose different voices to draw out elements of the man and his legacy.
The Sun hears from ordinary people on the streets of London, at Nelson's Column to be precise. Among them, Anisa Row, 35, who brought her six-year-old daughter with her. She says: "The values that Nelson Mandela stood for are the values that I want to instil in my children."
Most papers also give space to ordinary people on the streets of Soweto and Johannesburg. The Independent speaks to Thandie Bushala - "one of a trio of women who danced all day" to honour Madiba - and "shrugged off their sadness and fatigue". She says: "I didn't want to sleep. He was not sleeping there in prison."
In contrast, Richard Stengel, Mandela's co-biographer, writes in the Daily Mail from the standpoint of a critical friend. He talks about the former president's concern "with how things looked - from the colour of his shirt to how straight he stood". He says he "cultivated and curated images of himself", posing at various key points in his life, including "in African regalia before he was put on trial for treason". And, in the first post-apartheid election campaign, "his smile was the campaign" - "it told black voters that he would be their champion and white voters that he would be their protector."
Afrikaner Rian Malan, writing in the Daily Telegraph, speaks from a different perspective - of a respectful adversary who says he wants to consider the man "in his totality". He says the truth about Mandela "has been obscured by decades of myth-making, most of it penned by white liberals intent on portraying him as a benign black moderate, leading an army of hymn-singing Martin Luther King types towards the promised land".
Leaders on a leader
The Daily Mirror sums its feelings up in its editorial column with a cartoon - showing God, on high, with his right arm around a small figure wearing a familiar patterned shirt.
"A leader above all others," says the Guardian. "The secret of Mandela's leadership lay in the almost unique mixture of wisdom and innocence," it says.
"Not a saint, but a saviour of his country," writes the Daily Telegraph. "In a moment of supreme crisis", it says, he saved his country with a combination of "guile, generosity and indomitable will".
"Mandela's long walk is not yet over," though, according to the Financial Times. It says South Africa still "faces many challenges" - including poverty, unemployment and inequality - so its people must use this period not just to reflect but "to look ahead to what remains undone".
Cautious optimism?
Two days on, the papers are still digesting George Osborne's Autumn Statement on the UK economy.
It may have been "chock-full of newly upbeat forecasts", but the chancellor was right "not to get too carried away", the Independent's leader says. It thinks the statement was "only nominally about economics" and was deeply political instead - showing Mr Osborne's strategy for the election ahead: "Keep the public debt centre stage and back Labour into a corner."
There's much more optimism from Stephanie Flanders, formerly of this parish, writing in the Financial Times. She says the British may be the only people "who can feel schadenfreude about their own misfortune", but "the news is good. And if history is any kind of guide, it will continue to be good for some time".
Jenni Russell, in the Times, has a different focus - shadow chancellor Ed Balls, whom she believes "is becoming a liability".
"He is alternately over-eager, patronising, robotic or defensive. He neither conveys warmth or inspires trust. He has no talent for convincing the undecided." She suggests Labour should consider asking Alistair Darling back if things don't improve.
'Disgrace' or 'casualty'
The Sun is clear that ex-Royal Marine Alexander Blackman has rightly been jailed for at least 10 years for killing a Taliban fighter. Those arguing he was "only meting out the same punishment we could expect from the Taliban are completely missing the point", writes acting defence editor David Willetts. "British troops should not sink to the same level."
The Daily Express disagrees, however, calling him "a truly valiant marine" who was said to have been working "in the most dangerous square mile of Afghanistan". Its leader argues: "Technically, justice has been done... But if the government sends our forces into the gravest danger then only a fool would believe that they will always behave like nursery school teachers."
Former chief of British forces in Afghanistan Col Richard Kemp agrees the circumstances of the crime are key. "We sent him out there to defend his country. We put him under enormous pressure and danger," he tells the Daily Mirror.
Jungle fever?
England has been drawn in a World Cup group with Italy, Uruguay and Costa Rica, with the first game in the steamy jungle. This, the papers agree, is Bad News.
"They think it's all over - before it's even started," says the Times's headline, summing up much of the feeling.
"As treacherous as anything Hodgson could have dared imagine," writes Daniel Taylor, in the Guardian. Describing the seemingly light-hearted reaction of FA general secretary Alex Horne to the news, he adds: "It was the laugher of someone who had fallen off the pavement and was trying to pretend it didn't hurt."
While some might suggest a hard hat, the Daily Mirror depicts England manager Roy Hodgson in an explorer's pith helmet. Summing up the anticipated conditions he and his team will face in the Manaus stadium, it declares: "Hot. Steamy. Pretty Horrible".
That's nothing though compared with the Independent, which warns of "rabies, hepatitis and drugs wars". Travel editor Simon Calder says England fans "face an alarming range of dangers".
Another tabloid, another hat, and the Sun dresses Roy in an I'm A Celebrity-style bushman's hat. Its leader is very unimpressed with FA chairman Greg Dyke's "throat-slitting" gesture upon hearing the draw, saying: "We hope Dyke's defeatism inspires our boys to trounce Italy and stick two fingers up at him."
Finally, Neil Ashton, in the Daily Mail, says "the humidity of Manaus is not an excuse for England to wilt like wall flowers against European opposition" - even if that opposition includes "that beast" Mario Balotelli. He adds: "It's a tough group for England, but that's the law of the jungle."
Making people click
What's top of the most viewed lists on some of the papers' websites:
Guardian - Ashes 2013-14: Australia v England - live!
Times - Police taser boy with learning difficulties at special-needs school
Daily Mirror - Tom Wood: Heineken Cup Final agony against Leinster was the making of Northampton
Independent - Royal Marine Sgt Alexander Blackman jailed for life for murder of Afghan insurgent