Front pages: Taxation, 'edjucation', trolls and the World Cup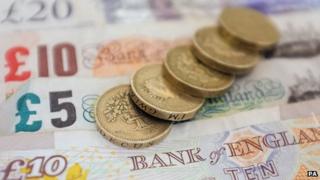 Financial stories lead many of Wednesday's papers, with the Daily Express and Daily Telegraph reporting that David Cameron has ruled out cutting taxes for middle or high-income earners any time soon.
Food poverty leads the i, while the Daily Mail splashes on the increase in High Street gambling and the Guardian reports that the government is trying to raise cash by selling off its stake in the Eurostar cross-channel rail service.
Reviewing the papers for the BBC News Channel, Miranda Green said the tax story was proof that political reporters had been briefed that Thursday's Autumn Statement would have a "sober tone" but added: "It's really difficult [for the politicians] if you end up with headlines that promise more pain for ordinary voters."
Her co-panellist, former Labour communications director Lance Price, said it was common before every such event "to downplay expectations... and then the chancellor pulls some sort of rabbit out of a hat".
Must do better?
Many column inches, graphs, tables and mocked-up report cards are dedicated to the "world league tables" of maths, science and reading, which show the UK lagging behind Asian countries and many in Europe. "Britain's stagnating schools" is how the Daily Mail sums up the situation, putting China's success own to "pushy parents and pushier teachers".
Education adviser Sir Michael Barber writes in the Daily Telegraph that the best school systems are in Pacific Asia and that Britain must match their performance - and those of Germany and Poland - in offering both vocational and academic courses. Or else, he says "our young people will find it ever harder to succeed in an increasingly global jobs market".
The paper's cartoonist Adams points the finger at Labour's past leadership, depicting Tony Blair, Gordon Brown and Ed Balls in front of a blackboard on which is chalked a version of their 1997 election slogan reading: "Edjucation, Edukashin, Educayshn." However, the Guardian's Steve Bell sketches Conservatives David Cameron and Education Secretary Michael Gove each wearing a dunce's hat.
The latter's preferred model - Sweden's Friskola, on which England's free schools are based - took a "caning" in the test, according to the Financial Times. And the Daily Mirror says he should study the Asian systems "topping the tables because they push every child to do well - in stark contrast to Mr Gove's elitism".
But there is support for the education secretary from the Independent, which writes: "From variable pay to better teacher-training to a tougher curriculum, Michael Gove's shake-up of Britain's schools has much to recommend it. It has not yet had much time to take effect, however."
And the paper's economics editor and China analyst, Ben Chu, warns against assuming the Chinese system is best, given the results cover only Shanghai, where education spending is higher than most areas, and results do not cover the children of migrant workers who attend sub-standard schools.
Having a mayor
The papers enjoy scrutinising one politician's education - or at least intelligence - this morning. And the headline-writers are none-too-kind to London Mayor Boris Johnson, after he failed to give a correct answer to three questions from "an official IQ test" during a radio phone-in.
"Bojo's a 'thicko'," says the Sun, mocking up a picture of the "humiliated" mayor in a dunce's hat
"Dimbojo," is the headline in the Mirror, which gives Mr Johnson an even bigger hat
"Boris the Duffer," is the Mail's version, as it tells the mayor to "go to the back of the class"
The radio stunt was prompted by Mr Johnson's recent suggestion that you couldn't look at inequality without taking into account people's IQ levels, a proclamation criticised by Lib Dem leader Nick Clegg among others.
However, the Financial Times notes, Mr Johnson said his comments had been deliberately misconstrued and that he'd been arguing that inequality was only tolerable if those "finding it tough to compete" were looked after and those with ability "were allowed to succeed".
Editor makes news
"To see a newspaperman paraded on Parliament's toasting fork is an ugly sight," begins Quentin Letts in the Mail's sketch of Guardian editor Alan Rusbridger's appearance before MPs on the Home Affairs Select Committee.
But then he loses sympathy, blaming Mr Rusbridger for being "prime cheerleader" in the government's bid to regulate the press in the wake of the Leveson Inquiry.
The Mail reports that Guardian journalists could face criminal charges for "transmitting out of the country top secret documents containing the names of British spies" when working on stories sourced from files leaked by US intelligence analyst Edward Snowden.
Michael Deacon, in the Telegraph, says Mr Rusbridger insisted "he had merely exercised 'the freedom of the press' and that politicians should not 'intimidate' journalists or 'interfere' with their work". The sketchwriter adds: "Journalists expressed similar views while the Leveson Inquiry was going on... Still, there it is."
However, as Roy Greenslade - writing for the Guardian - saw it: "In company with any decent freedom-loving journalist, [Rusbridger] had no problem justifying his trade."
Twitter, trolls and morons
Social media users are to be warned against inadvertently threatening fair trials by tweeting prejudicial material, via tweets from the Attorney General's Office, reports the Independent.
The intention is to make clear which material can be published and which could leave the publisher in contempt of court. But Paul Staines, who runs the Guido Fawkes blog, tells the Independent that Attorney General Dominic Grieve may come up against the "Streisand effect", which the paper says refers to "Barbra Streisand's attempt to censor details of her home which instead prompted even more coverage".
Oscar-winning actor George Clooney won't be getting caught out, according to the Times. "I think anyone who is famous is a moron if they're on Twitter," he reportedly told Esquire magazine, suggesting that stars of Hollywood's "golden age" wouldn't have coped with the demands of maintaining an online presence.
Times columnist Caitlin Moran suggests his comment was a mis-spelling. "He meant Moran. It's his love signal to me that we will wed," she says, somewhat hopefully.
Meanwhile, the Daily Star reports on celebrities with more immediate social media problems, saying that diver Tom Daley was "hit with a deluge of homophobic tweets" after revealing he's dating a man, and that X-Factor contestants Rough Copy have been subjected to racist comments.
The Sun identifies five "tribes" of internet troll and seeks the help of anti-bullying advisor Emma-Jane Cross to offer readers the best ways of addressing the problem.
England going to pot?
With seven months until football's World Cup kicks off, the tabloids are getting their excuses in early for England's demise.
The Daily Mail suggests Uefa President Michel Platini has been "meddling" to prevent his nation entering a "pot" with the African teams, meaning England potentially face a more difficult draw. The papers do their best to explain the intricacies of the draw and the Mail comes up with England's dream group, consisting Switzerland, Algeria and Costa Rica, and a "nightmare" scenario which would pit the three lions against Brazil, Italy and the US.
Photos of skipper Stephen Gerrard posing moodily with the newly-unveiled official tournament ball look incongruous against the Mirror's headline describing manager England's chances as "pot luck", or the Express's version: "England's hopes may go to pot."
But at least the England boss should be in his job for a while, unlike Justin Byrne - coach of Chalfont St Peter under-10s. The Mail says he was fired after telling parents the boys weren't playing for fun. "I am only interested in winning," the Mail quotes his email as saying, "I don't care about equal play time or any other communist view of sport. Those that are not as good need to work harder or demonstrate more during training, or change sports."
Making people click
Daily Mail: The Diamond Duchess: Kate wears glittering tiara for white tie ball at Buckingham Palace
Independent: North Korean leader Kim Jong Un's 'sacks powerful uncle and has his aides executed'
Financial Times: China must not copy the Kaiser's errors
Guardian: The Elan Gale internet hoax sums up all that is rotten about our online lives
Daily Mirror: Arsene Wenger hits back at Match of the Day pundits dismissing his Gunners' title hopes